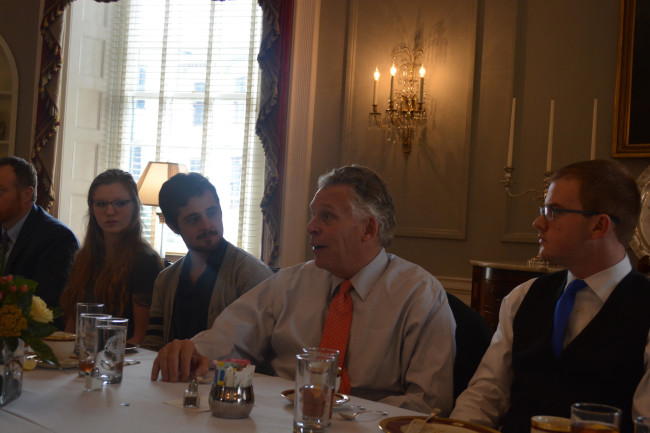 In between tastes of roasted celery soup, lamb chops, and 'opera cake,' college reporters representing schools including the College of William and Mary, Virginia Tech, the University of Virginia and Christopher Newport University talked directly to the governor about the Commonwealth's most pressing concerns.
This past Wednesday, Feb. 1, Virginia Governor Terry McAuliffe opened up his home to college reporters to tout his record as governor and to encourage civic engagement among students.
"Young people really [need to] get in the game on these issues," McAuliffe said, after he admitted he was disappointed by the low turnout among young voters in the November election.
Jessica Brady, a sophomore at Virginia Tech and copy editor at The Collegiate Times, said that she thought the lunch was mutually beneficial for their newspaper and for the governor and was happy to see student journalists recognized.
"It is important to have college reporters on our campuses because rather than having the universities dictate to us what to think and what is going on, we have our peers reporting on what the students really think and what is really going on," Brady said in a written response.
McAuliffe did not shy away from questions he was asked about political issues such as voter disenfranchisement and United States President Donald Trump's recent executive orders. He criticized Trump's immigration ban, calling it "unconstitutional." He stood by Virginia's decision to file a lawsuit concerning the order.
"Discrimination breeds hatred," McAuliffe said.
McAuliffe also said that although Trump donated $25,000 to his 2009 gubernatorial campaign and they have known each other for years, McAuliffe does not support Trump's policies because he said they are discriminatory and believes they are harmful to Virginians.
Meg Connors, a sophomore at Virginia Tech and a copy editor at The Collegiate Times, said that while she enjoyed the opportunity to sit down with McAuliffe, she was slightly skeptical of his intentions.
"It was so thrilling to get to see such a historic place — it's the oldest governor's residence in the U.S.," Connors said. "However, I wish that the luncheon had been more aimed at discussing student media. It seemed at times to be more of a [public relations] opportunity for the governor than an educational opportunity for us."
When asked about voter disenfranchisement, McAuliffe spoke about his decision to individually restore voter rights to over 200,000 Virginians after Virginia's Supreme Court ruled that he could not restore them collectively, which left him exposed to the possibility of a lawsuit.
"First Virginia governor to be sued for contempt of court — quite an honor actually," McAuliffe said.
McAuliffe said that one of his top priorities as governor is to ensure that those who graduate from Virginia colleges are able to enter the workforce and help build a more robust Commonwealth economy. He stressed that many jobs are available in STEM fields and it is important to train students with STEM skills so Virginia continues to attract companies to come to the state. However, he admitted that outside of his gubernatorial priorities, he believes it is important to pursue one's passions.
Taking my governor hat off … it's important to do what you love," McAuliffe said.
"Taking my governor hat off … it's important to do what you love," McAuliffe said.
Lewis Millholland, managing editor at The Collegiate Times, Brady and Connors said they enjoyed the experience of talking to students from other college newspapers and seeing how each newsroom approached journalism. Millholland added that he believes college journalists represent an essential part of the local paper biosphere, which he says is critical to the foundation of news reporting nationwide.
"So much of the conversation on media revolves around the big, national outlets," Millholland said in a written response. "'Is the media biased?' means 'Are CNN, The New York Times, ABC, and organizations like those biased?' But news starts at the local level. And it's hard to get more local than a college paper — people who skip class and fail tests to bring you a summary of the latest town council meeting that 10 people attended."