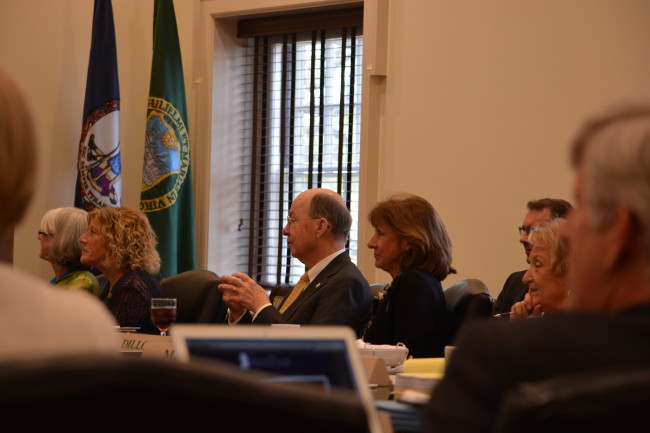 Over the summer, the contracts of five members of the Board of Visitors ended and Virginia Governor Terry McAuliffe appointed five College of William and Mary alumni to the Board.
The new appointees are Warren Buck M.S. '70, Ph.D. '76, D.Sc. '13; Douglas Bunch '02, J.D. '06; Ted Dintersmith '74; Anne Leigh Kerr '91, J.D. '98; and Brian Woolfolk J.D. '96. Their terms began July 1 and they will each serve for four years on the Board.
The appointees include a woman and a gay man who have expressed an interest in promoting diversity, though the gender breakdown of the Board of Visitors has not changed. There are 11 men on the Board and 6 women.
Appointees have also expressed interests in furthering socioeconomic diversity at the College and pursuing higher education reform to ensure that the College remains a leader in the national conversation on higher education policy and advocacy.
They succeed Kendrick Ashton Jr. '98, Ann Green Baise, Keith Fimian '78, John Littel, all serving one term, and Robert Scott J.D. '68 who served two terms on the Board.
While at the College, Dintersmith completed Honors Theses in physics and English, and then attended Stanford University for graduate studies.
The first two decades of his career were focused on venture capitalism — specifically on software and information services, but now he advocates for higher education. Most recently, he produced "Most Likely to Succeed," a film on preparing youth for a new era of innovation that was featured at the Sundance Film Festival.
Over the summer, Dintersmith visited every state in the country to meet with other experts in higher education.
I am spending all of my life and then some on the issue of school and what schools need to do," Dintersmith said
"I am spending all of my life and then some on the issue of school and what schools need to do," Dintersmith said. "I think that comes from my complete and total passion for the College of William and Mary."
Dintersmith said he is grateful for his experiences at the College — specifically that he was able to do honors research as an undergraduate. To him, the College was always a place that encouraged him to get more involved. Now, he is working on an initiative for honors fellowships that would give students money to research over the summer and to publish papers.
As a member of the Board of Visitors, Dintersmith wants to make sure that the College plays a role in redefining what higher education looks like in the United States.
To do this, Dintersmith believes that the College can't lag behind major cultural shifts. He cited an example of a university staying on top of what students wanted, an initiative taken on at Stanford University that allowed students to focus on larger "missions" rather than their majors.
"If you don't keep moving ahead, progressing, you suddenly see that it's easy to become irrelevant," Dintersmith said. "I do feel like there are enormous opportunities that, when you look at it, can see that it's the school being incredibly good at taking on challenging problems. I'm a big believer in small experiments. The more college experience is driven by student voices and creativity, the better."
Bunch, as well as Dintersmith, has focused parts of his career on advocating for higher education. He said that he wholeheartedly supports the decisions to advocate for better race relations and for inclusivity for students with disabilities made by the Board of Visitors last year and hopes to further those decisions to engage more LGBT students on campus during his term.
"I think that it's more important now than ever that the Board engage students on campus, and as great a board as we have, there's a distance between board members and students," Bunch said. "I think there is a real opportunity to engage. I think it's important that the board have younger members like myself. I am also openly gay, and I think that is a demographic that has not historically been represented. I think that there is an opportunity to engage LGBT students on campus — that opportunity has not been taken advantage of."
Bunch also hopes to engage the alumni of the College so that current students can easily access potential mentors and role models in their chosen career fields.
Woolfolk, another new appointee, said that he spent most of his time growing up on campus and that he has always been very familiar with Williamsburg and its larger impact. This year will be his 20th anniversary of graduating from the Marshall Wythe School of Law, and he feels that this is a time he is being called back to the College to serve.
Moving forward, he wants to see the Board continue to address issues of race and inclusion as well, he said.
I would like to see the board work to increase the numbers of Pell-eligible students," Woolfolk said
"I would like to see the board work to increase the numbers of Pell-eligible students," Woolfolk said. "I would also like to see the board focus on entrepreneurship and leveraging the talents and experiences of faculty and alum."
Last year, a report was published finding that the College had one of the lowest numbers of Pell-eligible students and therefore had minimal socioeconomic diversity.
In a statement, Reveley said that he is looking forward to the promise of stewardship that he sees in the five new appointees.
"William and Mary has been blessed in recent years to have a wonderfully engaged and wise Board of Visitors," Reveley said. "This year, we welcome five new members of real promise and look forward to their stewardship of our extraordinary university."