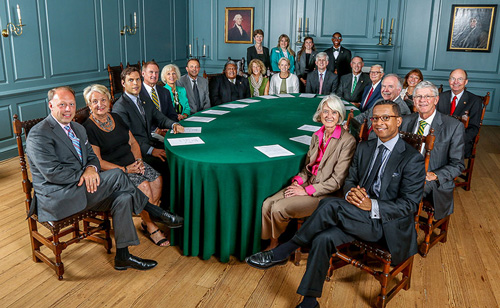 The College of William and Mary's Board of Visitors met April 20-22 to discuss topics that included budget proposals, property demolitions, retiring professors and the recommendations of the Task Force on Race and Race Relations. These discussions resulted in the presentation and approval of 34 resolutions.
The BOV is composed of 17 members, appointed by the Virginia Governor. Additionally, there are two faculty representatives, two student representatives and one staff liaison to the board. 10 committees are comprised of board members, faculty representatives and members of the College administration. The BOV meets in Blow Hall in September, November, February and April annually to discuss and pass resolutions relating to long-term projects and budgeting for the College.
Resolutions 1-6: The Committee on Academic Affairs dealt with these resolutions in closed session, as they related to personnel matters including appointments to fill vacancies in instructional faculty, terming distinguished and designated professorships, faculty leaves of absence, faculty promotions and awarding academic tenure.
Resolution 7: Marine science professor Jerome Maa, whose research has focused on sediment transport and properties, will be retiring from his role at the Virginia Institute of Marine Science.
Resolution 8: The BOV approved changes made to the faculty handbook designed to improve the process of filing discrimination, harassment and retaliation complaints. These changes were proposed in order to improve the faculty handbook's compliance with Title IX. The major change to the handbook is that faculty complaints will now be handled by an outside investigator rather than a faculty committee.
Resolution 9: In order for the College to administer its own retirement plan for eligible employees, the BOV approved a resolution to opt out of the previously used Virginia Retirement System Optional Retirement Plan.
Resolution 10: The grass on Busch Field will be replaced with artificial turf in order to allow for year round, seven-day a week usage.
Resolution 11: Plans for the Integrative Wellness Center came in above the initial budget of $13.6 million. The BOV approved a revised budget of $17 million, which will result in an added $10 to fees paid by every student.
Resolution 12: The Integrative Wellness Center will be named the McLeod Tyler Wellness Center, after H. Elizabeth McLeod '83, M.B.A. '91 and her husband J. Goodenow Tyler III, who was given an honorary degree in 2011. The two donated to the IWC to support and to develop Campus Recreation's wellness programs.
Resolution 13: In 2007, alumna, writer and historian Martha Wren Briggs '55 wished for her donation to the Lake Matoaka Amphitheatre to remain anonymous. The BOV has now chosen to recognize her gift by renaming the space the Martha Wren Briggs Amphitheatre at Lake Matoaka.
Resolution 14: The BOV approved a resolution to demolish 406 Jamestown Road, which was deemed an unsafe location to house students and has been unused since the time of purchase in 2012. The College is exploring options for what to do with the property once the house is demolished.
Resolution 15: Due to extensive water infiltration, the 1984 wing of One Tribe Place — purchased by the College in 2013 as part of the Hospitality House hotel — will be demolished.
Resolution 16: A developer, WM Jordan, has made an offer to purchase an unused College property known as "Parcel C-3" in Newport News adjacent to Jefferson Lab. After deliberation over whether the sale could be guaranteed to result in the expansion of research facilities or if it could possibly end up housing a shopping center, the BOV approved the resolution to sell the property.
Resolution 17: The BOV approved allocated funding for VIMS's request to dredge their boat basin and channel.
Resolution 18: The BOV approved the fiscal year 2016-2017 operating budget for educational and general programs. Revenue from general funds, the Commonwealth of Virginia's appropriation for the College, which support new facilities and initiatives, are projected to increase by 5.29 percent to $43.6 million. Non-general funds, primarily generated by tuition revenue, are estimated to increase by 5.95 percent to $148.3 million. This increase helps to support faculty and staff salary increases, enrollment growth and Earl Gregg Swem Library's Integrated Library System.
Resolution 19: Under the William and Mary Promise, tuition for in-state students in the incoming Class of 2020 will be fixed at $15,674 for their four years at the College. This will be a 12.13 percent increase from the Class of 2019's in-state tuition. Out-of-state tuition will increase by 2.9 percent to $36,158.
Resolution 20: Auxiliary enterprise revenue, which includes student food service, campus parking and orientation, among other programs, is expected to increase 2.5 percent over the past fiscal year, based on increased revenue from student fees. Expenditures are also expected to increase, by 2.3 percent, in order to support staff salaries and benefits.
Resolution 21: Because of uncertain funding from federal and state governments, funding for research grants and contract activity is estimated to remain the same for fiscal year 2016-2017, at $31.95 million.
Resolution 22: Total student financial assistance, which includes need-based scholarships for undergraduates and fellowships for graduate students provided by both general and non-general funds, is expected to increase 8.76 percent to $33.5 million.
Resolution 23: The current applied music fee of $400 per one credit hour of weekly 30 minute music lessons will stay the same for the 2016-2017 fiscal year.
Resolution 24: The BOV approved their private funds budget for fiscal year 2016-2017, which is consistent with donor guidance. The proposed spending rate is unchanged from the previous fiscal year, with a total proposed budget of $13,567,284.
Resolution 25: State appropriations for VIMS's fiscal year 2016-2017 operating budget increased by 8.2 percent because of December 2015 actions by Virginia Governor Terry McAuliffe and the Virginia General Assembly. These increased general funds will go toward funding the Center for Recurrent Flooding Resiliency, graduate financial aid, and faculty and staff raises.
Resolution 26: The Richard Bland College Committee dealt with Resolution 26 in closed session, as it related to the personnel matter of appointments to fill vacancies in professional faculty.
Resolution 27: Two professors at Richard Bland College were recommended for tenure and promotion. Mathematics professor Dannie Hudson and business professor Michael Lehman M.B.A. '78 were both promoted from assistant professor to associate professor.
Resolution 28: English professor Esther Floyd, who also attended Richard Bland College, will be retiring from her role there.
Resolution 29: Physics professor Mark Fidelman, who served in the United States Army as a Nuclear Weapons Maintenance Specialist, 5th class, will be retiring from his position at Richard Bland College.
Resolution 30: Mathematics and computer science professor Steven Martin, who has worked at Richard Bland College for 37 years will be retiring from his role there.
Resolution 31: In an effort to increase transparency in billing, Richard Bland College will adopt a per-credit-hour billing model. This will result in an in-state tuition increase of $5 per credit hour and an out-of-state tuition increase of $18 per credit hour, both by three percent. Tuition will still remain below federal Pell grant level.
Resolution 32: The BOV approved Richard Bland College's operating budget for the 2016-2017 fiscal year, which projects a total revenue of $17,678,896.
Resolution 33: Richard Bland College has adopted an honorary degree policy that allows Richard Bland College to award Associate in Arts and Associate in Science degrees in the name of the College Board of Visitors.
Resolution 34: Based on the recommendations of the Task Force on Race and Race Relations, the BOV approved a resolution to rename the Jamestown Complex Dormitories Hardy Hall, after former Student Affairs administrator Carroll Hardy, and Lemon Hall, after an enslaved man owned by the College in the late 18th century.
4/24/2016 12:50 p.m. An earlier version of this article incorrectly stated that members of the Board of Visitors were appointed by the Virginia General Assembly. They are appointed by the Virginia Governor and confirmed by the General Assembly.