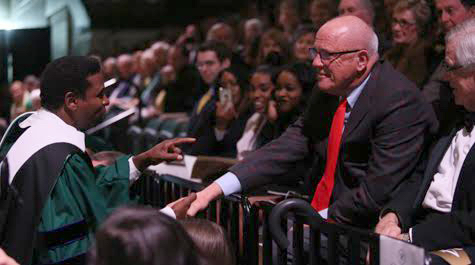 While football All-American Michael Clemons '89 started his career at William and Mary in a small room in Hunt Hall, his journey took him to and eventually to the Canadian Football League's Grey Cup as a player for the Toronto Argonauts. Feb. 10, his journey brought him back to the College to speak on the Charter Day stage.
"Some of my very favorite memories begin at the very beginning," Clemons said. "There's a little hall, Hunt Hall, that was an all-boys dorm at the time and that was my dorm. I had a roommate, Jack, who couldn't have been more different from me, a warm, nice guy. We couldn't have been more different. That very first time walking across the campus, coming to the campus … was like 'Wow' it was expansive, if you will."
Clemons was a member of the football team 1985-89 as a running back and return specialist, and in 1998 he was inducted into the College's Athletic Hall of Fame. Clemons was also a member of the men's soccer team for a year, but he was never able to play in a fall game.
Coming from Dunedin, Fla., Clemons said he turned down offers from schools such as Columbia to go to the College because he believed it was the most option for him.
"William and Mary was the best, or the most comprehensive, option I had," Clemson said. "William and Mary had the best combination of academia and athletics."
During his four-year Tribe football career, he gained 4,778 all-purpose yards — in 1985 and 1986 he set the third- and fourth-best season totals in team history. He was also named a Division I-AA All-American. Additionally, in recognition of his academic achievements, he made the Eastern College Athletic Conference Honor Roll as a senior.
William and Mary had the best combination of academia and athletics," Clemens said.
Clemons said that while he was growing up , playing football gave him confidence. For him, coming to what he thought of as one of the best universities solidified football as a large part of his identity.
He also said that growing up, his mother told him that he couldn't play sports if he got Cs. For him, this meant he learned to work hard so he could continue playing football. He later went on to earn his bachelor's degree in economics from the College.
"I could always run; I was always a coward," Clemons said. "I could always get away. But football gave me ambition. Ultimately, it gave me authority over my ability to take care of my family."
His career in professional football started in 1987 when he was drafted by the Kansas City Chiefs. During that same year's National Football League season, he played in eight games, mostly as a punt returner. This ended his game action in the NFL, although in 1988 he had a brief stint playing with the Tampa Bay Buccaneers in the offseason. Then, in 1989 he joined the Toronto Argonauts. Just a year later, he was voted the CFL's most outstanding player.
"The CFL stayed closer to the rugby rules [than the NFL did]," Clemons said. "The American game sort of began to evolve into something that was a little more different. The field is 110 yards with 20-yard end zones, so it's wider and longer. The mid-field is the 55-yard line. Also, we don't have any fair catches and there are three downs instead of four. The game is in motion a little bit more."
When he first joined the Argonauts, the Tom Cudney gave him the nickname "Pinball" because of his running style. Cudney thought that his size and balance allowed him to bounce between defensive players, like a pinball in a pinball machine. While Clemons said he never anticipated that becoming his nickname, he said he always enjoyed the game growing up and would still enjoy it today if he had a machine.
"So when I was a little guy, we had a game called Captain Fantastic," Clemons said. "Elton John was sort of Captain Fantastic, so every time I got a quarter I would go to the store and play Captain Fantastic. I did enjoy it, never thought it would be my nickname, but I did enjoy pinball."
To affirm this nickname, the Argonauts would play the song during home games whenever he was involved in a great play.
During his second year on the team, Clemons won his first football championship when the Argonauts defeated the Calgary Stampeders to win the Grey Cup. This would be the first of three Grey Cups in his playing career and five total when including his coaching stint.
Then, in 2008, Clemons was inducted into the Canadian Football Hall of Fame.
When you go home and so much has changed but so much looks the same, it's heartwarming, it's like coming home."
His time with the Argonauts didn't end when he retired from playing — he began coaching right after he retired. In 2001, he became president of the Argonauts, but he returned to coaching in 2002. In 2004, he set another record when he became the first black head coach to earn a Grey Cup title. He was nominated for coach of the year every year until he retired from coaching in 2007.
Off the field, Clemons founded the Michael "Pinball" Clemons Foundation to aid youth internationally, and he has volunteered with the Free the Children initiative to build schools in Africa. He was also given the honor of the Order of Ontario, which is considered the most prestigious official honor in Ontario and is administered by the Lieutenant Governor.
When he journeyed back to Williamsburg for Charter Day, Clemons said that he had especially noticed the renovations to Zable Stadium.
"When you go home and so much has changed but so much looks the same, it's heartwarming, it's like coming home," Clemons said. "The size of the stadium has changed, I noticed that right away, but it still has of course that traditional feel, but it feels a little fresher if that makes sense. The campus still has our traditional overlook, but the buildings … I don't want to discount the traditional value, but they feel fresher."
When Clemons isn't volunteering with one of his organizations or working as a motivational speaker, he's rooting for underdog sports teams like the Atlanta Falcons or dreaming about the College Delly's — one of their signature subs. In 2015 he also became a naturalized Canadian citizen, but he said he can't convert to liking poutine.
At the end of the day, Clemons said he feels privileged to have had his education and athletic experiences at the College.
"We are heirs to access, we have things privileged to us because of our membership [as alumni]," Clemons said. "We have this freedom of intellectual emancipation … make sure that you give more than you take."