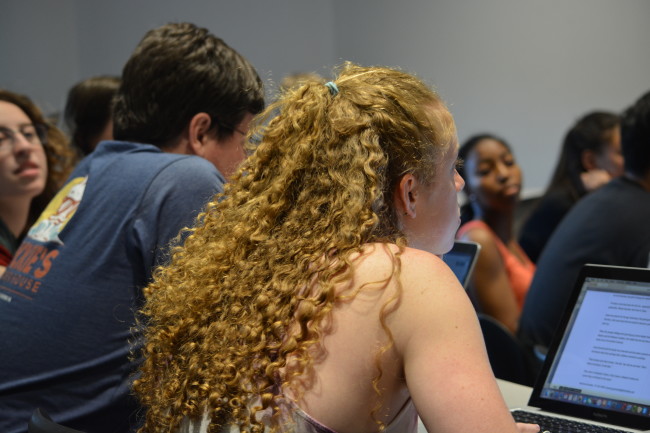 Tuesday night's Student Assembly senate meeting started off with a presentation on how SA could better serve multicultural organizations. This focus carried on throughout the rest of the night, including in the passage of two bills.
Three students — Pallavi Rudraraju '17, Alexandra Cornejo Castro '18 and Sherifa Atwa '17 — spoke to the senate about multicultural issues and the difficulties they believe some multicultural organizations on campus face in terms of finance and fundraising. Rudraraju said that many culturally-focused organizations do not receive much, if not any funding from SA.
Multicultural organizations do not get enough funding at this school for enough events," Rudraraju said.
"Multicultural organizations do not get enough funding at this school for enough events," Rudraraju said. "We have to go to places like the [Center for Student Diversity], Africana Studies, academic departments, because we aren't receiving it from [Student Assembly] … you're supposed to be our main advocates."
Rudraraju said that a friend shared a statement from the SA Executive Appropriations Committee process where a student called into question the need for both a Middle Eastern Student Association and a Muslim Student Association. She said that this behavior helps entrench misinformation and bias against students of diverse backgrounds.
Atwa said she feels that multicultural organizations face greater obstacles than other organizations do to receive SA funding and that acquiring money to put on events takes both time and energy.
"I feel like I have to sell my culture to get support," Atwa said.
Sen. Annelise Yackow '18, who is the chair of the senate finance committee, spoke to the students and offered her support, and invited them to voice their concerns at a finance committee meeting. Yackow said that she has seen funding reduced for other multicultural organizations on campus and believes this might a cause of the concerns voiced during the meeting.
"Recently we've kind of seen groups get their funding cut, particularly the African Cultural Society had iREP Africa, a successful cultural event on campus get cut completely from the budget," Yackow said. "We had the same thing happen with the Chinese Student Organization for their lanterns festival, too."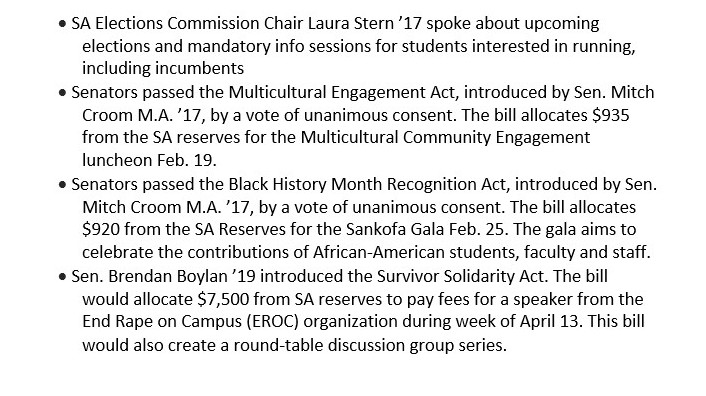 Yackow said that she disapproves of the cutting of multicultural groups' funds as she believes it can endanger these groups' ability to stage productions of cultural value.
"It's very frustrating," Yackow said. "It's just the same groups we see, typically always multicultural groups. I think it's unfair and very biased against them, and it has a lot to do with us not creating funding guidelines for understanding what goes into culture events."
Two bills, the Multicultural Engagement Act and the Black History Month Recognition Act, both aim to improve multicultural awareness and celebration on campus. Sen. Mitch Croom M.A. '17, the sponsor of both bills, said that he believes that SA needs to work on improving its ability to inform students about the procedures involved with requesting funding from the organization.
"The nature of student government, with such a quick turnaround, the most a person could be here is four years," Croom said. "We haven't had the institutional memory to put out those guidelines, but we need to make that a priority before this semester ends. We need to make sure that the rules and procedures for people to get funding for things are clear and consistent from year to year."
Croom also said that he thinks SA could work more on strengthening its bonds with other student organizations on campus to help them feel more represented.
It is very important for student government to be a representative institution of this campus and to make sure people of all cultures and backgrounds feel welcome here," Croom said.
"It is very important for student government to be a representative institution of this campus and to make sure people of all cultures and backgrounds feel welcome here," Croom said. "I think we do a decent job of that, but everyone could always do more. We have so many groups representing so many different cultures, that the most important thing we can do and the most effective thing is to empower them."