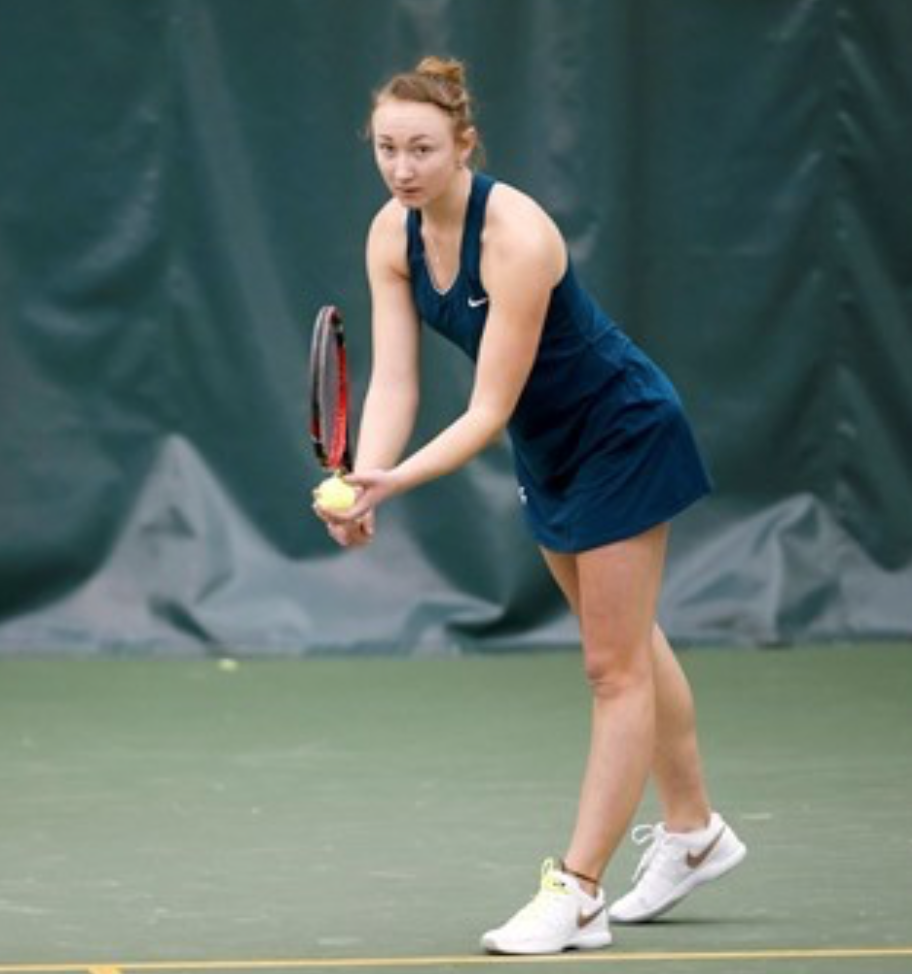 Tribe women's tennis (4-5, 1-0 CAA) welcomed Dartmouth on Saturday to the McCormack-Nagelsen Tennis Center. The women handed Dartmouth (7-1) its first defeat of the season in a 6-1 decision.
The College took the doubles point with a 6-3 win by senior Marie Faure and sophomore Lauren Goodman at the No. 1 spot and a 6-4 win by freshman Natalia Perry and junior Cecily Wuenscher at the No. 3 spot.
Junior Ekaterina Stepanova had a big win over Taylor Ng, three-time All-Ivy League selection and 2015 player of the year, at the No. 1 spot 7-5, 7-6. Faure made quick work of her opponent in a 6-3, 6-2 win at the No. 2 spot. Goodman also saw victory at the No. 3 spot in a three-set match 6-7, 6-2, 10-4. Junior Maria Groener triumphed in the No. 5 spot, 6-2, 6-3. Perry dominated the No. 6 spot with a 6-1, 6-4 win.
The Tribe women will hit the road to South Carolina to take on Charleston at 10 a.m.  Feb. 25 and University of South Carolina at 12 p.m. Feb. 26.
Tribe men's tennis (6-5, 0-1 CAA) prevailed over three-time Atlantic 10 Champion George Washington (5-4) 5-2 at home Friday afternoon.
Senior Addison Appleby and sophomore Tristan Bautil took the Tribe's only win in doubles play against George Washington in a 6-3 match.
Despite losing the first set in the No. 1 spot, senior Aidan Talcott came out victorious over his Colonial foe 3-6, 6-1, 6-1. Junior Christian Cargill had a competitive match at the No. 2 spot, finally winning after a hard-fought second set 6-4, 7-6. Junior Alec Miller came out on top in the No. 4 singles match 3-6, 6-3, 7-6, after an intense three-set thriller. Senior Damon Niquet also went into a third set at the No. 5 spot but dominated to win 6-2, 4-6, 6-1. Junior Lars de Boer dominated his GW opponent at the No. 6 spot, 6-4, 6-1.
Appleby lost to Colonial's Chris Fletcher 7-6, 7-6 in an intense, seemingly back-and-forth battle at the No. 3 spot.
The men's team increased its at-home win streak to 17 straight wins after defeating Big East foe DePaul (6-2) Sunday afternoon with another 5-2 triumph.
The duo of Talcott and Newman secured the College's only doubles win 6-3; however, the Blue Demons took one of their two points from doubles match wins.
The Tribe dominated singles play. Talcott defeated his opponent in the No. 1 spot 6-0, 6-4. Cargill defeated DePaul foe at the No. 2 spot in a tiebreaker match after losing the first set 2-6, 6-3, 6-2. Appleby and Miller fought hard at the No. 3 and No. 4 spots and ended up victorious, each with a 6-3, 6-4 match win. Niquet had a similar struggle at the No. 5 spot but also came out on top with a 6-4, 6-3 win.
The Tribe men will take on St. John's at the McCormack-Nagelsen Tennis Center Feb. 28 at 4 p.m. for the last match of the regular season.