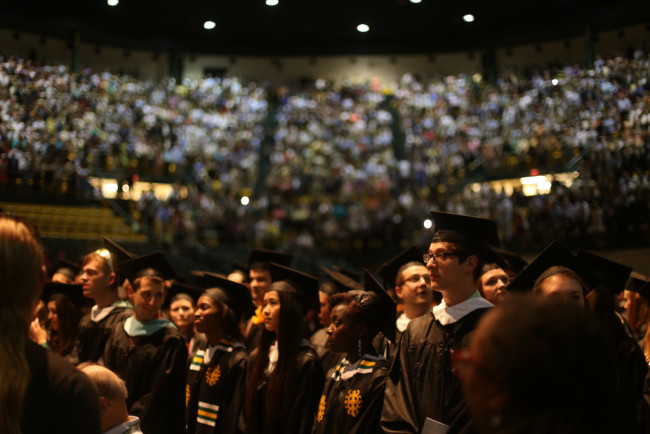 Marking the end of the Class of 2017's four years at the College of William and Mary, Walter Isaacson will give this May's Commencement address and receive an honorary degree.
Chancellor of the College and former U.S. Secretary of Defense Robert Gates '65 is also expected to attend Commencement to offer opening remarks. Librarian of Congress Carla Hayden and former College President Paul Verkuil '61 will receive honorary degrees with Isaacson during the Commencement ceremony scheduled for May 13 at 10 a.m. in Kaplan Arena.
Isaacson currently serves as the president and CEO of the Aspen Institute, is the former chairman and CEO of CNN, former editor of Time Magazine and is noted as a best-selling author.
The Aspen Institute is a nonpartisan educational and policy studies institute in Washington, D.C. Beyond his work there, he is known for writing "The Innovators: How a Group of Hackers, Geniuses, and Geeks Created the Digital Revolution," "Steve Jobs," "Einstein: His Life and Universe," "Benjamin Franklin: An American Life," "Kissinger: A Biography" and "The Wise Men: Six Friends and the World They Made."
Walter Isaacson's life is a triumph of the liberal arts," College President Taylor Reveley said in a press statement.
"Walter Isaacson's life is a triumph of the liberal arts," College President Taylor Reveley said in a press statement. "In his work as a journalist, scholar and leader of the Aspen Institute, Walter has ranged widely and creatively, tackling some of the world's most thorny issues. He will speak splendidly at commencement."
Isaacson attended Harvard College and Pembroke College of Oxford University, which he attended as a Rhodes Scholar. While abroad, his career started at The Sunday Times of London, and he later went on to join Time in 1978 as a political correspondent.
Beyond his work in higher education, he has spent time working with philanthropic organizations, including in his current role as chair emeritus of Teach for America. Additionally, in 2005 to 2007, he served as the vice-chair of the Louisiana Recovery Authority, which is the organization that oversaw rebuilding in New Orleans after Hurricane Katrina.
In 2009, former U.S. President Barack Obama appointed Isaacson to serve as the chairman of the Broadcasting Board of Governors which runs Voice of America, Radio Free Europe and other international broadcasts in the United States.
In selecting him as the College's Commencement speaker, it is also noted that Isaacson is a member of the American Academy of Arts and Sciences and serves on the boards of United Airlines, Tulane University, the New Orleans City Planning Commission, Bloomberg Philanthropies, the Society of American Historians and the Carnegie Institution for Science.
His honorary degree from the College will be added to his collection of honorary degrees from Tufts University, Cooper Union, Franklin College in Switzerland, University of New Orleans, University of South Carolina, City University of New York, Pomona College, Lehigh University, Washington College and Duke University.
Hayden, one of the other individuals receiving an honorary degree, was sworn in as the 14th Librarian of Congress in 2016. She is the first woman and the first African-American to hold this position. According to a College press release, she is noted for making the decision to keep the libraries open during protests that followed Freddie Gray's death in police custody.
Verkuil, the last of the honorary degree recipients, served as the College's 24th president from July 1985 until 1992.
During his Presidency, he launched a fundraising campaign credited for raising $153 million, creating the Wendy and Emery Reves Center for International Studies, founding the Thomas Jefferson Program in Public Policy and overseeing the completion of three new doctoral programs in American studies, computer science and applied science.