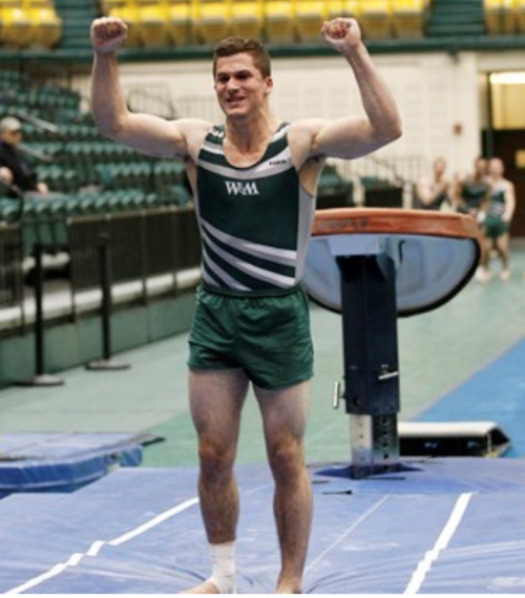 Saturday was a big day for the William and Mary men, with the Tribe posting a season-high score of 401.6 points to win a tri-meet against Army (393.55) and Temple (375.7).
At the beginning of the Senior Day meet, interim head coach Mike Powell recognized senior Neal Courter for his selection as one of eight finalists for the 2017 College Gymnastics Association Nissen Emery Award. This highest honor in collegiate gymnastics — often referred to as the "Heisman Trophy of gymnastics" — is presented every year to a senior who demonstrates outstanding achievement, sportsmanship and academic excellence.
"I'm so honored to have been nominated and to have received selection as a finalist so it's just so surreal for me," Courter said. "I've enjoyed every single second of today and every single second of the years that I've been here. I'm just really happy to have ended the season in Kaplan on a high note."
Courter also praised his teammates for the support they've given him throughout his time at the College.
"[The team] has contributed a lot to my personal development," Courter said. "They have been my rock, every single one of them. I could name a few names but it wouldn't do it justice because really everyone has been there for me. They've really contributed to me growing as a person and they've supported me through my battle with depression, through my struggles with school, through gymnastics, through everything. I'm just really grateful to have them by my side."
Courter made it to the podium on floor (14.1) and vault (14.2) with second and third place scores, respectively. Not only did Courter's performance on floor earn him a season-high individually, but it also helped the College to a season-high team score of 68.6 points. Freshman Tomas Palma placed first on floor with a career-high of 14.15 points.
Tribe gymnasts also took titles in three more events. Sophomore Jacopo Gliozzi placed first on pommel horse with 14.2 points, senior Rob Meyer took first on rings with 13.9 points and junior Griffin Antle's 13.9-point score put him first on parallel bars.
Meyer placed second on parallel bars with 13.8 points toward the Tribe's 65.85. Meyer (13.3) and Antle (13.2) both also contributed to the College's 66.25 points on pommel horse, placing second and third, respectively. Junior Jeremiah McReynolds took third on rings, with his 13.8 points adding to the Tribe's 67.2.
Freshman Tim O'Neill took second on vault with 14.3 points, contributing to the College's 70.55 points. Junior Mitchell Campbell placed third on high bar (13.1), helping the Tribe to its 63.15 score.
The Tribe also excelled in the all-around, with senior Aria Sabbagh taking the title with 78.2 points.
Powell praised the team's seniors after the meet, especially recognizing their accomplishments beyond their athletic performance.
"The seniors on this team are unbelievable. They represent exactly what we're about at William and Mary gymnastics," Powell said. "All of the guys they're scholars and at the same time they're doing athletics at the highest level. … And to go beyond that with community service and giving back and helping others, and that includes everything from the food drives that they're doing to working the kids program to the National Eating Disorder Walk to Neal being brave enough to talk about his struggles with depression and how that's influenced his school and his athletics."
Powell said that he was proud of the team for its efforts in Saturday's meet, but it should still always focus on improving for the future.
"It's been a great day. Any time that you have this kind of alumni turnout and fans out here and the guys are having fun and hitting routines, that's a great day," Powell said. "We do, of course, have room for improvement. We probably missed four or five routines today, but that's what practice is for. We'll go back in and try and do a little bit better the next time."
The men will continue their season in Seattle March 24-25 for the USA Gymnastics Collegiate Championships.
The seniors on this team are unbelievable. They represent exactly what we're about at William and Mary gymnastics."
While the men were home at Kaplan Arena, the Tribe women were at Brown for the Eastern College Athletic Conference Championship.
The Tribe placed fourth of six with a season-high score of 193.925 points. Yale took the title (194.600), followed by Cornell (194.450), Brown (194.125), the College, Temple (193.675) and Pennsylvania (192.075).
Senior Briana Gironda had the strongest individual showing for the Tribe, posting a career-high and placing first on beam with 9.875 points. Sophomore Aaliyah Kerr also posted a career-best on beam with 9.700 points toward the College's 48.325.
Kerr tied for third on floor with 9.800 points. Her score contributed to the Tribe's season-best 48.775-point score on that event.
In addition to her strong showing on beam, Gironda also placed fifth in the all-around with 38.250 points. Fellow senior Olivia O'Connor followed close behind with a sixth place, 38.175-point finish.
O'Connor and freshman Erika Marr led the way for the Tribe on vault with matching scores of 9.675 points. The College scored 48.175 points on vault.
Additionally, Marr posted a career-best score of 9.800 points on the uneven bars, which tied for fifth place. That score contributed to the Tribe's 48.650 points, which matched the team's season-high on that event.