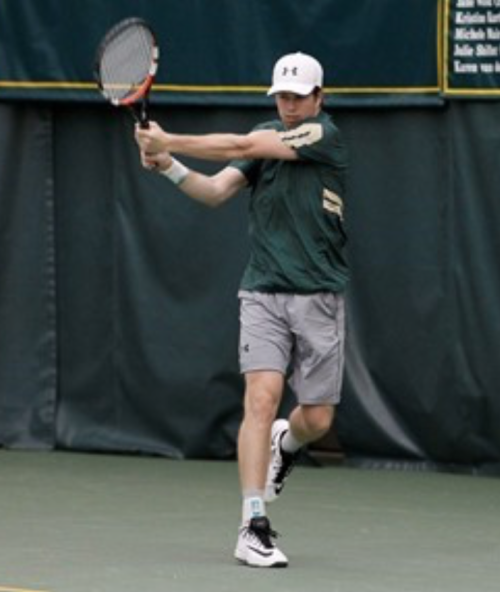 Saturday, the William and Mary men kicked off a six-game homestand by welcoming Xavier to the McCormack-Nagelsen Tennis Center. The Tribe (7-8) defeated the Musketeers (4-10) 6-1.
The Tribe secured the first point of the match in doubles. Juniors Lars de Boer and Alec Miller first defeated Xavier sophomore Trent Smith and junior Connor LaFavre 6-3 at the No. 3 spot. A 6-4 win at the No. 2 spot by first-time duo junior Christian Cargill and senior Aidan Talcott versus Musketeers sophomore Jack Dykema and freshman Matthew Graft followed, putting the Tribe up 2-0.
"Doubles is always trying to find what combos are going to work together," head coach Jeff Kader said. "It might make sense in our head, but if it doesn't actually make sense on the court, then we have to look for something new."
Senior Addison Appleby and sophomore Tristan Bautil did not get to finish their match at the No. 1 doubles spot.
"I think we're definitely improving in doubles," Appleby said. "We really struggled at the beginning of the year, but I think we've been putting a lot of work towards doubles, and we've been improving a lot …  I think it's really going to help us towards the end of the year."
Miller stole the first Tribe singles point with a 6-0, 6-4 victory over Smith at the No. 4 spot. Cargill finished soon after with another victory at the No. 2 spot against senior Jeremy Schneider 7-5, 6-2.
"We brought a lot of energy," Cargill said. "It was good to get back from spring break and play our first home match in a while. It's good to kind of get things rolling again."
Bautil crushed Graft 6-2 in both sets at the No. 6 spot. Bautil's win brought the College up 5-0, securing the overall victory. Appleby, after a long and hard-fought second set, came back with a 6-3, 7-5 win at the No. 3 spot against Dykema. Talcott fell 7-5 both sets at the No. 1 spot to Xavier senior Matt Bishop.
"I'm pleased with the improvement," Kader said.
The men will host Howard March 26 at 4 p.m. at the Millie West Tennis Center.