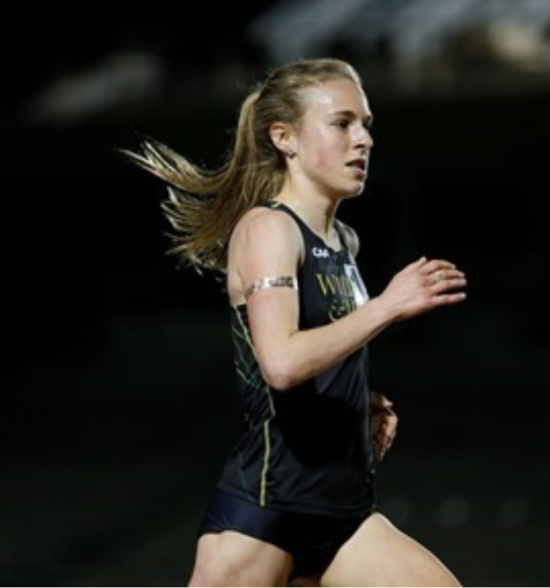 The crowd in attendance Saturday at Zable Stadium for the Tribe Invitational grew louder with the passing of each lap. Corey Leslie, a Nike athlete and George Mason assistant coach, was rabbiting the men's mile run and was on pace to run right around four minutes. Tribe senior David Barney and sophomore Ryan McGorty were tucked in right behind Leslie, their strides still smooth despite the breakneck clip. When the trio started the bell lap, Leslie stepped aside with his pacing duties complete.
The clock read 3:01, give or take a second, and the cheers from the Zable grandstand reached their pinnacle. Although the two milers slowed slightly, both clocked quick times. McGorty surged past Barney with a strong last 100 meters to finish in 4:07.28, which ranks seventh all-time at the College. Barney finished in 4:08.87 to rank 10th all time.
The women's mile had a thrilling finish as junior Regan Rome gave it all she had in the final stretch to nip Norfolk State's Martha Bissah at the line. Rome collapsed to the track in exhaustion after running a stadium record 4:49.71, a time that ranks as the second fastest outdoor mile in school history.
Elsewhere on the track, junior Dylan Anderson picked up wins in the 110 Hurdles and the 200 in 15.11 and 22.16 seconds, respectively, and senior AJ Tucker led the Tribe contingent in the 3K with an 8:24.97 clocking and a victory.
On the women's side, freshman Josephine Landis ran 1:00.89 to win the 400 and sophomore Brianna Miller won the 100 hurdles in 15.29.
The Tribe also picked up wins in the field and throws. Abigail Jones won the high jump in 1.64 meters. Bri Miller picked up another win by topping the field in the long jump with a leap of 5.43 meters while Julia McDermott took the triple with a jump of 11.43 meters. Freshman Samantha Moravsky won the javelin throw with a toss of 38.3 meters and junior Leia Mistowski captured the hammer throw with a heave of 53.51 meters.
Senior Lucas Wratschko won the men's pole vault by clearing 4.70 meters and senior Taylor Frenia won both the shot put and discus with tosses of 17.64 and 51.48 meters respectively. Frenia also took the hammer throw with a heave of 53.70 meters, and junior Tucker Rizzi won the javelin with a throw of 61.85 meters.
The College is back in action this weekend at the Fred Hardy Invitational in Richmond.