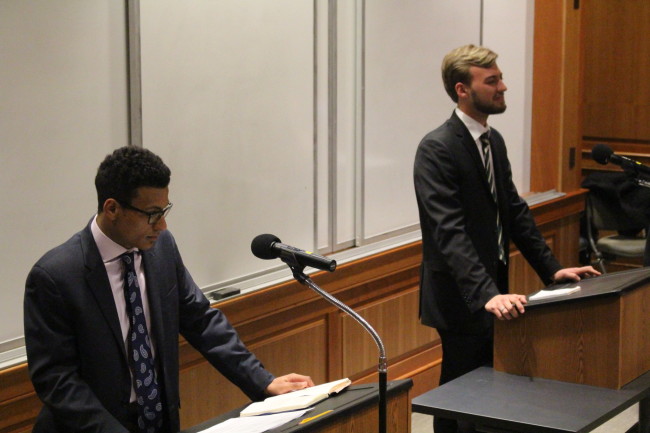 The Student Assembly presidential contenders this year, while addressing many of the same subjects in their platforms, have taken different tactics to forming the structure of their platforms.
Chairman of the Senate Danny O'Dea '18 and his running mate Nami Srikanth '19 crafted a six-page platform with detailed bullet points organized under several headings. Each section ends with a bolded goal that summarizes the earlier bullet points. On the other hand, Elijah Levine '18 and running mate Sen. Annelise Yackow '18 constructed their platform more around personal stories than around the details of implementation.
Diversity
Issues of diversity and inclusion make up large parts of both candidate pairs' platforms. Levine and Yackow's diversity platform is largely rooted in what Levine describes as his personal "experiences as a mixed person of color, continually straddling demographics in predominantly white institutions." This part of their platform focuses on using SA to facilitate difficult conversations on topics like race. They propose sending out what they call the "People's Report," which will be sent campus-wide and will aim to "expose the conversations interests, sources of excitement and anxiety that pervade the dialogue in marginalized communities on campus." The pair also proposes establishing unique SA funding guidelines for multicultural groups and taking steps toward becoming a sanctuary campus for undocumented students.
O'Dea and Srikanth focus on using SA's platform to publicize the programming of multicultural organizations. In addition to generally making a concerted effort to publicize diversity initiatives they specifically mention publicly supporting new, culturally-focused programs such as Asian and Pacific Islander American Studies and providing support for the work of the President's Task Force on Race and Race Relations. In addition, they propose racial sensitivity training for executive members of organizations that receive funding from SA. Their platform also proposes including greater diversity and transparency in the representation of the College's history, especially at times like Charter Day and homecoming.
O'Dea and Srikanth also devote part of their platform to increased accessibility on campus. They propose expanding the hours of transportation assistance, providing more funding for ramps and creating campus maps that show ramps and wheelchair accessible paths.
Mental health
On their website, Yackow opens the section on mental health with a personal story about her experiences with her own mental health as well as her discontent with the way SA has not changed their approach toward mental health activism in her years in the senate. Levine and Yackow's platform makes explicit their support for preventative care and includes their intention to develop a clause in syllabi that makes clear "department policies to always put the student and their health first over any academic deadlines." They also propose providing more resources to organizations like Health Outreach Peer Educators and Active Minds that are already working on mental health issues on campus as well as making student voices more prominent in the administrative side of mental health on campus.
O'Dea and Srikanth's platform focuses on bringing greater awareness to existing campus mental health resources, such as by making a visit to the counseling center part of orientation, providing an opportunity for students to meet the counselors and creating "effective, targeted publicity" for off-campus mental health resources. They also say they will reach out to multicultural organizations to learn more about their specific mental health needs.
Sexual assault
O'Dea and Srikanth have included several specific initiatives aiming at combatting sexual assault in their platform. These include mandating bystander intervention training sessions for all clubs and organizations that receive SA funding, increasing the availability of subsidized physical evidence recovery kits and increasing participation in national sexual assault prevention campaigns.
Levine has largely drawn on his experience as the Interfraternity Council vice president of programming as the basis for his platform on sexual assault. The crux of his and Yackow's platform on this topic is centering programming on supporting survivors, specifically noting an intention to expand the current First Year Essential Initiatives curriculum to include more information about sexual assault. They note the importance of including groups with expertise in the field, such as HOPE and the Haven. Additionally, the pair proposes making the definitions of terms used in discussion of sexual misconduct at the College clearer as well as "strengthening the parameters of no-contact orders."
Sustainability
O'Dea and Srikanth's platform proposes instituting a number of sustainability measures, beginning with increasing sustainability within SA itself. These include mandating that SA events use recyclable or compostable materials and developing a carbon offset program to make SA more carbon neutral. The pair also proposes collaborating with the Student Environmental Action Coalition to bring more speakers to campus to speak on topics of sustainability and environmental activism.
Levine and Yackow do not touch on sustainability in their platform.
Williamsburg
O'Dea and Srikanth have a section of their platform entitled "Engagement with Williamsburg," which includes a proposal to institute community service days sponsored by SA and intentions to work with Williamsburg landlords to "foster friendly relations" between students and residents. They also mention developing greater relations with Williamsburg's City Council by hosting a town hall on campus to familiarize students with their representatives in local government.
Although Levine and Yackow do not have a section of their platform devoted to relations with the City, they discuss the need for SA and the College to support a refugee resettlement resolution within the City. They also say they plan to work with the city to "reform tailgating regulations."
Student Assembly reform
Although Levine's platform does not have a section explicitly covering SA reform, he and Yackow have spoken about it as a part of the diversity initiatives they want to achieve. In particular, the pair is looking to create new regulations for the senate finance committee to make it more difficult for multicultural organizations to be denied funding.
O'Dea and Srikanth's platform includes a number of proposed reforms to SA, with the goal of "refocusing" in order to better serve the student body. Similar to Levine and Yackow, they intend to reform the Executive Appropriations Committee to become more accessible to multicultural organizations seeking funding. Additionally, they propose increasing SA finance accountability by codifying internal guidelines used by the finance committee. Additionally, they propose creating ways for donations from alumni to go directly toward specific issues such as mental health initiatives and multicultural organizations, although they do not lay out the specifics of what kind of avenues they plan to open.
The pair also proposes a number of changes to how SA approaches outreach to students at the College, including greater publicity of the senate's agenda and minutes and adding information about SA to the information presented during orientation.