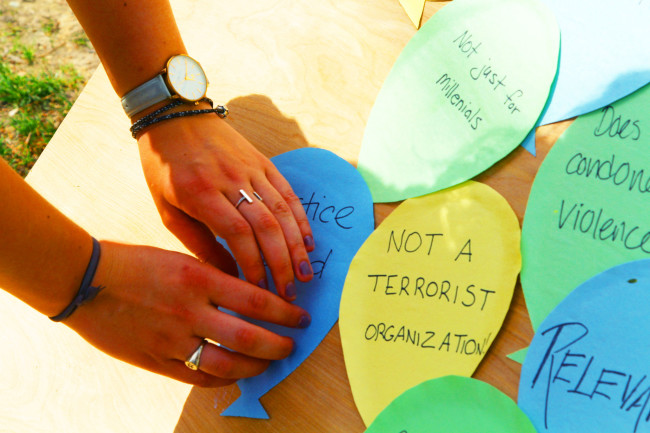 We, members of the 324th Student Assembly, wish to express our deep concerns over the conduct of several members of the William & Mary Police Department on the night of March 24, 2017.
Six members of the William & Mary community were chalking the sidewalk near the Integrated Science Center (ISC) in preparation for our third annual Black Lives Matter Conference, a weeklong event supported by the Student Assembly. Four were women of color. All six students were accosted by W&M Police officers, who demanded to see their identification and informed them that they were in violation of college policy by chalking. When the students asked whether chalking was categorically prohibited on campus, the officers revised their answers in contradictory ways. They told the students various things, including that chalking is prohibited on bricks (it is not). The students' calm inquiries into the nature of their offense and the rules surrounding chalking caused the officers to repeatedly tell them not to "get aggressive" and to "show them respect." The officers eventually informed the students that they were "free to go," although they did file a report of the incident and remained nearby to observe the students afterwards. They permitted the students to chalk on the chalkboard wall outside the ISC and on asphalt, prohibiting them from chalking on brick, which the College does not prohibit.
William & Mary Police are usually understanding of the needs of college students and treat us with respect. But in this instance, these officers showed serious disrespect toward several campus leaders. The officers disrupted a campus activity, apparently under the impression that chalk could not be used on brick sidewalks, but could not articulate the policy that prohibited this behavior, because one does not exist. One student had begun to chalk on a building wall, which is not allowed. He was unaware of that policy at the time, and he apologizes. But no officer ever definitively articulated that this action was a specific problem, and in fact the officers gave alternative, untrue explanations.
We are naturally troubled by the conduct of these officers. Police should be aware of the policies they attempt to enforce. This experience was frightening and deeply unpleasant for the students involved. We ask that you ensure that such an incident does not happen again. W&M Police have in the past brought public attention to their implicit bias training. We are pleased that such training is in place, but its benefits must manifest in the actions of W&M's officers, and not just on paper.
Sincerely,
Eboni Brown, President of the Student Assembly
Hannah McKiernan, Vice President of the Student Assembly
Sen. Danny O'Dea, Chair of the Senate of the Student Assembly
Sec. Erica West, Secretary of Diversity Initiatives
Pres. Emily Thomas, President of the Class of 2017
Pres. Laini Boyd, President of the Class of 2018
Pres. Jonah Yesowitz, President of the Class of 2019
Pres. Kelsey Vita, President of the Class of 2020
Sen. Mitchell Croom, Chair of Student Life
Sen. Annelise Yackow, Chair of Finance
Sen. Shannon Dutchie, Chair of Outreach
Sen. Sikander Zakriya, Chair of Public Affairs
Sen. Gaela Normile, Class of 2017
Sen. Jackie Amaya Mendez, Class of 2017
Sen. Colleen Heberle, Class of 2018
Sen. Brendan Boylan, Class of 2019
Sen. Ellie Thomas, Class of 2020
Sen. Noah Ferris, Class of 2020
Sen. Amy Domiano, School of Business