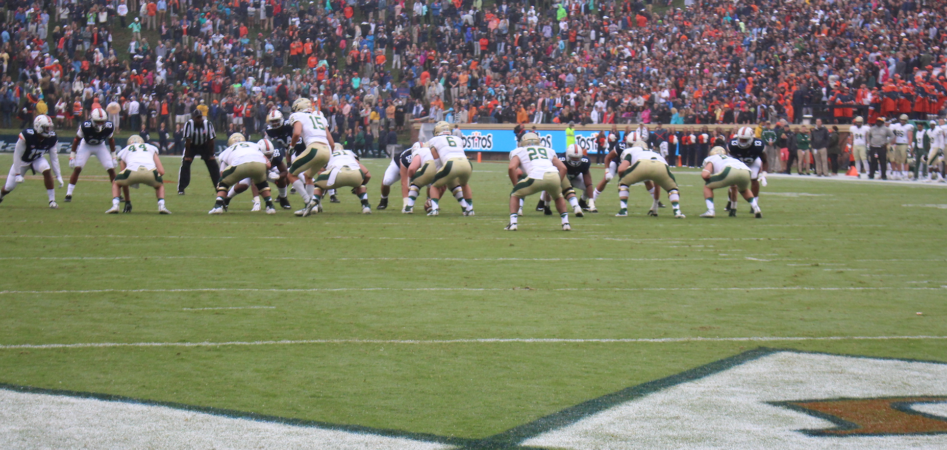 Saturday, William and Mary looked uncomfortable and out of sync offensively early in a misty, wet 28-10 loss to Virginia.
Junior quarterback Tommy McKee faced the daunting task of an Atlantic Coast Conference Power 5 opponent in his first career start, and the opening quarter went about as well as expected. The Tribe offense never got much going, as new offensive coordinator DJ Mangas '12 kept the playcalling especially conservative in the opening period.
"I don't know if it was real pretty, but I thought it was real gutty," head coach Jimmye Laycock '70 said, speaking of McKee's performance. "He really competed."
On the opening drive of the game, the Tribe forced Virginia into a quick three and out after solid play in the secondary from sophomore safeties Corey Parker and Isaiah Laster. The College opened its first offensive series of the season with two straight runs from redshirt freshman running back Noah Giles, who picked up a first down. After an eight-yard completion from McKee to senior wide receiver DeVonte Dedmon, the Tribe looked to be cruising, but the drive fizzed out quickly as runs by McKee and Giles went nowhere.
As encouraging as it was to see McKee hitting Dedmon on a crossing route early, that excitement was short lived for Tribe fans, as Dedmon finished with just two catches for 11 yards.
I don't know if it was real pretty, but I thought it was real gutty."
Virginia began its next drive methodically, ultimately working 80 yards down the field in nearly six minutes to take a 7-0 lead on a one-yard touchdown rush from junior tailback Jordan Ellis with 4 minutes left in the quarter. The most critical play of the drive came with the Cavaliers operating from a first-and-10 from the Tribe 37-yard line. After a 13-yard completion, sophomore linebacker Nate Atkins forced a fumble for the Tribe, but the College was unable to recover the ball in the ensuing scrum. Laycock was adamant that failing to recover the fumble was a critical error for the College.
"That's what we gotta have," Laycock said. "We gotta have that kinda stuff."
After drives from both the Tribe and Virginia fizzled out quickly, the Cavaliers took advantage of excellent field position after just a 30-yard punt from McKee. Virginia marched down the field, but on third-and-8 from the Tribe 18, senior defensive end Matt Ahola blitzed into the backfield and blew up the screen pass play for a loss of seven. After the ensuing field goal was well short of the goalposts, momentum appeared to have swung in the College's favor.
However, the Tribe drive was over nearly as soon as it started, and Virginia yet again marched down the field with relative ease on its next possession. The Tribe appeared to have trapped the Cavaliers, as they faced a fourth-and-9 from the College 34-yard line. In what was likely the turning point of the night, Cavaliers quarterback Kurt Benkert found wideout Andre Levone for a huge touchdown, extending their lead to 14-0. This remained the score until halftime.
McKee spoke on the Tribe's struggles moving the ball in the first half against the Virginia defense.
"They did some different coverages we hadn't seen on film," McKee said. "They played a Cover 2 and we weren't really expecting them to. It gave us a little trouble on our passing routes and stuff."
The Tribe offense came out of the locker room looking much more confident and composed to start the second half. Mangas sensed the confidence in his team and became a bit more aggressive with his playcalling, mixing up quarterback and tailback runs and short and long passes. After a key 28-yard completion from McKee to senior tight end Andrew Caskin, sophomore kicker Kris Hooper drilled a 41-yard field goal to cut the deficit to 14-3.
After a big kick return set the Cavaliers up just shy of midfield, Virginia cruised down the field to take a 21-3 lead on a well-balanced drive where Benkert finally seemed fully comfortable in the pocket.
On the ensuing Tribe possession, McKee seemed to pick up right where he left off on a quick 16-yard completion to senior wide receiver Daniel Kuzjak, but the next three plays failed to get anything going, and the College was forced to punt. However, McKee's punt effort went awry, resulting in just a 12-yard kick.
Virginia looked as if it was going to end any chance of a Tribe comeback as it marched down to the 24-yard line. However, a sack from Atkins dropped the Cavaliers back to the 39, where penalties and busted plays forced them to punt.
After a failed possession for each team, the College took over with 11:52 remaining in the contest in desperate need of a score to cut into the 21-3 deficit. McKee carried the team down the field on his legs, rushing six times for 59 yards on this drive alone. After scrambling for eight yards on a fourth-and-6 play, McKee capped the drive on a two-yard touchdown run, making the score 21-10 with just under seven minutes remaining.
After a Virginia three and out, the Tribe was set up to make a serious comeback bid. However, on the third play of the drive, a McKee pass ricocheted off the pads of Caskin and into the waiting arms of Cavalier linebacker Chris Peace. Starting at the Tribe 25, Virginia slowly worked into the end zone with 1:00 remaining to amass a 28-10 lead, which remained the final margin.
McKee finished the day six-of-12 passing for just 63 yards, but added 89 yards and a touchdown on 15 rushes.
Laycock was pleased with McKee's performance in the run game.
"It worked both ways," Laycock said. "One is that we called more reads to get him involved and two we called more passes that allowed him to pull it down and run."
With sophomore running back Albert Funderburke still out with injury, redshirt freshman Noah Giles rushed 11 times for 54 yards. No Tribe receiver finished with more than two catches.
On the defensive front, Parker and Atkins led a strong Tribe effort, with 13 and 12 tackles, respectively. Overall, the College's defense remained physically competitive against its FBS opponent until the final whistle.
Despite the loss, both players and coaches felt this game would help them moving forward.
"You go on the road against an FBS team and don't get any turnovers. It's tough," Laycock said. "I'm not discouraged at all. I'm much more encouraged than discouraged."
The Tribe looks to better settle into its offense next Saturday at Norfolk State.