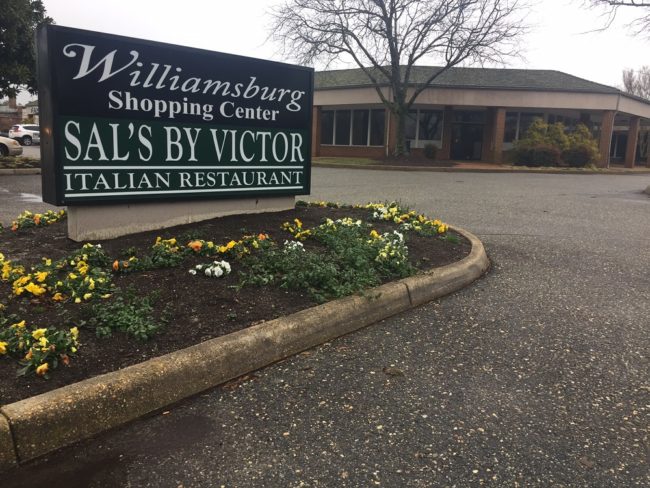 The future of the Williamsburg Shopping Center is in the hands of the City of Williamsburg's City Council, whose members will vote on a proposed design for a complete renovation Oct. 12. The shopping center, which is home to ACE Hardware, Virginia ABC, Food Lion and Sal's by Victor restaurant, is the planned site of a new retail and housing options, pending the upcoming vote.
Broad Street Realty purchased the shopping center, located at the intersection of Monticello Avenue and Richmond Road, Jan. 6 for $13.3 million. Since then, local officials have debated the potential design, which would create luxury student apartments, new retail spaces and a hotel.
When Broad Street Realty shared a conceptual design with the City's Architectural Review Board in July 2017, it did so as a courtesy, not as part of the formal review process. At this meeting, concerns about the proposed four-story buildings, which would be over 20 feet higher than the City's current building height limit, were raised.
However, some, like ARB Chairman Robert Lane, said that they do not believe these taller buildings pose a problem.
"My initial thought on that was, 'Gee, we don't want to see a lot of high-rise buildings in Williamsburg,' that's clearly not what I think would be appropriate," Lane said. "When you look at the specifics and at the details, the height of the buildings won't become the new standard for Williamsburg. It would be an exception for this area. After seeing the drawings and renderings, I don't think it will be an eyesore or that it will stand out all that much. … This is going to be a whole complex. It is going to be consistent and compatible in itself. I wouldn't want to see the City decide that this type of building is acceptable anywhere, but it's alright as a confined, one-time issue."
The ARB is now set to formally review the proposed designs after Broad Street Realty requested its special-use permit Sept. 20 at the City's Planning Commission meeting. At this meeting, Commissioners voted 4-3 to recommend the requested special-use permit.
As recommended, the permit would allow four, unrelated people to live together in student housing, a number which is higher than the City's current three-person rule. It would also extend the City's building height from 45 to 66 feet and allow Broad Street Realty to use 80 percent of new building space for multifamily units instead of the current 67 percent.
Members of the Planning Commission voted on the four, unrelated people clause separately, voting 5-2 on the zoning amendment to allow Broad Street Realty to house four non-family members together in four-bedroom apartments.
"The project as a whole is a big benefit to the City," Lane said. "At this point, you have a run-down, non-contributing shopping center, and we are replacing that with something different and better. … The design is certainly different than what you would say would be typical Williamsburg, but it is consistent with the comprehensive plan that has been in place since 2012. It's not like it is something that we never anticipated. People have been planning to do this kind of thing; to provide a mixed-residential retail situation with an improved streetscape."
Beyond the proposed student housing, Broad Street Realty's plan calls for new landscaped pedestrian boulevards, a public plaza with green space, sidewalks, bike lanes and additional space for retail. The company has said that Sal's by Victor restaurant, Virginia ABC and Food Lion will remain, and it has begun working with ACE Hardware to relocate the store within the shopping center.
After a foreclosure on the Williamsburg Shopping Center in 2015 caused by DLC Management Corporation's failure to pay the mortgage, special service company Torchlight Investors handled the shopping center and then eventually sold it to Broad Street Realty.
According to City Mayor Paul Freiling '83, vacancies in the shopping center were intentional, as Torchlight Investors worked to remove businesses to provide more flexibility to sell the retail space to a developer. Freiling said that Broad Street Realty is also working on a contract to purchase the shopping center across Monticello Avenue, which shows that there is significant retail interest in the space.
The preferred plan for the shopping center would add 380,000 square feet of new residential and retail space, a 140-room hotel and 624 beds in 240 residential units. While plans for the Monticello Shopping Center have not been made public, Broad Street Realty CEO Michael Jacoby has said that the Marshalls and Ace Hardware would move into that space.
"The retail will be chosen by the developer. The City doesn't have any say because that is a private business decision," Freiling said. "What we have seen with the developer is a number of casual food options that would be appealing to anyone who lives there. They are also looking at a green area that would be suitable for events and create activities. I don't think it would be solely geared towards students who live there."
According to Freiling, the proposed renovations would benefit the City not only economically, but by providing more retail and residential options to students and other community members.
"It does create more housing opportunities and gives more choices students, although it will not be exclusive to students," Freiling said. "It's going to be designed to be walkable. The other great thing about the timing of it is that within the next year we will see the construction of the multi-use path from the School of Education to Newtown that will open up bicycle and pedestrian traffic, and the City is redeveloping the few blocks of Monticello. All of that is happening at the same time."
Jacoby said his company wants to complete renovations on both properties by the summer of 2019 to accommodate students that would be leasing the apartments in the Williamsburg Shopping Center. With the Planning Commission's positive recommendation of the special-use permit secured, final decisions on the project will be made Oct. 12 at the City Council meeting.
According to ARB member Andrew Edwards '71 M.A. '94, the proposed renovations, if approved by the City Council, will revitalize the shopping center.
"I don't think [Broad Street Realty] is crazy," Edwards said. "If they are going to invest in this project, they are going to have businesses lined up, and they are already lining up. The reason I think that we have vacancies in this shopping center is that the previous managers of the complex were not terribly approachable or responsible, but I think that we can bring them back if people have a close, in-town place to get what they want."