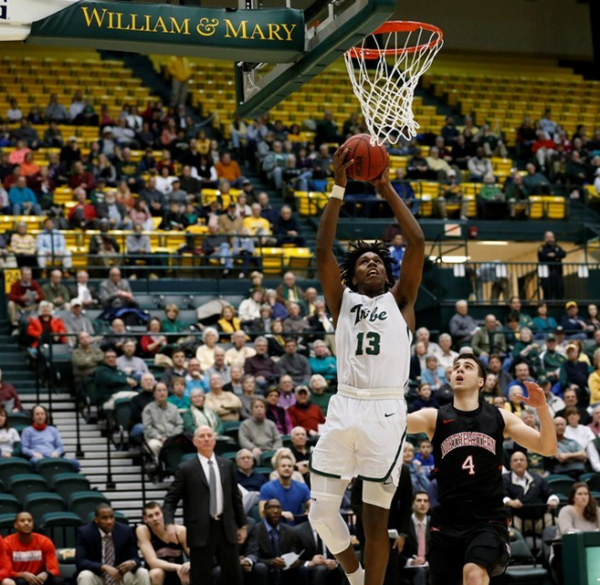 Five years ago, William and Mary welcomed Daniel Dixon '17 and Omar Prewitt '17 to Williamsburg. Last year, the pair graduated as the most successful senior class in Tribe history. Dixon became the fifth player in school history to make first team all-Colonial Athletic Association his senior year. Prewitt ranks fourth in all-time points for the College.
However, the distinction of "best class ever" may not be theirs for long. The trio of sophomores Justin Pierce, Matt Milon and Nathan Knight are on track to make an indelible mark on the College.
Last year, Pierce was stuck behind Prewitt. Pierce averaged only 3.7 points in his freshman season, primarily in a backup role.
Now in his sophomore year, Pierce has stepped up. He started at the forward spot this season, averaging 12.3 points per game and providing some much-needed defense for the team. Most impressively for Pierce, though, is his rebounding. He leads the team with 8.7 boards per game, including 17 in the team's miracle win at home against JMU.
Milon redshirted last year after transferring from Boston College. This year, he has slotted right in as a key offensive performer for the Tribe. Milon ranks 11th in the country in true shooting percentage, a statistic that measures shooting efficiency by taking into account two-pointers, three-pointers and free throws. He has hit 49.1 percent of his three-pointers, good for sixth in the nation. (Tribe senior Connor Burchfield ranks first at 51.4 percent.)
The redshirt sophomore has added a much-needed scoring threat to the starting lineup. A lefty, Milon can get to the rim, pull up or let it fly from anywhere on the floor.
The most impressive of the trio is Knight, who has performed at an all-CAA level so far this season. The six-foot-ten forward split time last season with Jack Whitman '17, who transferred out of the program this summer. Even so, Knight was named to the CAA all-rookie team after averaging 8.2 points, 4.4 rebounds and 1.3 blocks.
This season, after Knight developed his strength and his shot, he took yet another step forward. He scored 19.4 points, secured 8.0 boards and posted 2.4 rejections per game. If the College keeps winning, Knight could be a candidate for CAA Player of the Year.
Those three players — Knight, Milon and Pierce — propelled the Tribe to their best CAA start ever and have helped sustain a tie for first place in the conference, along with clutch contributions from Burchfield and senior David Cohn.
Of course, the past week or so has brought struggles, both for the team and the superb sophomores. Two blowout losses at home will cause concern for fans and people involved in the program alike. But a rebound Sunday at Elon was just another sign that this class will be special.
This sophomore class has a great chance to achieve the one glaring omission from the resume of the men's basketball program: that ever-elusive National Collegiate Athletic Association Tournament bid. If not this year, with solid seniors in key roles, then sometime in the next two seasons.
All three have room to grow. Milon could develop a drive to his right, as well as become an even more lethal shooter. Pierce could certainly stand to work on his three-pointer and get even stronger. And Knight has nearly unlimited potential. A more consistent perimeter game and post moves to his right hand might make him a legitimate National Basketball Association draft prospect.
If the sophomores live up to their potential, they could end up being the best class in Tribe history. And if they deliver the long-awaited NCAA tournament bid, they could end up with their numbers in the rafters.