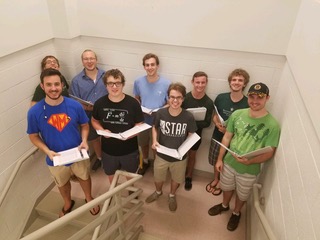 Greek life at the College of William and Mary isn't just about formals and philanthropy. For some, it's about finding a community around a shared passion — playing, rehearsing and arranging music.
There are three Greek organizations for music lovers on campus: the co-ed fraternity Delta Omicron, the fraternity Phi Mu Alpha Sinfonia and the sorority Nu Kappa Epsilon. While DO is a professional music fraternity that requires some music background, the only requirement for PMA and NKE is an interest in music.
"Anyone who identifies as male is allowed to join," current president of PMA Patrick Poehailos '18 said. "As long as we see you have an interest in music and passion for it, but there's no exclusionary process in terms of year or anything like that."
Poehailos joined PMA during his freshman year after meeting PMA members in the William and Mary Wind Ensemble, an organization of talented wind, brass and percussion players. After seeing what it was all about, Poehailos decided to take part in rush week.
"Through the rush week I just got to know the guys," Poehailos said. "They told me about what PMA did on campus and around, and I just really enjoyed it, so I was like, 'Oh, why not.' It was a cool way to join a group that seemed to fit with me and my interests."
According to DO member Sarah Swenson '20, a stress-free rush period is a commonality for musical Greek life at the college.
"It's a lot more relaxed than a social fraternity or sorority, particularly sororities," Swenson said. "We just do things like taco night, trivia night, and just come and chat with the brothers, and then at the end of the week, potentially get a bid."
Once new members are initiated into a music fraternity or sorority, the organizations hold weekly meetings, philanthropy events, recitals and socials. According to Poehailos, while the levels of commitment vary between Greek organizations, the requirements for music fraternities and sororities are generally pretty simple.
"It's mostly showing up to weekly meetings to get a chance to talk about what we're doing, what is our next big event happening, how is development happening for our new members, so everyone can get involved in that process," Poehailos said.
Since PMA also has its own acapella group, Choral Pleasure, some members also attend weekly rehearsals.
As with any form of Greek life, philanthropy is a key component of music fraternities. NKE works with the charity Songs for Kids, which brings the joy of music to hospitalized children. NKE also held its first big philanthropy event last fall, NKoachElla, which raised over 1,000 dollars for charity. As a part of its Mills Music Mission, PMA's dedication to acts of musical community service, the fraternity gives back to the community by performing for children and retirement homes.
For those interested in music, the sorority and fraternities are a way to meet people that share the same passion.
"The diversity of people," Imani Calvin '19, a member of NKE's executive board, said. "They come from different backgrounds and different interests. I know people who are really into Disney and Broadway, and that's not really my thing, but it's still really cool to see that."
NKE was also an opportunity for Calvin to branch out into a leadership position at the College. After witnessing fellow members of her pledge class and other sorority members step up and try for leadership positions, Calvin was inspired to run for ritual chair, an executive position that she said entails helping to organize the more secret ceremonies such as initiation and bid night.
For Poehailos, joining PMA meant finding a tight-knit community of brothers.
"The nice part about it is PMA is not only just a fraternity, which has all that kind of camaraderie built into it, but it's one focused on music, so it feels like there's a common thread linking all of us," Poehailos said. "It's cool to just have a group of people where my passions align with their passions, and we can come together for that."
Poehailos also said that joining PMA led him to step out of his comfort zone by joining Choral Pleasure.
"The a capella group that we have is something I never would have considered doing before college," Poehailos said. "I never realized I had any potential to sing until that point."
At the end of the day, musical Greek life is all about community, sharing your passion and having fun.
"I think you can meet your best friends," Swenson said. "Everyone's really friendly — it's a big community."
NKE provides those wanting to join a sorority a space to explore their love of music, no matter what their experience level is.
"You can come in and not play an instrument or sing or anything and still bond with people over music," Calvin said.
According to Poehailos, students interested in music and seeking to join a fraternity may find PMA a good alternative to normal Greek life.
"I think the environment of PMA is distinctly different in terms of just we're a cohort of guys," Poehailos said. "We're definitely focused on developing our internal sense of 'we are guys who hang out and really enjoy the music' and try to do our best together in the community and do these outreach projects … It just feels like the wholesomeness of a freshman hall mixed with the passion of everyone's here for the music … It's kind of cool to mix your passions with something that is, I guess, more formally intimate than a club would be."