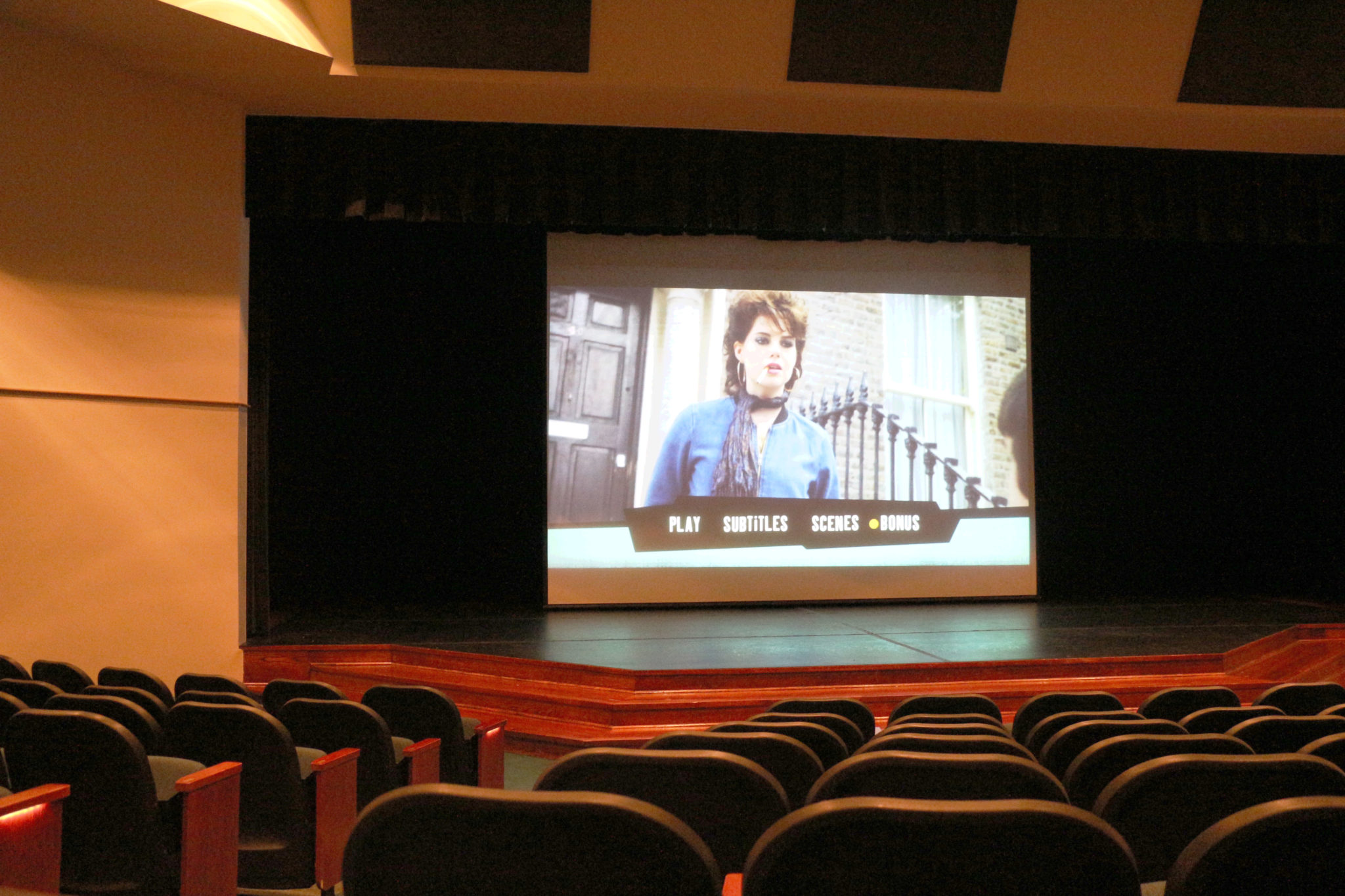 Anyone who found themselves walking into the Williamsburg Regional Library last Wednesday night and made their way to the theater in the basement would have happened upon a crowd of 45, enraptured by the charming Irish coming-of-age, musical rom-com "Sing Street."
It was the first screening of "Cinema at Scotland Street," the library's newest film series which will continue to present a curated collection of independent films from all over the world every third Wednesday of the semester for free.
The series was curated by adult services librarians Charlotte Burcher '91 and Cheryl Edwards.
"There are so many good films out there," Burcher said. "We wanted to alternate some feature films with documentaries and to get some foreign language films in there. Most of all, we want it to be fun. We want the films to be entertaining."
When the Kimball Theater changed management, Williamsburg found itself lacking in its offering of independent and experimental films and documentaries. The Williamsburg Regional Library noticed and introduced this film series in response. Burcher said that she hopes the film series will continue the Kimball's legacy.
"We heard so many laments from people that that was something that they want to see in town," Burcher said.
According to Burcher, there is something inherently special about the movie-going experience. Watching a movie with others, she said, contributes to building a sense of community.
"If I want to see a film I can just pull it up on my screen and get it off of Netflix and be under the covers by myself, but that's a totally different thing from being in a room full of people who are all enjoying the same film," Burcher said. "It's a totally different vibe."
Edwards has been running the Thursday afternoon classic film series, which attracts a loyal crowd of moviegoers, for the last 16 years. The theme for the classic film series changes monthly. January was "Manuary," with traditionally masculine movie themes; February will spotlight love stories and March is documentary-focused.
A love for movies precedes Edwards's involvement with the film series; she worked in the film industry for 11 years in historian production research for Lucasfilm before becoming a librarian. With "Cinema at Scotland Street," Edwards and the library staff wanted to try a different approach to attract a new audience to the library.
Rob Haas, program services and security director at the library, works to bring community film series such as the "Celtic Films Series," the "Italian Film Series" and the "Jewish Film Festival" to the library. But he emphasized that another aspect of outreach the library staff continuously have in mind is to make the library more inviting to the College of William and Mary community.
"That's one of the things we've always tried to do — get folks over that 4-foot wall and to the library," Haas said.
The next film in the series is "Kedi," a Turkish documentary which explores the city of Istanbul from the point of view of a street cat. "Kedi" plays Feb. 28 with a second matinée showing March 2. After "Kedi," the series will feature "Train to Busan," a South-Korean zombie thriller, March 28.
On April 25, the library will screen "Step," a documentary that follows three women through their senior years as members of a step dance team in Baltimore, Maryland. Burcher said that "Step" is a personal favorite.
"It's really high energy, it makes you want to walk away and dance," Burcher said. "It's also just a really strong picture of older women helping young women."
The two last films are "In This Corner of the World" and "Dawson City," May 16 and June 27, respectively. The former is a Japanese animated film set in Hiroshima during the Second World War with critically-praised animation. Additionally, both Edwards and Burcher highlighted "Dawson City" as a notable documentary with an exceptional story.
"In Dawson City, they were clearing out an old casino and they started digging in the backyard, in the swimming pool, and they found tons of film stock from the 1920s," Edwards said.
What follows is an exploration of the history of a First Nations hunting camp turned Canadian gold rush town in Yukon Territory through hundreds of silent films previously considered lost for decades, set to an eerie score from Sigur Rós collaborator Alex Somers.
As the series continues, the library staff said that they hope to present a balanced film roster that both the student body and the broader Williamsburg community will be interested in, and that they are very receptive to feedback. This is the first time the library has done a film series like this, but it hopes it will continue beyond this first run.
"I hope the College students make better use of the library," Burcher said. "We have a lot of really good stuff here. We have a lot of programming, and we would love to see more [students] over here. Come over, we are your public library."
All films in the "Cinema at Scotland Street" series and the classic film series are free and begin at 7 p.m. unless otherwise noted. A full film schedule is available online.