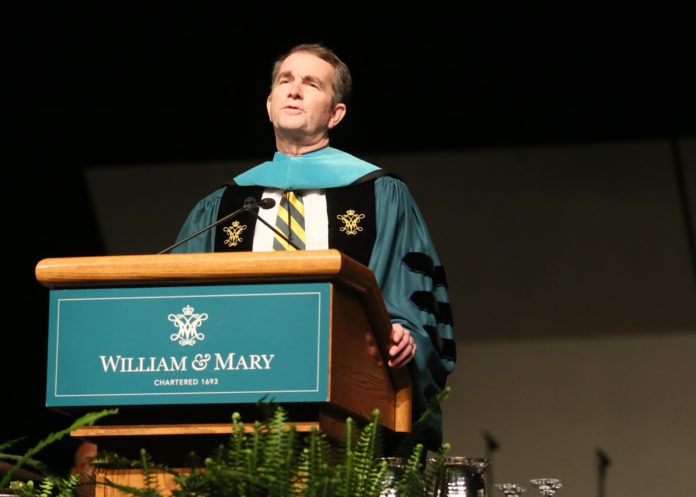 While students, faculty members, administrators and alumni gathered to celebrate the College of William and Mary's 325th birthday, there were two other anniversaries of note: the celebration of 50 years of African-American students in residence and that of 100 years of women in residence.
As the campus community came together Feb. 9 in Kaplan Arena to hear from College President Taylor Reveley, Chancellor Robert Gates '65 and Virginia Governor Ralph Northam, these anniversaries were at the forefront of the Charter Day celebrations.
According to Reveley, these anniversaries are vitally important to this academic year and to the College's history.
"Since first term began last August, we have been remembering and celebrating the 50th anniversary of the arrival on campus of three intrepid freshmen, three brave young women who were the first African-American students to live in our residence halls," Reveley said. "They were the first to fully integrate William and Mary — Lynn Briley, Janet Brown Strafer and Karen Ely. These alumnae arrived in September 1967, persevered and graduated four years later in 1971."
When Gates, the former U.S. Secretary of Defense who now serves as the College's chancellor, came to campus in 1961, there were virtually no students of color and the state of Virginia was segregated.
"When I graduated in 1965, as I recall, there was one part-time African-American student," Gates said. "Two years later, Lynn Briley, Janet Brown Strafer and Karen Ely arrived. Through their grace, perseverance and courage, they taught powerful lessons at this place founded as a place of universal learning. Together, we have made strides along the path of inclusivity, a path we must continue to travel. As I told the men of Morehouse College in my commencement address of 2010, ours is an imperfect nation that has and always will be a work in progress."
Reveley also said that 2018 marks the beginning of the College's acceptance of women. Feb. 12, 1918, the Board of Visitors adopted a resolution allowing women to be admitted which was shortly approved by the Virginia House of Delegates and Senate. Sep. 24, the first women enrolled as students at the College.
"It is hard now to even imagine the Tribe without women," Reveley said. "When they came in September 1918, they saved a college short on students and tuition because of the first World War's appetite for our male students. William and Mary led the way for co-education in Virginia, as it has led the way in American higher education in so many respects."
In addition to the 50th anniversary of African Americans in residence, Gates also talked about scholarships — without one, he said, he would not have been able to attend the College. Reveley agreed it is critical that there continue to be scholarships for students like Gates. As he said, providing these scholarships is a matter of national interest.
Scholarships and financial accessibility as a whole were themes that Northam touched on in his keynote address. As he accepted his honorary degree, Northam said that education, particularly higher education, is something that is important to him both as a parent and as governor. His son, Wes Northam '10, attended the College before going to Eastern Virginia Medical School, and Northam said that he and his wife were happy with their son's education.
"We could not tell the story of Virginia or the story of America without William and Mary," Northam said. "… Education is a huge economic driver. Colleges and universities like William and Mary attract talent and investment to their community and to the state."
Northam also commended the College for instituting and maintaining the William and Mary Promise.
"As parents, and now as governor, I appreciate the educational experience Wes had at William and Mary and the university's efforts to keep tuition affordable for students," Northam said. "I want every Virginia child to have the same opportunity for a good start and a good education … We need to make sure that the same opportunity exists in every corner of Virginia."
Joining Northam in receiving honorary degrees were two philanthropists, Frances McGlothlin '66 and Hunter Smith '51, and Trudier Harris, the first African-American faculty member to receive tenure. Harris studies African-American and Southern literature and teaches at the University of Alabama. McGlothlin and Smith donated to several campus projects including the Pi Beta Phi House renovation, the Alumni House renovation and the Zable Stadium renovation. Smith's donations also provide funding for freshman seminars.
Following Northam's speech, it was time for another part of the annual Charter Day celebration — the presentation of awards to students and faculty members. This year, Jordan Gilliard '18 received the James Monroe Prize in Civic Leadership and Likhita Kolla '18 received the Thomas Jefferson Prize in Natural Philosophy.
Two faculty members, anthropology and Asian and Middle Eastern studies professor Jonathan Glasser and Africana studies and English professor Joanne Braxton were also recognized. Glasser, who was not present at the Charter Day ceremony, received the Thomas Jefferson Teaching award. Braxton won this year's Thomas Jefferson Award.
Closing out the ceremony was a rendition of "Happy Birthday" by a capella group No Ceiling.
"Now as birthdays go, the 325th is worth a special celebration, but, in all reality, it's not actually all that momentous," Reveley said. "It's like the 25th birthday for any of us — nice, but a pale shadow in comparison to our 21st, much less our 50th. So, William and Mary really beat the drums and sounded the trumpets when it turned 300 in 1993, and I imagine the Tribe will get in high celebratory mode for its 350th and then go absolutely bonzo for the 400th in 2093. But now, it's the 325th. So let's just say 'well done alma mater of the nation, well done beloved William and Mary. You are magnificent, an iconic American institution, with a past rich with significance for our country and a future of enormous potential for the Commonwealth, country and world. We are very proud of you. You have never looked better at 325.'"