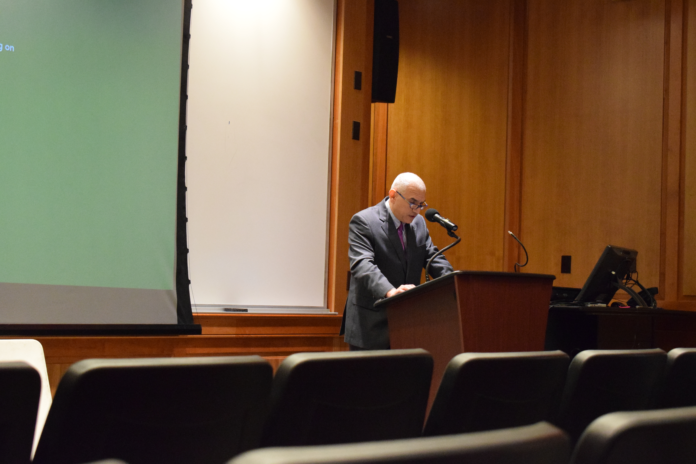 Associate professor at the Faculty of Law at the University of Toronto Mohammed Fadel is the College of William and Mary's 2018 Kraemer Middle East Distinguished Scholar-in-Residence. He gave his second lecture Wednesday, Feb. 7 entitled "Islamic Legal Reform Between Democracy and Reinterpretation," and his second lecture was titled, "The Islamic Theology of Sacrifice."
Acting Vice Provost for International Affairs and Director of the Reves Center Theresa Longo opened the event by explaining what it means to be a Kraemer Scholar-in-Residence.
"The Kraemer Middle East Scholar-in-Residence program brings experts in Islamic law and governance to William and Mary, where they share their expertise with law students, undergraduate students and our community," Longo said. Carol and Richard Kraemer, from the Class of '65, established the honor due to a generous donation.
Marshall-Wythe School of Law professor Christie Warren introduced Fadel, speaking to his accomplished past.
"[Fadel] clerked for the 4th circuit and practiced law for seven years at Sullivan and Cromwell," Warren said. "He is an extremely prolific author and public commentator. He has an incredibly busy international speaking schedule," said Warren.
Fadel began by explaining that this sort of lecture was a departure to his usual way of viewing Islamic law.
"A consistent theme of mine has always been to approach Islamic law as law rather than religion," Fadel said. "In this lecture, however, I am going to depart from that approach, and instead look at the theology of Islamic rules dealing with sacrifice. I am going to propose that this theology creates a framework, or a kind of political theology, that is crucial in understanding certain features of Islamic law, with respect to modes of governance."
Fadel also referenced Islamic political theology's rocky relationship with the Western world, referring to the status quo as a "global crisis of liberalism."
"Generally, Islamic political theology is of course a fraught one, living with a seemingly never-ending war on terrorism, the age of Isis, and the age of Trump," Fadel said.
As Fadel's lecture continued, he went into ancient Arabic pagan and Islamic history, comparing and contrasting their viewpoints on sacrifice. The lecture veered into theoretical territory regarding potential ways that Islam could provide insights into the nature of liberal self-governance.
"These are sort of very abstract and conceptual debates," Fadel said. "I doubt that the average Christian, Muslim or Jew knows anything about this, or is very motivated by these doctrines or ideas."
Ben Hotchner '21, who said he attended Fadel's lecture for extra credit, also attended the talk due to a personal interest in sacrifice as an important concept within Islam. Despite some confusion surrounding Fadel's overall lecture and organization of ideas, Hotchner said he still found many individual ideas to be fascinating and worth listening to.
"I thought some of the points he made were extremely interesting and well done," Hotchner said in an email. "I liked what he had to say about the horizontal and vertical nature of Islam (relative to people) and how that relates to government, but I thought he confused some strong points with side notes to other religions and ideologies."