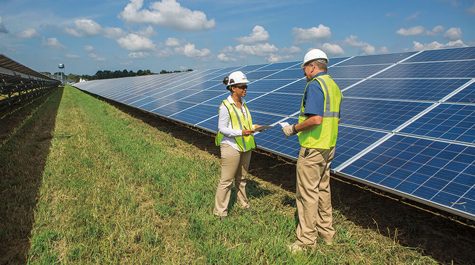 The College of William and Mary announced a power purchase agreement last week that aims to source roughly 50 percent of the College's electricity from renewable sources. The agreement with Dominion Energy positions the College to source the greatest percentage of renewable energy of any public university in the state.
This announcement comes following the College's commitment to carbon neutrality by 2030, a promise made in conjunction with the University of Virginia in December 2019.
Strata Solar developed the 20 MWac project and will install the solar facility on a farm in James City County. Strata Solar, a commercial solar company based in Durham, North Carolina, has installed numerous solar projects across Virginia. The facility will be operated by Dominion Energy and is estimated to begin producing solar energy by 2021 according to the College's press release.
The agreement is one of the largest steps thus far in implementing the College's Sustainability Plan for the Fiscal Years 2019-2024. This plan, which was released in late 2018, identifies a series of commitments the College pledged to fulfill in the categories of Campus Culture and Institutions, Academics and Engagement, Energy and Climate and Operations. This latest announcement seems to target two commitments to explore the "feasibility of sourcing grid-scale renewable energy for the campus by 2020" and "pilot a solar panel installation on the campus by 2020," according to the plan.
"This agreement is in line with the commitment to explore the feasibility of grid-scale renewables by 2020, it is right on time if not early," Director of the Office of Sustainability Calandra Waters Lake said.
"This agreement is in line with the commitment to explore the feasibility of grid-scale renewables by 2020, it is right on time if not early," Director of the Office of Sustainability Calandra Waters Lake said.
Waters Lake is optimistic that this agreement will succeed in its long-term objectives.
"More than a step, this is a leap toward carbon neutrality," Waters Lake said in an email. "Our largest source of carbon emissions is electricity, but this agreement allows us to address half of those emissions in one swoop and holds the potential to reduce the university's costs."
Samantha Moore, Dominion Energy's communications specialist, discussed the agreement's benefits for advancing solar energy across the region.
"At Dominion Energy, we are working hard to reduce our carbon emissions and help our customers do the same," Moore said. "We are proud to support William and Mary's efforts to reduce their carbon footprint by powering their operations with renewable energy. Adding cleaner energy to the grid benefits everyone, and partnerships like this help expand the development of clean energy by driving the market for renewables here in Virginia."
Though the solar panels will not be physically on campus because of a lack of space, the College plans to install two demonstration solar panels on campus for educational purposes, as stated in the press release. The connection between tangible improvements to campus sustainability and academic engagement was emphasized in the Sustainability Plan and has been demonstrated throughout the College's most recent announcements.
This most recent statement comes following a series of developments late last year that demonstrated the College's commitment to its Sustainability Plan. Along with the 2030 Carbon Neutrality Goal, the College announced the creation of an Institute for Integrative Conservation. The Institute — funded by a $19.3 million "For the Bold" donation — will provide a cross-disciplinary space for exploring creative approaches to conservation. It hopes to drive research agendas on campus and provide students with opportunities in the emerging field of conservation.
Student environmental groups on campus are supportive of the College's intentions but question its methods.
"We enthusiastically support the college's efforts to reach their goal of carbon neutrality by 2030," Williamsburg Sunrise Monument representative Catherine Green '20 said in a written statement. "It's frustrating to see the college partnering with Dominion Energy. Sunrise believes in climate justice and wants to combat income and racial inequality in addition to climate change. Dominion, both by its nature as an energy monopoly and by its repeated actions, is antithetical to this goal. They should not exist, and the College should not work with them."
The Williamsburg Sunrise Movement has been heavily involved in climate action initiatives on campus, including several recent climate strikes. In its statement, Sunrise indicated a willingness to engage in dialogue with the College.
"We are open to meeting with the administration and would be glad to discuss what we believe they can do to further the cause of climate justice while reaching their 2030 goal," Green said.