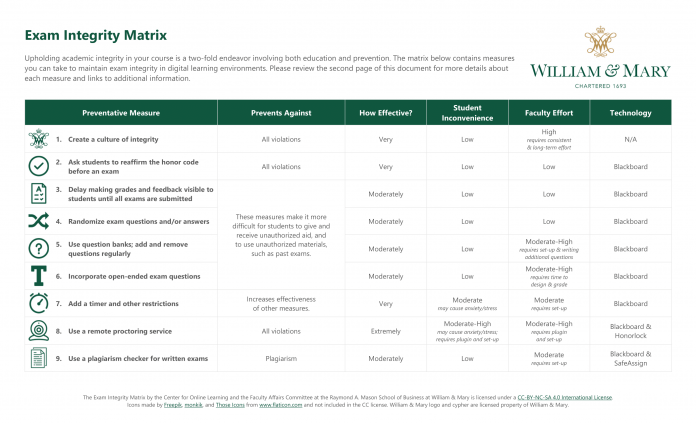 Thursday, April 16, the College of William and Mary announced that it would offer remote proctoring for spring semester exams using Honorlock, an in-browser remote proctoring service. Honorlock is an extension for Google Chrome that monitors students' webcams and microphones during exams, and while usage of the service is not mandatory, the College plans to make it accessible for professors to use during proctored finals in May.
"Exam proctoring is something W&M regularly offers and uses to meet needs of specific students and/or courses," Dean of Students Marjorie Thomas said in an email. "Proctoring protects the integrity of the testing process, thereby maintaining a level playing field for all students."
However, for some students, Honorlock's implementation has raised questions surrounding the browser extension's security and equity. For students with non-traditional backgrounds, such as President of the Student Veterans of William and Mary Phillip Sheldon '20, remote proctoring could create issues.
"Student accessibility to webcams, privacy, and a stable environment are my primary concerns," Sheldon said in an email. "Due to the widespread shift to telecommuting and online distance learning, webcams have become both scarce and expensive. Further exacerbating this problem, Amazon has announced that shipment of non-essential products would be delayed in favor of products that are necessary for daily living and webcams do not fall in this category. While there is funding available for students who need financial assistance to purchase a webcam, there is insufficient time to acquire one."
Honorlock operates through a Google Chrome extension, but it requires using a microphone, webcam and a stable internet connection. For students with weaker network connections, these requirements pose concerns.
"I do not have a stable internet connection," Sheldon said. "Furthermore, Honorlock states that it monitors a user's network connection for irregularities. I frequently experience total lapses in my connection. Will I be able to log back in? Will I have the same proctor? To Honorlock, that is an unaccounted period. It is egregious that the university claims to care for student concerns while similarly making policies that are antipathetic to those very same concerns."
"It is egregious that the university claims to care for student concerns while similarly making policies that are antipathetic to those very same concerns."
According to Associate Director for Academic Innovation Adam Barger, the Dean of Students Office will make accommodations for students with concerns about hardware or network connections.
"The Dean of Students Office is considering requests from students with extraordinary circumstances, including those who may need support procuring necessary equipment and Wi-Fi connections," Barger said in an email.
In the past, the College has offered remote proctoring services for online classes using Proctorio, an in-browser extension that operates similarly to Honorlock. Likewise, many universities with online classes offer remote proctoring services, and following mass shifts to remote learning caused by COVID-19, these services have grown in popularity. Sheldon, who has experience with remote proctoring services, argues that the College has not adequately prepared students for this change.
"There is a notable difference between other institutions, such as community colleges, that have a robust online distance learning apparatus," Sheldon said in an email. "In the case of Northern Virginia Community College, there are testing centers available on campus if a student does not wish to have their personal IP address monitored or a proctor or professor to see their home. These testing centers offer a stable learning environment and consistent networking for students who may not have either."
Sheldon said that his previous experiences using remote proctoring were unsatisfactory.
"I have used a similar service in my own home, ProctorU, which required that I remove all objects in sight around me: books on a shelf, mirrors, fans, everything was in play," Sheldon said.  "All objects that were unrelated to the exam needed to be removed. Before I transferred, I lived in a small apartment with a roommate and I had to move nearly everything out of my room while my proctor watched. After that experience, I opted to use testing centers. In contrast, William & Mary students do not have access to testing centers and have been forced out of their dorms into a myriad of living situations exacerbated by an ongoing pandemic. William & Mary students do not have a reasonable way of opting-out for their own privacy — the switch to Honorlock is incongruent with standard distance learning norms."
Since the College's announcement, privacy concerns surrounding remote proctoring have appeared at the forefront of student discussions. Honorlock collects audio and video feeds to ensure that students are not accessing illicit information during their exam through computers and mobile device usage.
Barger ensured students that this data is kept confidential.
"Honorlock is FERPA compliant and uses securely encrypted protocols to save and view all test taker assets," Barger said in an email. "Honorlock's certified proctors and your institution's faculty are able to review test session videos until deleted based on the school's retention policy. More information on privacy can be found on Honorlock's student site."
Per the Honorlock website, the service uses a combination of live monitoring and AI to assess exams for honor code violations. This data is then transmitted to professors after the exam is complete.
"Before the exam begins, a student uses their webcam to scan the room for any other people as well as illicit resources, and our AI system pays attention to body language cues such as diverting the eyes from the screen or getting up from the desk," the Honorlock website reads. "After the exam, we send you a report of potential incidents and a time-stamped recording to review so you can protect the integrity of your students' learning experience."
"As would be the case if your instructor proctored an in-class exam, students cannot opt out of the proctoring process."
While professors can choose not to use Honorlock for their final remote exams, there is no formal "opt out" protocol for students with privacy concerns.
"As would be the case if your instructor proctored an in-class exam, students cannot opt out of the proctoring process," Barger said in an email. "This is not to say that instructors can't offer alternative assessments or work with students to address concerns, but this is at the instructor's discretion."
For some students, professors' decision to use Honorlock has turned into a "make or break" situation as students weigh whether to take courses for credit or to drop them entirely.
"I hope none of my professors intend to use it," Evan Marshal '21 said in an email. "I would have to weigh the merits for each class. I am auditing a Spanish to get caught up on the language; while I intended to see the semester through despite all the added challenge of remote learning, I will drop that course if they want to use honorlock. If the school insist on using this software this semester, I think it will permanently damage my positive opinion of it."
Correction: An earlier version of this article stated that Honorlock collects network data. Per the Honorlock privacy statement, it does not.