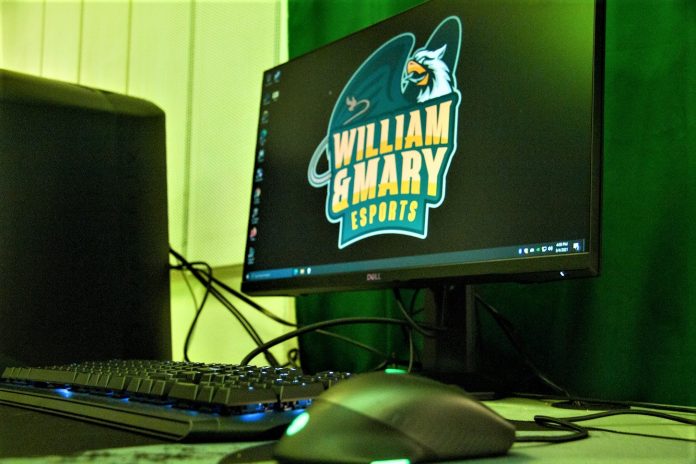 In the coming years, students at the College of William and Mary may be able to minor, or even major, in esports. The College is on its way to becoming an esports powerhouse. Not only is the College one of the first institutions to offer academic classes on esports, but it also has a nationally competitive Division I esports team.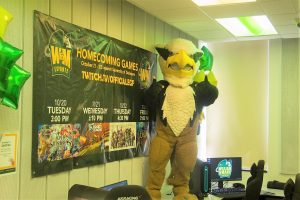 In March 2021, the College officially opened its Esports Training and Research Center (ETARC). Equipped with six high-performing gaming PCs and a streaming and production room, ETARC will serve as the home base for the College's blossoming esports movement.
For those unfamiliar with the term, esports, or electronic sports, refers to competitive gaming. As for the academic side of the College's esports program, classes on esports were first offered in winter 2020. Fifteen students enrolled in a completely virtual, one-credit course entitled "Introduction to Esports." This course served as the launching point for esports studies at the College, covering the history of the movement, the evolving industry, and connections to education.
This summer, the College will launch its Esports Level-Up Program to help prepare students to enter one of the nation's fastest-growing industries. Summer 2021 course offerings include "Esports in Education," "Computational Problem Solving in Data Science," "Reasoning Under Uncertainty," "Esports & Marketing," as well as "Esports & Communication." Plans are in the works for establishing an esports minor, and as of now, the door is open for a potential major. Esports courses incorporate a wide array of interdisciplinary studies, with possible future course topics including broadcasting, commentating, music theory, game design, health and wellness, data science, and more.
By studying the fundamentals of esports, students can gain insight into technological advancements and their impact on culture, as well as hone skills like teamwork, leadership and creative thinking, skills applicable to all industries, as the College's Academic Specialist Esports Pioneer, Jonathan Newby '22 explained.
"Esports is a digital-first industry — players are expected to not only have mastery of keyboard controls, but also develop robust social media presences and be influences of the internet market," Newby wrote in an email. "Esports players come out with mental agility, technological prowess, and personal branding skills unmatched in many other fields, making them adaptable to a vast array of careers post-esports."
Varsity Esports Coordinator and League of Legends coach Tim Cho '22 added that specific technical abilities like digital marketing, statistical analysis, coaching, broadcasting and managing are invaluable skills that students can learn from the applied side of esports. Simply put, competitive gaming allows students to gain profound experience with computers, programming and social media — professional benefits which can distinguish and allow esports gamers to be especially competitive in the modern job market.
Newby believes the implementation of esports into the academic curriculum is important for the College as a leading research university, and he currently is working to help facilitate career connections with alumni and industry leaders and create a space for independent research opportunities in esports and gaming for interested students.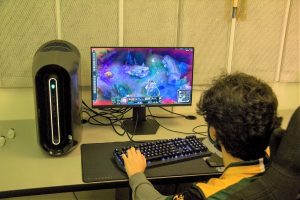 "Esports is important because it encapsulates the experiential learning, creativity, and critical thinking we expect of our students," Newby wrote. "From personal experience, my first course in gaming at William & Mary was Dr. Elizabeth Losh's 'Gender, Sexuality, and Gaming,' and it opened my mind to the promise of video games being a medium for personal fulfillment and social change. There are schools across the nation with strong gaming programs, and my long-term goal is for William & Mary to become the school for gaming and esports on the east coast, if not the nation."
Esports first began in the early 1970s, and in the last several years, esports began expanding to college campuses across the country, beginning with the formation of the National Association of Collegiate Esports in 2016. Today, over 170 institutions of higher learning belong to NACE, with 5,000 plus student gamers involved. In 2019, members of a University Teaching and Learning Project saw the benefits of potentially integrating esports into the College's curriculum and organizations, and students entering in 2019 were surveyed on their interest in the possibility of esports coming to the College. The enthusiastic response encouraged the idea to be explored more seriously, leading to the robust program the College offers today.
On the applied side of esports, the College currently hosts a Division I esports team, partnering with the Electronic Gaming Federation, an independent esports league for high school and collegiate esports in the United States, allowing students to compete nationally. Students of the College compete in the following games: FIFA, League of Legends, Overwatch, Rocket League and Super Smash Bros. Ultimate. Like in traditional athletics, each game has a coach and dedicated gamers. Additionally, all of the College's gamers have an official William and Mary Esports jersey.
For Esports Pioneer Tyler Standfield '22, being part of the Esports movement at the College has allowed him to learn more about esports sponsorships — granting him a unique opportunity to study business in an environment outside of the business school where he can experience firsthand the challenges and opportunities in the industry. Standfield commends the College for being ahead of the curve in terms of offering students interested in esports opportunities to follow their passions in both an applied and academic setting, especially since the academic study of esports is still in the beginning stages nationally.
One of the biggest challenges in creating a robust Esports program has been getting the word out to the student body. Social media and communications platforms like Instagram and Discord have been helpful in spreading information to both students interested in joining and members of the community. With nearly 300 members, the College's Esports Discord server is stronger than ever, and it serves as a good starting point for students wanting to get involved.
According to Standfield, the stigma associated with gaming has also made it more difficult to grow the movement.
"Other than getting the word out, there's the stigma associated with esports," Standfield wrote in an email. "Video games aren't reserved for kids or basement dwellers — there's real competition that not everyone sees."
Standfield has found that esports seem to be a wonderful fit for students of the College specifically, due to the commonplace mentality of being willing and excited to tackle new challenges. This agility to adapt is especially important in esports, a rapidly evolving industry.
As Varsity Esports Coordinator and League of Legends coach, Cho helps his players not only improve their technical skills and knowledge of the game but also seeks to enhance the team's communication skills and synergy. Unlike traditional sports, where athletes grow up belonging to various types of teams (school, travel, recreational, etc.), and thus, have a strong working knowledge of team dynamics and strategy, most esports athletes join the team with individual experience and technical skill, but without the experience of playing esports as part of a team, which Cho notes is a different dynamic. To improve gaming techniques, esports coaches review important plays after scrimmages and events to not only gain insight into players' reaction times and split-second decision making but also to analyze opponents' techniques.
The College's esports teams have competed successfully this year, with the Super Smash Bros. Ultimate Team dominating nationally, particularly impressive given the recent nature of the College's program compared to other universities' longer established teams.
"Overall, our teams have done incredibly well adjusting to varsity-level play in the short time we had to prepare for the season," Cho wrote in an email.
For some, like Media and Communications Esports Pioneer Max Simon '24, the main allure of the esports movement is that there is a place for video games in postsecondary education. As a freshman, Simon hopes to see the College's Esports program continue to grow throughout his years on campus.
"My biggest hope for Esports at W&M is that it will reach students who may have no background whatsoever in gaming," Simon wrote in an email. "I love when people ask me for more information, because we're always looking to grow our community and introduce more people to the world of competitive gaming."