The College of William and Mary prides itself on the vast opportunities for educational enrichment it provides its students both inside and outside of the classroom. Carter Prillaman '23 and Grace Morales '24 took advantage of some of these opportunities this summer both near and far from campus. 
"I wasn't really planning on getting very involved with research labs," said Prillaman. "I just had a lot of free time my freshman year and I remembered during orientation they really stressed that if you want to get involved with a research project you could. So, I decided I will."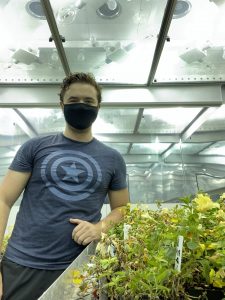 Over the summer, Prillaman worked as a paid lab assistant in Williamsburg for biology associate professor Joshua Puzey. Prillaman has been a part of Puzey's lab since the spring semester of his freshman year. At the time, the lab was just beginning, and Prillaman's responsibilities were limited to growing and maintaining the plants involved in the project. Now, Prillaman has begun to assist with experimentation on the plants. 
"I didn't really have a lot of direction coming in so I spent most of my time doing plant care." Prillaman said. "I had about 430 flowers that I grew from seed. I've been caring for these flowers for a couple years now but I put a lot more time into them over the summer. I performed molecular and chemical experiments to try and alter vein formation in the flowers to see if it would change the patterning on the actual petals."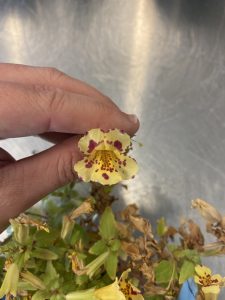 The objective of Professor Puzey's lab is to determine whether Alan Turing's reaction-diffusion mechanism seen in animals, such as zebras, clownfish and dalmatians, is also present in plants.
"The hypothesis was proposed by Alan Turing in the 50s." Prillaman explained. "It says that each pattern is formed in living organisms by an activator. The activator molecule activates both an inhibitor molecule and itself. Then the inhibitor molecule will then go and inhibit the activator and this gives rise to spatially diverse patterns. Animal patterns are known to work off this but with plant patterns it has not been proved yet."  
Prillaman is a biology major and prospective chemistry minor. Post-graduation, he plans to further his education by pursuing a graduate degree in either horticulture or agriculture. He attributes much of the inspiration behind this decision to his time spent in working in the lab.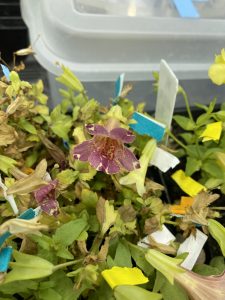 "I would say working in the lab gave me a sense of direction." Prillaman said. "I came in not really knowing what I wanted to do. I tried working in clinical labs in the past and I hated it. For a lot of biology majors it seems like either medical school or clinical lab work is the only way to go but that really is not the case. There are a lot of opportunities out there for people who are not necessarily interested in doing clinical work. You're not locked into healthcare as a biology major and that was really gratifying for me to see."  
Two hundred forty-six  kilometers away from campus, Grace Morales spent her summer in Washington, D.C. taking part in one of the William & Mary Washington Center's  D.C. Summer Institutes. Morales was a part of the Leadership and Community Engagement Institute taught by professor Drew Stelljes. Over the course of two weeks at the beginning of the summer, Morales and the rest of her cohort attended lessons by Steljes and various guest speakers on the importance of leadership.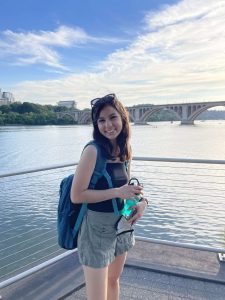 "We learned about leadership, different types of leadership styles, how leadership unfolds and effective leadership," Morales said. "It was super helpful to have because in my own internship I was seeing how the people I was working with leadership styles were playing out and how effective they were and also when they were ineffective." 
Morales also worked as a diplomatic intern for the Diplomatic Courier, a magazine based in D.C. focused on international affairs and diplomacy. At the magazine, Morales' main responsibility was to help the editor-in-chief with her duties, which ranged from writing articles to meeting with ambassadors.
"I assisted the editor-in-chief with her newsletter she has on embassies," Morales said. "I did a lot of research for her, wrote an article, and we would go on trips to the embassies. That was definitely the best part for me because I got to talk to diplomats and I got to meet an ambassador which was really cool."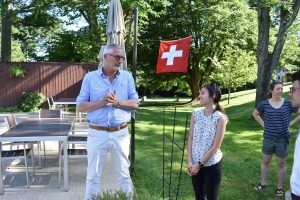 In her spare time, Morales worked at Shaw-based restaurant Nina May as a waitress. While Morales was in D.C., she wanted a chance to connect more with the city on a personal level and believed working at the restaurant was the perfect way to do so.
"It was kind of difficult for me to be doing the majority of my work by myself in my apartment," Morales said. "I kind of enjoy going to a central space where I can be with other people. I actually ended up taking a restaurant job which kind of fulfilled that for me. I was able to talk with a lot of people there so it was a good balance for me because I was getting to know two different cultures and two different types of people and I think that's really important to have that experience of being in environments with people you wouldn't normally come across."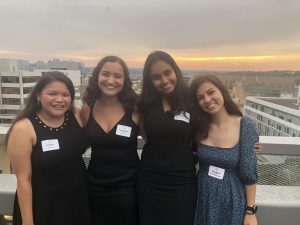 At the end of her experience in D.C., Morales remarks that she feels a new-found confidence in herself and her future career plans.
"Working at the internship and seeing all these diplomats, I want to go into foregin service when I graduate." Morales said. "I think I will work at an embassy doing research and international relations. My internship definitely helped me so much with the confidence to say that. My supervisor would always introduce me to someone as 'This is Grace and she wants to join the foreign service,' and at first I was like 'you don't really have to say that' but then I realized that I might as well just own it, I do want to join the foreign service."