The College of William and Mary's Center for Student Diversity seeks to promote an inclusive, welcoming environment and foster dialogue among students of different backgrounds through various events, discussions, lectures and the performing arts on campus.
One of the most unique Center for Student Diversity programs is Inside Out Theatre, a group that aims to share the diverse life experiences of students through poetry and monologues. The group performs One Tribe, Many Stories each year for incoming freshmen. Covering topics like race, disability, gender identity, sexual orientation, neurodiversity, disordered eating, mental health and addiction, as well as socioeconomic, immigration and veteran status, Inside Out Theatre troupe members showcase the struggles and accomplishments of members of the community, encouraging students not only to share their own stories with their classmates and peers but to listen and learn from others' experiences and perspectives.
For Jason Dean Robinson '22, Inside Out Theatre's performance at Orientation quelled worries about fitting into the community.
"I'll have to admit that, coming from a high school with a diverse campus, W&M's lack of diversity made me a bit nervous," Robinson said. "However, Inside Out Theatre's One Tribe Many Stories program at orientation really turned that around. I felt like, even though there weren't a whole lot of people who could relate to my experience, there were plenty of people open to learning about it and if I looked, I'd find someone who could relate. That is why I think Inside Out is important to the community — the group allows students to see themselves where otherwise they might not have. It gives them a space to teach and to learn about theirs and others' lived experiences."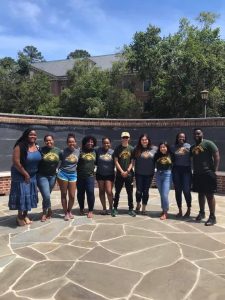 Currently the student coordinator for Inside Out Theatre, Robinson considers both working with student writers and performers and seeing their artistic and personal growth to be a privilege. Robinson has also found that one of the most meaningful parts of involvement with the troupe is being approached by students inspired by the performances, a sentiment seconded by troupe member Aamir Mohammed '23.
"I have witnessed firsthand some of the impact the club has done for the William and Mary community, whether it be freshmen seeking me or other performers after performances to mention their appreciation for the messages or representative perspectives we strive for, or locals seeing our shows and considering supporting the Center for Student Diversity," Mohammed said.
Aside from Inside Out's role during Orientation, the group typically performs every semester — last October the organization hosted a horror-themed show, and in the spring, the group explored the experiences of students of color and the College's history as a predominately-white institution with their performance "Institutions." Shows are often followed by open mic sessions, allowing students who are not part of the troupe to still share their work. While plans for fall and spring semester shows are still in the works, Mohammed has been working on a full-length play to be performed in April about the 1970s Love Canal environmental disaster, touching on themes of immigration, gentrification and environmental injustice.
Students of any class interested in joining can apply to be a cast member, and no acting experience is required, nor are there auditions. The crew of about 12 meets weekly, and while plans are currently in flux due to COVID regulations, it is possible that meetings will once again take place in the Mosaic Room in Campus Center rather than being held over Zoom. Those who want to be kept up to date about Inside Out's events can do so by following @wminsideout on Instagram.
In addition to Inside Out, the Center for Student Diversity sponsors Preparing for Life as a University Student (PLUS), a pre-orientation program which introduces incoming students to the College's academic life, allowing for a smooth transition between high school and college. Program participants become familiarized with campus resources and interact with faculty as well as student counselors.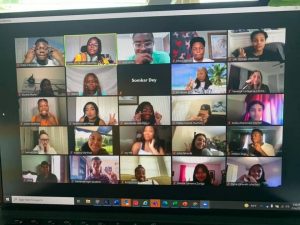 Yannira Lopez Perez '22, currently the head PLUS counselor, experienced PLUS as an incoming freshman, and its effect was profound for her.
"As a first generation Latinx student I knew I would have issues transitioning into the William and Mary community," Lopez Perez said. "Not only that, but I had no prior knowledge of what college would be like and what to expect; I was going into everything completely blind. PLUS helped me not only feel prepared to start my freshman year but it made me feel confident; it reassured me that I belonged at this institution and that there would be people supporting me every step of the way."
Lopez Perez is also grateful to have had the opportunity to remain part of the PLUS community and pay it forward by serving as a counselor for the past three years.
According to Lopez Perez, although the pre-orientation program only lasts a week, its impact is far-reaching.
"The community and support students gain remains prevalent all throughout their college experience," Lopez Perez explained. "This is evident in the long lasting relationships that are sustained throughout the years not only with the faculty, but with one another."
In addition to sponsoring Inside Out Theatre and PLUS, the Center for Student Diversity also relies on discussions, guest speakers and panels to foster discussion and celebrate diversity. During Latinx Heritage Month (Sept. 15 – Oct. 15), the Center recognizes and honors students of Mexican, Caribbean, Spanish, and Central and South American descent, and while particular events vary year to year, the College's fall 2020 Latinx Heritage month included career counseling for Latinx students, alumni dialogue, a family dynamics panel, discussions on the complexities within Latinidad, as well as a Loteria Night. 
Every October, in conjunction with the Rainbow Coalition and Lambda Alliance, the Center hosts a series of events honoring LGBTQ+ History Month, including town halls, panels, discussions, career navigation and guest speakers. This past February during Black History Month, campus organizations hosted Black History Jeopardy and trivia games, an African American Genealogy Workshop, a visit with Jason Reynolds, author of "Stamped: Racism, Antiracism, and You," panel discussions about critical issues, guest speakers and more. In normal years, the Center annually partners with the College's chapter of the NAACP and the Black Student Organization to organize a candlelit vigil in honor of Dr. Martin Luther King Jr., after which students walk across campus in a commemorative march followed by a guest speaker. Every March, the Center celebrates Women's History Month. Other annual events include the Pre-Kwanzaa Celebration and cultural commencement ceremonies — the Donning of the Kente ceremony celebrates the accomplishments of students of color, the Ceremonia Raíces ("Ceremony of Roots") honors graduating Latinx students, and the Lavender Ceremony recognizes members of the LGBTQ+ community. In spring 2021, the Center instituted a new ceremony to celebrate Asian, Pacific Islander and Middle Eastern students.
The Center for Student Diversity often partners with the College's many student organizations to reach a larger audience for performances, festivals, banquets and discussions. Consisting of a wide array of cultural associations, fraternities and sororities, performing arts and religious groups, over 50 of these organizations can be found on TribeLink under the "Culture and Identity" and the "Spirituality, Faith, and Religion" tabs. Students looking to get involved in programming and events can also follow @wmstudentdiversity on Instagram or subscribe to Diversity Happenings, the Center's weekly bulletin about upcoming diversity-related events and activities.