Saturday, Feb. 13 marks the opening of "The Private Impressionist," the Muscarelle Museum of Art's exhibition on Edgar Degas. The exhibit features some of Degas' lesser known works as well as pieces from his inner circle of confidants that provide a glimpse into the 19th century impressionist's personal life. The exhibition is on display until May 29 and is free to all College of William and Mary students.
The exhibit is divided into three galleries, each with a different theme. The first gallery features Degas' copies of previous masters' works, highlighting the portion of his career when he was one of many artists honing their craft in the halls of the Louvre Museum. 
"The Louvre was granting permits to a set number of artists each year to come in and have … free reign to make copies of works," Director of the Muscarelle Museum David Brashear said, providing historical context behind Degas' work. 
This permit system demonstrates the ability of art to facilitate intergenerational interaction. 
One of the artistic workshops the Muscarelle is providing as a supplement to the exhibition plays on this principle of learning through copying. In this workshop, called "Copying with Confidence," attendees choose and draw a copy of a piece of art from the exhibition that speaks to them. Before, Degas and his friends learned through copying their preceding masters —  now Degas and his friends are the masters that students copy. 
When discussing this workshop, the Muscarelle's Director of Engagement and Distinguished Artist in Residence Steve Prince, emphasized the importance of hands-on learning. 
"Yes, you do have to intellectually engage art, but you also have to physically do it," Prince said. "And the way you get better at anything is through repetition."
While the first gallery focuses on Degas shaping his artistry through practice, the second gallery delves into his personal life and interests. This gallery furnishes a portal into some of Degas' main thematic areas — such as horse racing, the Parisian cafe culture and the ballet — through mixed media. These media include prints, monotypes, sculptures, drawings and photographs. In particular, the medium of photography provides the viewer an intimate snapshot of Degas' personal life as a family member and friend.
As you might have noticed from his expensive interests, Degas belonged to an elite family.  
"Degas never has to struggle like some artists have to struggle," Brashear said.
The question that then arises from this exhibition — centered around an elite 19th century Frenchman — is the same question that troubles all museums in the 21st century: how do you make historical figures from a socially exclusive past relevant and meaningful to a diverse, modern-day audience?
how do you make historical figures from a socially exclusive past relevant and meaningful to a diverse, modern-day audience?
Through asking and answering his own question, Brashear defined the problem. 
"So who are the great icons in the canon of art history?" Brashear said. "In Western art, it's largely white men, right?" 
Next, he described the Muscarelle's efforts to remedy the traditional lack of gender and ethnic diversity in museum collections. 
"Well over 50% of the works that we've purchased since I've been director have been in underrepresented categories," Brashear said. 
He further emphasized the importance of the museum diversifying their offerings, perspectives, periods and groups.
The third gallery delves into the lives of artists in Degas' sphere of influence. Fellow impressionists, such as Paul Cezanne and Mary Cassatt, provide an interesting view into not only how Degas influenced his comrades, but also how his comrades influenced him. However, with each artist, there is a distinct style and artistic choices that make them unique. Therefore, this gallery serves to illuminate Degas' eccentricities while showing that no artist develops in a void.
In addition to the exhibition, the museum will attempt to engage students and community members through three workshops hosted by Prince, who has educational experience at all levels and extensive training in the fine arts that uniquely position him to provide arts education to the community.
Along with the copying workshop, the "Period Portraits" workshop involves members of the Theater Department dressing up in 19th century costumes and sitting as figures for participants to draw. 
"So the theater members get to do a little cosplay, and we know a lot about that here in Williamsburg," Prince said with a laugh.
The last workshop, "Dancing with Degas," engages members of the College's dance program, who model in different dance poses. The workshop attendees will then sketch the dancers in various poses, much like Degas drew ballerinas in his day. 
"I'm trying to give them ways … of connecting with Degas and the way in which he thought, and then I want to – in a contemporary way — teach them skills that can't be taken away from you," Prince said.
These three-hour workshops will cost $10 for students and $25 for non-members. However, Prince clarified that the cost should not deter anyone from coming. 
"If anyone ever came up to the museum and said, 'Hey, I can't afford this,' I will waive that fee," Prince said. "I would never let the money be the deterrent for a person who really, truly wants to come and learn and be involved in expression." 
"Copying with Confidence" will be held on Feb. 19, "Period Portraits" on March 30 and "Dancing with Degas" on April 4.
Outside of the exhibit and workshops, the Muscarelle is offering a number of programs, including a lecture series, film screening, concert and book club. All programming is free with registration on the Muscarelle website.
Robert Flynn Johnson, the collector who made this exhibition possible, will speak at the first lecture of the series, "Chasing Degas: My Four Decades Collecting the Artist and His Circle." In this lecture, he will discuss his long, winding journey collecting Degas' works on a curator's salary. 
"I never collected my works with the intention of having an exhibition," Johnson said. "I acquired the works of art, one at a time."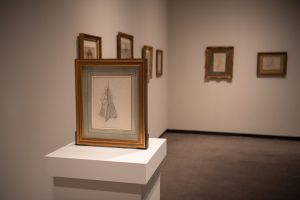 Johnson's collection is not only affordable and spontaneous, but it is also making Degas accessible to audiences that may not have had the opportunity to see the artist's work otherwise. 
"It's been to places that usually wouldn't be able to do a Degas show," Johnson said. "So the idea that, rather than people in Virginia having to go up to Washington or New York to see a Degas show, we've brought a Degas show to the Muscarelle. I'm really excited about that." 
In addition to the College, the exhibition has traveled to Tulane University, Pittsburgh, Naples, Florida and rural Texas.
Johnson also spoke to another key feature of his collection: because many of Degas' pieces were never meant for public view, they afford viewers a glimpse into the artist's creative process. The collector singled out the double-sided "Studies of Horses" as an exemplar of this theme. 
"He did not do the drawing to be in a gold frame," Johnson said. "He did the drawing for himself; it's a working drawing by a working artist. In fact, every single drawing in my collection, they were all in his studio when he died."
Johnson, who was also an educator for 30 years, expressed some of his aspirations for his upcoming lecture on Feb. 24. 
"I very much hope that the students that I'm going to be interacting with have already seen the show and will be peppering me with questions and comments," he said. 
If the works of Degas or Johnson's extensive knowledge of art curation and collection is not enough to pique your interest, Johnson has provided one more reason to attend his lecture. 
"There'll be a surprise in my lecture," he said. "And it relates to your museum too, not just my collecting." 
As the Muscarelle breaks ground on a new facility later this year, this will be one of the last chances for students and community members to enjoy the museum space until construction finishes in 2024. The Muscarelle staff has laid their best plans, and now it is time to see how the community responds.