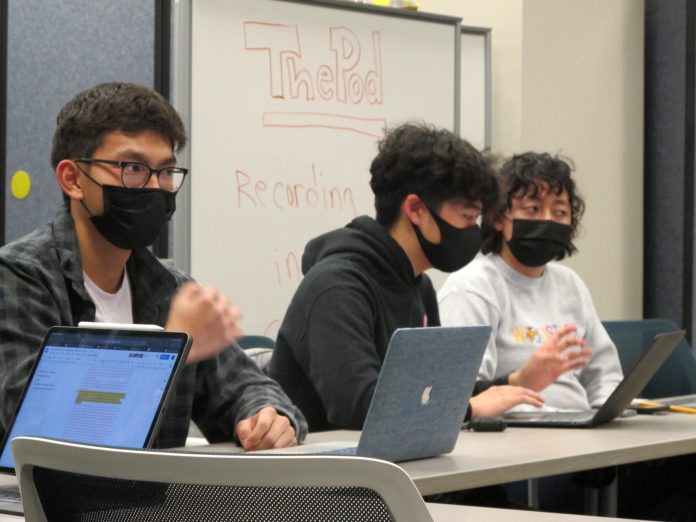 Tuesday, Feb. 15, the College of William & Mary's 329th Student Assembly continued discussion on the new Media Council Contract, passed one bill, and introduced five new bills. 
Media Council Contract
Following last week's meeting, SA continued discussion on the Media Council Contract which organizes the relationship between SA and publications on campus and is renegotiated every three years. 
Sen. Cody Armstrong '23 brought up concerns about SA's inability to control the Media Council from deciding new publications entering the Council. 
"Why do we as SA not have the power to regulate those members in case they don't regulate them?" Armstrong said.  
"A big problem last semester was the bomb threat, which, that student had access to that picture via the Media Council, and I didn't hear anything about Media Council censuring that individual in the organization, so is there anything we can do to proactively make it so we can have that power or to ensure that they will enact that power if something like this ever happens again?" he added.
Multiple students, including SA President Meghana Boojala '22, responded to the suggestion. 
"I think the one, primary reason for why we don't govern their membership or anything they do is because they have the right to free speech," Boojala said. "…It raises some concerns if the organization funding them entirely can control how they operate, so that's exactly why…there was a blunder with that one incident but we keep them independent just how we can make blunders too sometimes."
Sen. Ally Wallach JD '23, one of the two law school students in SA, added that it was also a freedom of the press issue.
New Business 
Sen. Zach Outzen JD '22 introduced The Funding the Future Feeding Students in Isolation Act, which authorizes an additional $800 to be spent to feed students in isolation from the original bill, as well as creating an Undersecretary of Food Insecurity in SA's Department of Health and Safety.
Old Business 
Armstrong raised a motion to table The Impeachment Trial Reform Act, sponsored by Sen. Sean Nguyen '25, first in a voice vote and then in a roll call vote. The bill specifies the trial process in the event that a senator is impeached and clarifies the impeachment process.
"I was one of the few…several policy committee members who thought this bill could do with tabling, I was in the minority of why it should be tabled but there are definitely some glaring issues that need to be resolved before we pass this," Armstrong said. "… I think it's great to have an outline for the impeachment trials because I know it was very confusing trying to figure everything out, but I think we need another weekend of just looking at the bill, seeing if we can develop things to make sure everything is solid."
Nguyen explained that some changes to the bill had been made to address concerns, including making the most contentious part of the bill, clause 3, which makes voting for impeachment an objective decision based only on the truth of the wrongdoing rather than subjective measures of the merit of said wrongdoing, only take effect in the next Senate session. After a close roll call vote, the bill was tabled. 
The Rent a Hammock Act, which promotes the newly rentable hammocks through Campus Recreation and sponsored by Nguyen and Sen. Hashir Aqeel '25, passed unanimously.
The "Love Is" Campaign Funding Act, sponsored by Sen. Gloriana Cubero Fernandez '24, also passed. The act allocates up to $168 for candy and plastic bags to support the "Love Is" campaign, co-sponsored by SA and the Wellness Center. 
The Haven Act, sponsored by Sen. Taylor Fox '24 and Sen. Vicky Morales '22, passed unanimously after a brief discussion of the responsibility of SA to fund the initiative, as opposed to the administration. 
Finally, the LDOC Treat Act, sponsored by Fox, passed, providing up to $750 for food and refreshments for students on the last day of classes for the Spring 2022 semester. 
Also at this week's meeting:
In Boojala's executive update, Boojala said that William & Mary is consolidating all of its investment funds into what will be called "The 1693 Partners Fund," which she says affects SA's push to divest by both making it easier as there is only one entity in control of the investment funds but also likely more time-consuming. 

Boojala also said that she asked the Board of Visitors on behalf of SA and the student body to reconsider automatically extending newly-elected governors honorary degrees, a tradition which has been going on for over 85 years, on the rationale that it makes sense "after they do their term or…if they serve their constituents well, it doesn't really make sense for them to extend the degree before someone is even inaugurated, and it also doesn't make sense for them to extend it right after a highly divisive election." She said that this was "generally well received, people agreed with the sentiment even though…some of them could've had different opinions."