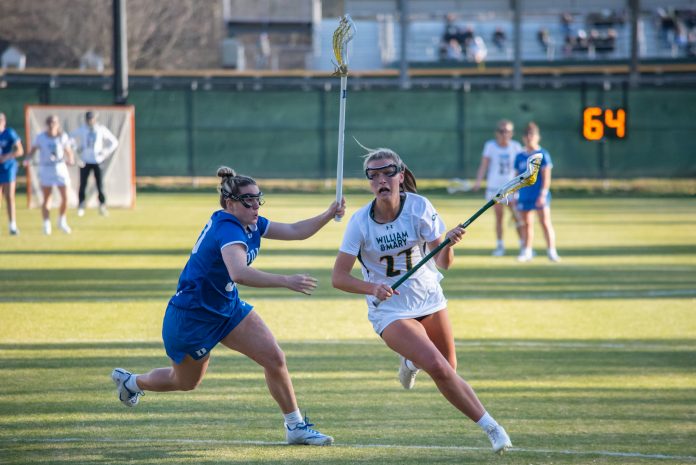 The College (1-2) fell to No. 6 Duke (3-0) 23-5 on Friday, Feb. 18 in their home opener at Martin Family Stadium.
Although Duke scored two early goals, William and Mary did not let it derail them. The deficit fueled a run on offense and the Tribe tied the game at 3-3 just seven minutes into the game. Senior Belle Martire scored two of the first three goals and assisted on the third. For the remainder of the first period, William and Mary struggled to respond to Duke's offensive surge. 
William and Mary struggled with Duke's double teaming defensive strategy and could only get 13 shots off (10 on goal) for the whole game. The Tribe spent much of the game defending their side of the field, as the Blue Devils maintained possession and scored six more unanswered goals to increase their lead to 13-3 in the final minutes of the first half. Freshman goalie Elise Palmer worked continuously to push the Blue Devils out of Tribe territory and recorded 12 saves and three ground balls.
With only a minute and a half remaining in the second quarter, the Tribe found their opportunity to score after a yellow card on Duke gave William and Mary possession. Freshman Ainsley Huizenga made a break toward the goal and netted the first of her career.
William and Mary's struggles continued in the third quarter. They were unable to convert any opportunities and compounded their mistakes with turnovers and failed clear attempts. Most of Duke's power came from their speed. They took advantage of fastbreaks to quickly bring the ball into the crease and fire off shots. Their shooting percentage was 63.8% (23 goals for 36 shots on goal) compared to 50% for William and Mary(5 goals for 10 shots on goal). Duke also took the upper hand on ground balls (21-15) and draw controls (18-12). 
During the last quarter, William and Mary saw much more success with their defensive strategy. They held the Blue Devils to just three goals and held the visiting team scoreless for seven minutes.
The Tribe scored once in the final quarter after Huizenga won a draw and passed it to Martire who completed a hat trick.
William and Mary will host Old Dominion on Wednesday, Feb. 23 at Martin Family Stadium.