Two households, both alike in dignity, in fair Williamsburg, Va. where we lay our scene. Friday, Feb. 25, Shakespeare in the Dark presented their winter show "Romeo and Juliet." A pun on New York's Shakespeare in the Park, the student-run classical theater group has been performing in Early Modern English since 1997.
Shakespeare's "Romeo and Juliet" is a tale as old as time. The play is found in the curriculum of nearly every middle school English course — and how can we forget about the numerous blockbuster renditions? Who didn't swoon when Leonardo Decaprio smoldered his way across the screen in Baz Luhrmann's 1996 adaptation? Needless to say, this is a story that has been performed countless times with countless interpretations. Going into the performance, I was curious to see how SitD would put their own spin on the production. I am happy to report that the show exceeded my expectations. 
SitD advertised their performance as "Romeo and Juliet" with a '90s twist, and I believe they delivered on this promise. The modernized version of the play equipped itself with costumes that transported the audience back 25 years and a '90s soundtrack that featured hits such as "No Scrubs" by TLC and "Iris" by the Goo Goo Dolls. 
Performed in the Sadler Commonwealth Auditorium, patrons were greeted with a thrust stage setup. The set design was very minimal, consisting of a single bench, a red backdrop and a black curtain to enter and exit the stage. While the set was scarce, the actors utilized every inch of the stage and managed to transport the audience to the Italian city of Verona. 
One of my favorite aspects of the performance was the opening monologue. Rather than have one actor deliver the lines, the monologue was split among three characters. The actors burst onto the stage with high energy and performed the lines as if they were townspeople gossiping about the fate of the star-crossed lovers. This choice was a welcome change and invited the audience to fully immerse themselves into the performance. 
Another unique characteristic of the performance was altering the genders of several characters from the original text. Romeo was played by Payton Robinson '25, and the character was referred to by she/her pronouns. This casting decision applied to several other roles, most notably with the character of Tybalt, played by Miranda Huffer '22.
Unfortunately, the famed party scene where Romeo and Juliet, played by Natalie Tubia '25, meet for the first time was lackluster. The life-altering, love at first sight moment felt like an afterthought and did not live up to the building anticipation. However, the incredible balcony scene made up for the party's mishaps. In this scene, Robinson and Tubia's chemistry shined. Robinson perfectly captured Romeo's awkward mannerisms and enamorment with Juliet. The scene was well-acted, well-paced and it was clear that both actors understood the weight that their lines held. 
A defining characteristic of Romeo and Juliet is its classification as a tragedy. With this in mind, I was pleasantly surprised by SitD's ability to hit all of the comedic beats. 
"I laughed a lot. It's always fun to see that Shakespeare is actually very funny. Even the tragedies have a lot of humor in them," Eliza Trost, a SitD alum, '20 said after the show.
An especially comedic piece was Erik Wells' '23 portrayal of the Apothecary as a low-level drug dealer. Wells wore a black hoodie and brought the character to life through his shifty body language and palpable paranoia. These features not only modernized the play, but also added much-needed humor to the otherwise somber second act. 
Despite its comedic moments, "Romeo and Juliet" is still a tragedy above all else. One of the most powerful scenes occurred when Lord and Lady Capulet, played by Sam Suslavich '22 and Savannah Nichole '22, respectively, discover Juliet's body and presume her dead. Lord Capulet flawlessly captured the emotions of a grieving parent. The scene seemed to drag on for an uncomfortable amount of time, an excellent choice as the audience was forced to experience the gravity of Lord and Lady Capulets' loss.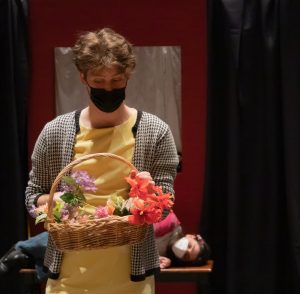 While each member of the ensemble offered a unique take on their character, there were four standout performances. The first was with Anthony Piccoli '22 and their portrayal of Nurse. Piccoli demanded the attention of the audience and was a definite scene stealer. Their costume was quintessentially '90s, consisting of flame-printed tights and a bright yellow mini-dress. The Nurse is written as a comedic role, but Piccoli amplified it tenfold. During the party scene in Act 1, Piccoli's shameless "dance like nobody's watching" attitude was hilarious. You could tell Piccoli was having fun, enhancing the audience's overall enjoyment of the play. Much like Lord and Lady Capulet, Piccoli also managed to showcase his incredible acting range. At the drop of a hat, Piccoli could switch from a self-aware gossip to inconsolably devastated.
Another standout was Joshua Mutterperl '24 and his portrayal of Mercutio. It's hard to hate Mercutio — he speaks his mind, and his eccentricities always make him enjoyable to watch. Fortunately, Mutterperl did not miss. Mutterperl looked comfortable delivering his complex dialogue, and his stage presence was magnetic. Mercutio is arguably one of the most physically demanding roles, but Mutterperl remained energetic and displayed convincing stage fighting abilities throughout the night. 
Lastly, the two leads, Robinson and Tubia, were natural performers. Both actors offered some of the most unique versions of Romeo and Juliet that I have ever seen. Many interpretations of Romeo portray the character as brooding and self-serious, but Robinson managed to add several comedic elements. Robinson also perfectly captured the essence of a teenager in love. She didn't shy away from portraying Romeo as awkward and impulsive, a refreshing take.  
Tubia mastered the '90s look with her pigtails and butterfly clips. In addition to her spot-on costume choices, I appreciated Tubia's interpretation of Juliet. Tubia maintained a sweet naivety in her portrayal. She made a wise choice in not trying to pass the character off as older or more mature. It is easy to forget that Juliet was only 13 during the events of the play, but Tubia walked this line masterfully. 
If you have the opportunity, I highly recommend checking out one of Shakespeare in the Dark's three performances that they put on each year. This is an incredibly talented and entertaining group and a fantastic way for theater lovers to spend a portion of their evenings.
CORRECTION (03/03): Anthony Piccoli was described with incorrect pronouns, article has been updated to use correct pronouns.
CORRECTION (03/03): Article updated to include name of actress performing as Lady Capulet, Savannah Nichole.
CORRECTION (03/07): Article edited to clarify the performance having several characters referred to as different genders from the original show's text.