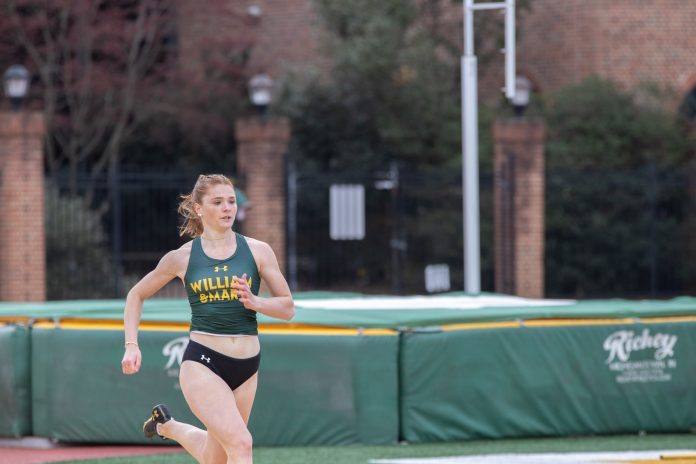 William and Mary finished second in the Colonial Relays with 74.50 points this weekend at Zable Stadium. A total of 38 teams competed in the meet.
The most impressive finish for the Tribe came in the 4×400 relay. The team consisted of junior Carly Swierbut, sophomores Grace Bir and Mary Gregory and freshman Emily Ervin. Their finish of 3:42.57 set a new school record by two and a half seconds. 
Sophomore Keeley Suzenski broke a school record in the shot-put, throwing 14.93 meters to place second overall in the event. Her finish secured eight points for the Tribe.
The Tribe picked up points on the triple jump, with two athletes finishing on the podium. Sophomore Cheslea Mitchell jumped 11.61 meters to secure second place, while freshman Dana Abraham totaled 11.51 meters to place third.
Sophomore Chelsea Wallace finished eighth in the discus, adding another point to the Tribe's  team total.
The Tribe's 4×1500 meter relay team of all underclassmen finished third. Sophomores Molly Coyle, Kyra Holland, Emily Sell and Annie Wicker and freshman Lucy Young clocked a 19:19:30 to add a critical six points to the team total.
Virginia won the meet with an even 80.00. Bucknell finished right behind the Tribe  in third with 73.50. The other 35 competing teams each finished with under 60 points.
The Tribe will travel to the Mason Spring Invitational in Fairfax, Virginia April 9.