Between horse-drawn carriages and classic model cars, Williamsburg is no stranger to eye-catching vehicles. Perhaps the most entertaining of these vehicles is a gray pickup truck that has been known to tow live concerts around campus on particularly nice days. Banging on drums and projecting vocals from the truck bed is Noise Complaint, a student band co-founded by Ben Simon '23.
With just a small drum kit, a speaker and an amp, Noise Complaint brings music directly to students.
"We strap ourselves down in the back and drive around, jam around and say hi to people," Simon said. "It is pretty funny, people are looking obviously. It's a very unusual sight."
Simon formed Noise Complaint in fall of 2020 alongside drummer Chase Eck '23, guitarist Sam Cornette '23, bassist Jordan Hooker '22 and singer and pianist Jackie Westbrook '21. Simon plays the piano and sings as well.
"A friend of mine, ​​we had played together a couple of times, me and her singing, messing around on the computer," Simon said. "She was friends with a couple of other kids who played a couple of other instruments and they wanted to put together a band."  
Noise Complaint primarily plays covers at bars or for events such as date parties. One of Simon's favorite shows was hosted on the last day of classes of the fall 2021 semester, where they were able to perform in front of a large, enthusiastic crowd.
"We're not trying to be super classy about it; we just like to play the staples and things that will get people dancing and singing because that's usually what we want people to do," Simon said.
While Noise Complaint specializes in covers, Simon actively writes and produces his own music independently.
In his senior year of high school, Simon took a class covering the basics of music production. From there he began experimenting with making music on his laptop, which he then started uploading to SoundCloud. Simon now works with distributors to release his songs on platforms such as Apple Music and Spotify.
Inspired by artists Rex Orange County, Anderson .Paak, Surfaces and Tom Misch, Simon's music comprises a blend of pop, neo-soul and funk.
"​​I would never be so pretentious as to say that it's indie, it's like pop music," Simon said. "It's just not well produced so it sounds like indie music. But it's also kind of cheesy, like the lyrics I write are a little bit cheesy."
His talent in musical production is evident in Simon's most popular track, "Beside You," which has over 12,600 streams on Spotify. The song combines catchy vocal tracks, funky synths and warm drum beats that make it difficult for listeners not to sing along.
"Beside You" is one of four songs on his EP "Not Very Careless." Simon has also released a number of singles, including collaborations with artists Sophia Rankin and Jacob Sigman.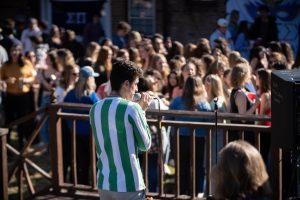 Still, Simon is unable to make music as often as he'd like to. As a public policy and accounting double major, he finds it difficult to produce during academic semesters.
"Particularly during the summers and breaks and stuff, I'll always have open my laptop," Simon said. "You know, to make music, make new stuff or change old stuff and work toward a better song."
For Simon, producing a song is an iterative process that may take up to a year. He begins with the instrumental track by finding a melody or loop that he really likes. Then, Simon uses a mini keyboard to add in another layer of keys. He continues editing the instrumental, adding different instruments, playing with effects and mixing it until it is time to add vocals.
"I usually record in Swem because they have really, really nice equipment, like nicer than I could afford, and they have rooms that are treated for recording vocals," Simon said.
Once vocals are recorded, Simon mixes them to improve their sound.
"So, instrumental and then vocals and then listen to it like a gazillion times, and put little tiny changes," Simon said. "Listen to it in my car, on my headphones, on different headphones, on the phone speaker to try and hear it the way a bunch of listeners will hear it."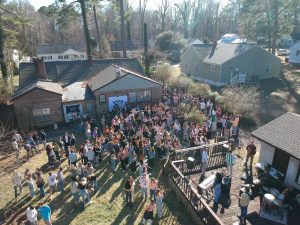 Simon hopes to release more of his music, possibly an album, this summer.
"That would be cool to release a full-length album — definitely an accomplishment because I'm realizing I'm doing it less and less," Simon said.
In the long term, Simon would also like to play a show entirely of his own music. But he still primarily sees music as just a casual activity for his free time.
"I don't have any plans to stop. Nor aspirations to make it big. I kind of just like it as a hobby, and I like doing it when I want to and not when I don't," Simon said.
For Simon, music is primarily about personal enjoyment. He often posts videos of sneak peeks and experiments with unique sounds on his Instagram.
Simon acknowledges that while one of his songs has gained some traction, he primarily posts music for himself and his friends. But ultimately he would love for listeners to connect to his work.
"I know people have songs associated with just random memories," Simon said. "If my song were to be associated with someone in that way, whether good or bad, I would be happy."