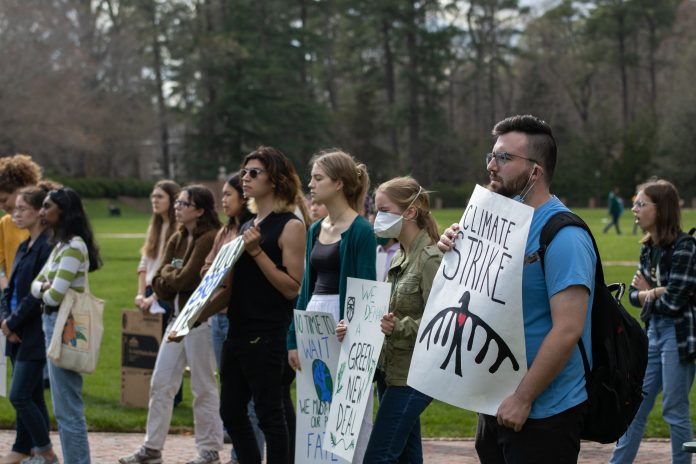 Friday, March 25, The College of William and Mary students and community members gathered on the Sunken Gardens to protest climate change, a demonstration organized by the Williamsburg Sunrise Movement Hub.
The Williamsburg Sunrise Movement is a hub of the national Sunrise Movement, which calls young people to action to stop the ongoing climate crisis and make climate change an urgent priority in congress. They advocate for the Green New Deal, a congressional resolution introduced by Democratic Representative Alexandria Ocasio-Cortez of New York and Democratic Senator Ed Markey of Massachusetts.
The Green New Deal's goal is to mobilize every aspect of America's society into 100% renewable energy, guarantee living-wage job opportunities for all citizens, wean the U.S. from fossil fuels and limit greenhouse gas emissions across the economy. 
Grace Patten '22 was one of the individuals who organized the climate strike. Patten stressed the importance of the event, as it had been almost three years since the Williamsburg Hub had held an in-person event. 
"It has been since 2019 since we've had a climate strike," Patten said. "We had one in December 2019 and haven't done anything since. And I felt like we needed to, one, join this international movement, and two, make our voices heard on campus."
Erik Wells '23, another organizer of the event, introduced a number of speakers from different organizations on campus and underscored the meaning of the movement's overall message: to urge elected officials in Virginia to put people over profit by listening to their constituents and passing climate legislation before this year's midterms while Democrats still have the majority. Wells emphasized how the climate crisis is a societal struggle, and that the COVID-19 pandemic has heightened the consequences of class disparity.
"And just like the pandemic, the climate struggle is a class struggle," Wells said. "Politicians receive financial support from the fossil fuel industry, then reject climate legislation for being too ambitious, and then act like there isn't a connection between those two actions. Major corporations colonize, exploit, and oppress marginalized people around the world for their labor and resources. Meanwhile, our elected officials preach personal responsibility to us as the only solution to climate change, or at least the only solution they're willing to pay for."
Lucia Garcia '22, director of William and Mary's Fighting for Immigrant Rights and Equity (WMFIRE), was a speaker at Friday's climate strike. Garcia focused on the people who are most vulnerable to the climate crisis, addressing the growing concern of international displacement due to this disaster. Additionally, Garcia emphasized how there is a direct correlation between climate refugees and climate justice as an average of twenty million people leave their homes to live in a more habitable environment as resources are limited due a series of natural disasters. 
"Climate change disproportionately impacts Black, indigenous, and people of color, especially in places known as climate hotspots in central areas of the globe," Garcia said. "With this, it is important that we recognize that we cannot have climate justice without racial or immigrant justice. While these people are the most vulnerable to climate induced disaster, they are also the ones least contributing to it. Fossil fuels that burn in the west accelerate climate change, while other more impoverished nations suffer from its effects."
Last December, Virginia's Governor Glenn Youngkin promised to pull Virginia out of the Regional Greenhouse Gas Initiative, an emissions-cutting pact among Northeastern and Mid-Atlantic states. Then this past January, Youngkin nominated Andrew Wheeler to be the state's secretary of natural resources. Wheeler is a former Trump Environmental Protection Agency chief and onetime coal lobbyist. 
As politicians continue to benefit from big company donations, Patten believes that we can eliminate corporate interest from politics. 
In 2009, Citizens United v. Federal Election Commission (FEC) asserted that corporate funding in independent political campaigns can not be limited, allowing dark money to influence elections and policy-making.
"There is legislation to get money out of politics and we just need politicians who are courageous enough to pass it," Patten said. 
Malise Foss '24 spoke at the climate strike on behalf of the College's Young Democrats club. The Young Democrats of William and Mary promote the party's values through political activism, campaigning and issues on campus and throughout the Williamsburg community. Foss emphasized the importance of politics in the fight against global warming as politicians have the power to implement climate legislation that can curb carbon emissions and limit the presence of fossil fuel interests. 
Foss stated that electing government officials who support climate justice is imperative because they have the power to shift national priorities.
"Although admittedly there are differing opinions among Democrats on how to best combat climate change, it is unequivocally an essential topic for all of us. We strive to support candidates that stress reform in their campaign and we want leaders in charge that recognize it as one of the most important issues facing us right now," Foss said.
Foss mentioned that Elaine Luria, U.S. Representative of Virginia's second congressional district, and Mike Mullen, a retired U.S. Navy admiral who served as the seventeenth chairman of the Joint Chiefs of Staff and is Williamsburg's state delegate, are two local delegates that focus on the environment in their policies and have successfully passed acts to support this. 
Elaine Luria helped pass the Chesapeake Bay Program Reauthorization Act, which helps to protect the Chesapeake Bay. Mike Mullen helped pass the Clean Cars Standard Act, which reduces air pollution by strengthening regulations on vehicle emissions. 
"Climate change is not a bi-partisan issue," Foss said. "Regardless of our political ties, we will all be impacted by climate change, especially because we live here, right at sea-level. We need to continue to do what we can to minimize our carbon environmental footprint and we need to vote people into power that make combating climate change a priority."
As many speakers spoke on behalf of student organizations, Zarah Quinn was a representative for the William and Mary's Workers Union. Quinn is a graduate worker at the college and is the current president of the union representing all campus workers. She addressed the institution's normalization of exploitation and its effects on the campus's essential workers, expressing how the administration prioritizes the image of 'wokeness', however, fails to seek out solutions pertaining to social justice, and therefore, climate justice. 
"The campus ecosystem is a place where research and ideas are produced and decimated," Quinn said. "But it is also a place where overworked labor is hidden, where exploitation is normalized, and where worker precarity, in many instances, is a given. It is a place where cheap solutions to reproducing life include underpaying facilities, workers, maintenance workers, and dining hall workers."
People in attendance of the strike included Corina Chang '25, who said that she attended the strike because it is an important issue that continues to negatively affect our global society. 
 "I'm a part of Citizens Climate Lobby, which is a new climate organization that I just started on campus this semester," Chang said. "We focus on increasing political will both internationally, but also we created this chapter to increase that on campus. I just wanted to show up as a representative of our organization and support students speaking up about climate change."
When asked why politicians should put more emphasis on climate change, Chang responded by discussing the complexity of the crisis. 
"Climate change is a really multifaceted issue, so the impending climate crisis is going to affect all sectors of humanity," Chang said.
As students on campus mobilize to combat climate change, Patten states how the school's administration has not demonstrated much interest in the fight against global warming.
"They've made noises about divesting, but it is such a byzantine system that we have actually really struggled to figure out how divestment works and who pulls the levers of power in that system… And Katherine Rowe has not been an ally," Patten said.
However, when asked about attracting more interest in the global movement, Patten emphasized the power of students.
"I think students and young people need to realize that we actually do have a lot of power. We are a massive voting block, we are a massive organizing block. If we went on strike, that could have incredible power within our economy and within our society," Patten said.