Saturday, March 26, the College of William and Mary's Filipino American Student Association (FASA) presented Salinlahi, their first in-person cultural event in two years. Salinlahi is a play about a young woman working to highlight the cultural achievements of her local Filipino community. Her work is in an effort to ward off a few developers who wish to take control of the land her community had held for many years. The night was hosted by FASA's culture chair Kristi Viray '24. 
"With the show, I wanted to incorporate themes of legacy and community, which are fundamental to the Filipino American experience," Viray said in a speech before the play began. 
The protagonist Cory Briones, who was portrayed by Chanel Cate '25, decides in the play to show her Filipino heritage through a cultural event. The segments of acting within the play often served to demonstrate the close bonds the Filipino community has with each other as they meet up in community meetings to discuss plans and their past in America. Interspersed across the acting they had several dance routines with both modern and traditional dance influences.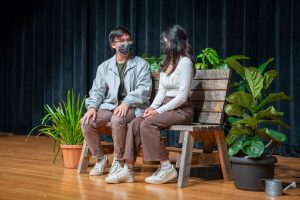 The traditional Filipino folk dances were some of the most interesting parts of the show, with tinikling and escrima easily capturing the energy of the full auditorium as dancers tapped their feet and fought with wooden swords in vividly colorful lighting. Tinikling, which was choreographed by Abel Daniel '24, Carmen Soto Euceda '23 and Pecharat Kitijarurat '23, had the performers dance around moving wooden poles that were slid around their feet, and the crowd soon began cheering the performers on as they maneuvered around the obstacles. In escrima, choreographed by Andrea Dalagan '22 and Cami Soliven '22, performers fought each other with wooden swords in hand-to-hand combat to demonstrate the national martial art and sport of the Philippines in a series of dramatic, artlike fights.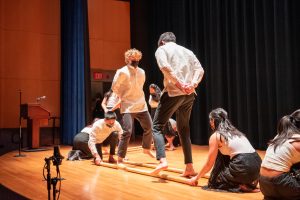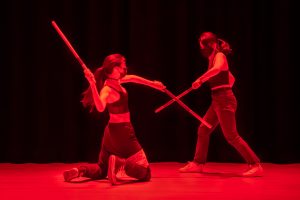 Kitijarurat not only helped choreograph dances, but also was a performer. She shared that she is very active in FASA and knew she wanted to be involved again this year with their culture night tradition. 
"I know how to dance a little bit because I'm in Syndicate, and I like to sing; there's a lot of different performances that match with my skills, so that's why I wanted to be involved and try to contribute to the club," Kitijarurat said. "And I'm having a lot of fun too." 
Besides the tinikling and escrima dances, cariñosa was also featured. It is a romantic Filipino folk dance influenced by Spanish colonization where performers wore traditional Filipino clothing as they danced in pairs, and was also choreographed by Soto Euceda. In addition to these traditional Filipino dances, there were four modern dances with more typical American dance elements. The final modern dance was a senior dance choreographed by Isabelle Tan '22 and Amy Vu '22. 
Audience member Shelby Munford '24 said, "I liked the ending, when everyone was just having fun and laughing. It was nice to see the friendship between everyone in the group."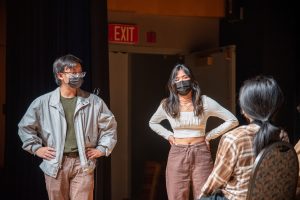 As for the nonmusical portions of the play, the performers showed clear enthusiasm for their roles. Briones is supported by her father, lolo, titas and friends. There is a solid amount of comedy sprinkled in the play, with one particularly good line dropped by Brione's close, studious friend Josephine, portrayed by Woojin Yoon '24, when they were preparing for the event.
"This is a Filipino culture show," Josephine said. "The K-pop dancers can go." 
At the same time, however, the play also tackles difficult topics and the emotional trauma involved in the community possibly relocating. In the community meetings, members express dismay at the idea of leaving the neighborhood they had built together for so long. There is a moment in the play where Briones sits beside one of her family members after he recollects some of his memories in the town. 
"Like home away from home, huh?" Briones says.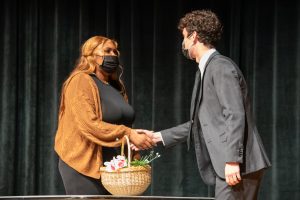 Mr. Mag, played by Henry Ong '24, serves as a representative of the developers who wish to uproot the Filipino community for business interests. He stands in direct opposition against Briones and the members of her community. Even his clothes differentiated him from the other characters — while the Filipino community generally wore casual clothes in beige colors, he wore a formal dark suit. Despite being introduced as the antagonist, Mag manages to come off as a somewhat sympathetic character when he admits to Briones' father that he was touched by the Filipino cultural event Briones had planned with great effort. He added, unfortunately, that he ultimately has no real control over his company's plans to take over the area.  
The ending scene of the play, where Briones tries to grasp that her plot to save her community had failed, was especially emotional. The other characters encircle her, announcing their continued support of her through a final song. This moment underscored the messages of continued resilience in the Filipino American community that Viray wished to convey in the production. The play was then followed by the senior dance. 
"I really liked the dances, and I thought the story was really relatable, especially with all the characters," Shinjer Li '25, another audience member, said.