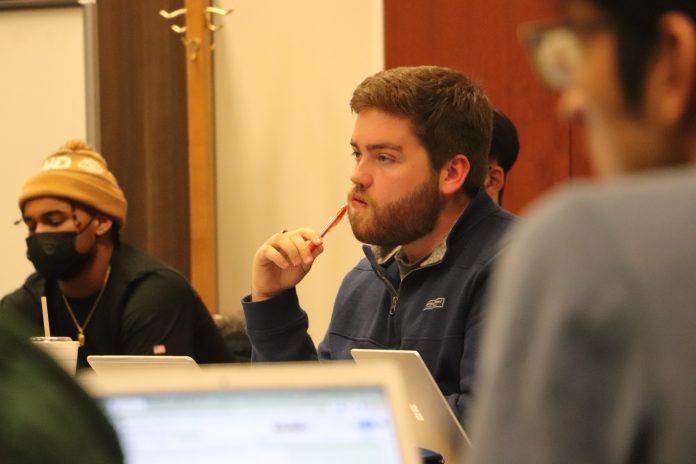 Tuesday, March 29, the College of William & Mary's 329th Student Assembly voted down the impeachment of Sen. Shaunna Scott '23, passed three bills, and swore in a new graduate senator. One bill that passed, the New Leaf Subsidy Act, was later vetoed by SA President Meghana Boojala '22. 
Special Business 
Sen. Shaunna Scott '23 faced impeachment charges for the second time this session. The articles of impeachment were automatically introduced after she had three additional absences since the first articles of impeachment, which were automatically introduced when she reached eight absences.
While Scott was not present at the meeting, multiple senators defended her absences, and some questioned the rationale of absences alone being enough reason for an impeachment. 
"I don't think attendance alone should substantiate anyone's impeachment or trial of impeachment," said Sen. Jason King, a graduate student in the School of Education. "I think we need to have documented evidence of what they're not doing to meet the protocol of senator behavior and absence alone does not justify that, in my own opinion."
Other senators stressed the principle of impeachment. 
"I think we should maybe think about moving to trial just to hear it out because we also do need to be holding ourselves accountable," Sen. Cody Armstrong '22 said. 
The impeachment vote failed by a vote of eight in favor, twelve against, and two abstentions. 
New Business 
There was no new business.
The New Leaf Subsidy Act
After an hour of discussion and debate, SA passed the New Leaf Subsidy Act, sponsored by Sen. Maheen Saeed '23, which subsidizes up to $8,000 in substance abuse treatment at the School of Education's New Leaf Clinic for students who are sent there by Community Values and Restorative Practices (CVRP) when found to be violating the school alcohol policy. 
Debate revolved around the merits and responsibility of SA funding such treatment, whether the treatment would change student behavior, and whether more proactive action could be made through other means. 
An unfriendly amendment by Sen. Jahnavi Prabhala '22 to half the bill's budget to $4000 and add extensive data collection did not pass. The unchanged version of the bill passed with 16 yes's, four no's, and five abstentions. 
However, SA President Meghana Boojala '22 vetoed the bill on Sunday, April 3. 
In a four page letter, Boojala cited concerns over lack of data, roping SA into conduct issues and other issues which led her to the veto.
"We are simply funding what we are advocating against," Boojala wrote, adding that "it is not the place of SA to provide financial aid to an external organization with a flawed revenue model."
Senators have the opportunity to overturn the veto with a three-fourths majority vote during their April 5 meeting. 
Old Business 
SA passed the Funding Iftar Act, sponsored by Saeed and Sen. Hashir Aqeel '25, which provides $11,000 from SA reserves to provide break fast Iftar meals through the Ramadan. Over a dozen members of the Muslim Student Association attended the Student Assembly Senate meeting to watch the bill's passing, as well as multiple leaders speaking in favor of the bill. 
"We look forward to making this a very special month for our club members," Shule Bakir '22, MSA Co-President said. "We don't have many halal options around Williamsburg and in school too, on campus dining doesn't provide many options for us." 
"There were many times where Caf would close by the time I would want to go and break my fast, so I was left with very limited food options," Amir Shariatmadari '23, MSA Religious Chair said, describing his experience trying to find Iftar meals on campus last year. "Not only that, there were many nights where I had to break my fast alone, so this bill will help us feel more like we're at home and provide us options that we would otherwise not have…this bill will not only mean a lot to us spiritually, but also physically and mentally."
Saeed says they anticipate upwards of one hundred students attending each Iftar. 
SA unanimously passed the PRIDE Week Act, sponsored by Sen. Taylor Fox '24 and Chair of the Senate Owen Williams '23. The act allocates $4,400 for materials and food for events throughout Pride Week, organized by Rainbow Coalition and Lambda Alliance, which will be held later this semester. 
SA also passed the Funding Disability Pride Week Speaker Act, sponsored by Saeed, by unanimous consent. The act allocates $500 from SA reserves to pay for the speaker fees of Ryan Mason, a disability advocate, to speak at a Disability Pride Week event on Thursday, April 28.
Finally, SA passed the Matoaka Wellness 'N Chill Act, sponsored by Class President Yannie Chang '25, Sen. Matthew Hwang '25, and Sen. Regina Chaillo '25 by unanimous consent. The act allocates up to $1,825 for food, live music, and other activities for an outdoor event at the Martha Wren Briggs Amphitheater tentatively scheduled for April 16. 
Due to an unofficial internal commitment to keep meetings to two hours and shorter, SA tabled the Person First Student Second Act, the Launderette Act, and the Outdoor Furniture Act until on next week.  
Also at this week's meeting: 
Sen. Morgan Brittain, a second-year PhD student in the American Studies program, was sworn in as a new graduate senator at the beginning of the meeting. 

Williams observed that there were just two meetings left in the 329th Senate session, calling for bills to be submitted as soon as possible.