Friday, April 1, the Vietnamese Student Association (VSA) presented "A Night in Saigon" to a packed auditorium. This was their first culture show since the College of William and Mary's VSA was founded in 2020 during the COVID-19 pandemic. 
According to the show's program, it was based on "Paris by Night," which is a Vietnamese-language musical variety show that was launched in the 1980s for the Vietnamese refugee population in France and later relocated to Orange County, California. As a musical variety show, "Paris by Night" features modern pop, traditional folk music and comedy sketches — all of which were incorporated into A Night in Saigon.
A Night in Saigon began with speeches by VSA President Kenneth Tieu '22 and Culture Chair Quyen Tran '24, who each expressed their appreciation towards fellow members of the VSA, both of which were translated into Vietnamese by Thu Pham '24.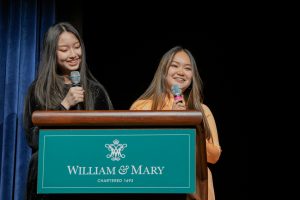 Next, Angelique Vo '22, the external vice president of VSA, explained how VSA at the College had become a provisional school for the Mid-Atlantic Union of Vietnamese Student Association, which serves as a way to connect Vietnamese American students in the Mid-Atlantic region. With this organization, VSA at the College has become involved in supporting the Collective Philanthropy Project (CPP), an initiative from the Union of North American Vietnamese Student Associations through which partnering organizations could donate under one philanthropic campaign, with this year's CPP beneficiary being the Asian Prisoner Support Committee. 
Vo's words were followed by the introduction of the MCs, Philanthropy Chair Daniel Nguyen '24 and PR Chair Wendelyn Nguyen '23, and a rendition of both the American national anthem and the South Vietnamese national anthem, sung by Kimberly Pham '23 and Vo, respectively.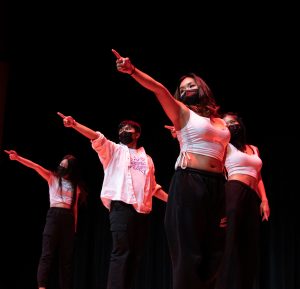 Daniel Nguyen shared that while Vietnam is currently a communist country, originally the different regions of Vietnam included a wide variety of cultures.
"Vietnam, right now, is a communist country, but it hasn't been that way always. Before, it was originally colonized by the French, and there were so many different cultures around different regions," Daniel Nguyen said. "There was the North, and the South. … They each had their own ideologies. The communists took over, but to us, we really identify with South Vietnam, who stood back and really believed in their own values, standing against communism, even though they were so small. We try to keep that energy. We try to keep the culture alive. Even though the flag doesn't look the same now, we try to represent South Vietnam."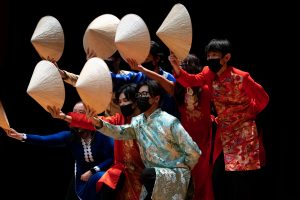 In an effort to show the ever-changing nature of Vietnamese culture, the performances themselves showed a mixture of modern and traditional dance. All the songs mentioned on the program featured Asian American artists and many songs were in Vietnamese. The traditional dances, choreographed by Tran and Brandon Nguyen '24, included a fan dance (Quạt) that emphasized flowing delicate movements as the performers moved across the floor in different formations with colorful fans, and a hat dance (Nón Lá) where the performers inventively maneuvered with conical sun hats. 
The two modern dances were choreographed by Tieu and Kimberly Pham, as well as a hip-hop dance choreographed by Vo and Patrick Pham '23. The dance moves were clean and sharp. There was also a touching duet with Vo and Thu Pham singing, as Thu Pham also played the guitar.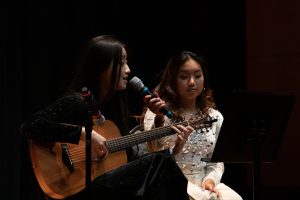 The variety in performances from dances to songs to skits kept audience members such as Sarah Kim '25 on their toes.
"There were a lot of diverse performances like traditional dance, and more modern dance, and along with the skits," Kim said. "So the whole thing was pretty engaging."
The two skits featured in the event were fantastic and absolutely hilarious. In the "Lost in HMart" skit, Vanessa Ma '24 and Khang Duong '25 did a great job of portraying a set of siblings left to fend for themselves when their mother has them save her place in line after spending hours roaming the aisles. The cast had excellent timing with each other, and the script, besides being funny, aso hinted at various parts of the Vietnamese American experience.
The other skit, "VKM 3000," was about gifting a Vietnamese karaoke machine to Vietnamese relatives. This skit was also very well designed, and featured a cast of relatable, colorful characters such as the drunk uncle, the dramatic aunt and the little cousin. Following the hat dance, A Night in Saigon ended with a fashion show that showcased bright traditional Vietnamese clothes accompanied by Kimberly Pham, Tran and Vo singing the traditional Vietnamese song Khúc Hát Ân Tình.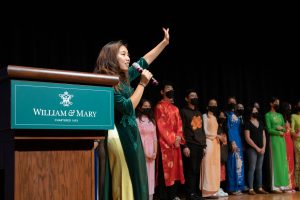 Audience member Snow Hlaing '22 from East Carolina University, president of ECU's VSA, was able to take away a sense of community from the Vietnamese culture shared.
"The music, the culture, the language even — it's really nice to see everyone together," Hlaing said. "Not only traditional, but also Vietnamese American artists."
Daniel Nguyen added that since they are a relatively new student organization at the College, not as established as other schools' VSAs, they felt an enormous sense of pride that they could put on such a big event in such a short time. 
"It means so much," Daniel Nguyen said. "There's so many people that had come, and they care about us. … It just feels so, so rewarding."
CORRECTION (4/7): A previous version of this article stated the incorrect class year for Thu Pham. The article has been updated to reflect the correct class year ('24).