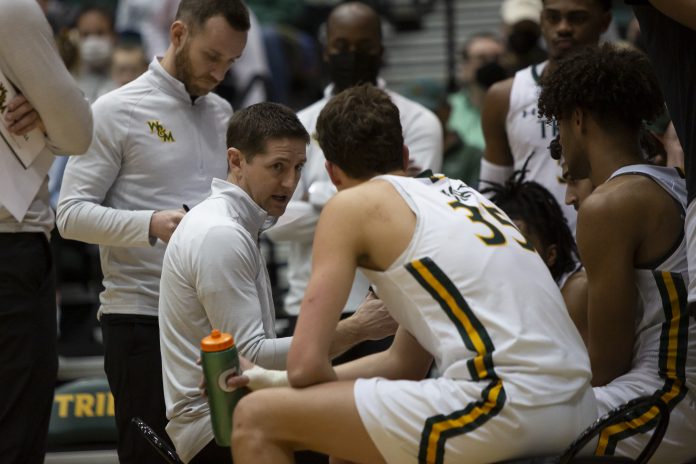 Tribe sports fans may have lost almost all faith in the men's basketball program after their 5-17 finish last season. The team lost their last nine games of the regular season before losing in overtime to Northeastern in the first round of the CAA Championship.
Due to both COVID-19 protocols for fans and the team's lackluster performance, attendance at Kaplan Arena dropped sharply the last two seasons. Nobody understands the struggle for attendance better than senior Jonathan Newby, president of Tribal Fever, the school's official athletics fan club.
"It has honestly damaged our ability to bring people out," Newby said about the team's performance last season.
"Compared to football, where we had consistently strong interest and attendance, for men's basketball, with the exception of Gold Rush, it seemed as if almost no one came to certain events we had," Newby said.
Head Coach Dane Fischer already knew he had to shake things up this off-season, unaware of the roster changes to come. 
Less than a month after the Tribe's first and only playoff game, senior Mehkel Harvey decided to enter the transfer portal.
Two days later, sophomore Yuri Covington took to social media to announce his entrance into the transfer portal. Covington played a key role for the Tribe this past season, averaging seven points per game. He plans on joining Chipola College in the fall.
The following week, the trend continued. Freshman Julian Lewis, who won all-CAA honors for his performance last season, entered the portal as well. Over the 32 games, Lewis averaged 7.2 points and 4.3 rebounds per game. He will head over to Oxford, Ohio, to attend Miami University for the 2022-23 season.
Senior Quinn Blair became the fourth player to enter the portal. He averaged 9.9 points per game, enough for third-best on the roster.
The biggest hit to the team was when sophomore Connor Kochera announced his decision to enter the transfer portal. Kochera was CAA rookie of the year in the shortened 2020-21 season. Working the floor on both ends, he averaged 10.9 points and 4.8 rebounds per game his sophomore year. Kochera has already signed with Davidson for next season.
After Kochera, the dominos continued to fall. Junior Thatcher Stone, sophomore Kurt Samuels Jr., and freshman Langdon Hatton added their names to the list in the transfer portal. As of April 21, nine players have entered the portal. That marks over half of last season's roster.
As surprising as this mass exodus may seem, it should be expected due to new rules from the NCAA regarding transfer eligibility. This year, the NCAA approved a one-time transfer for all student athletes without a need to sit out for one season.
The transfer portal has been a madhouse the last few weeks, with 1,300 scholarship players entered in the system. Things have been especially chaotic for CAA teams, as Northeastern saw seven of their players opt to transfer, while Elon expects to lose six.
"This is just the reality of it now," Fischer said. "There's going to be guys going into new programs and leaving others. It will open up new opportunities, and that is where we are at right now."
Newby also acknowledged that the busy transfer portal will be considered a new norm. 
"It is to be expected that people are going to leave universities at a higher pace if athletes are able to move universities and play immediately," he said.
With the recent rules changes, the recruitment process has also become chaotic.
"It is a different process for everybody," Fischer said. "It's a little bit like a jigsaw puzzle, which recruiting always is in terms of the time frame."
Fischer has already been hard at work and Kaplan Arena will see seven new faces on the court next season.
Beginning with the incoming freshman class, Jack Karasinski will play at either guard or forward. Hailing from Grand Rapids, he was a finalist for the Hal Schram Mr. Basketball award in Michigan — which is awarded to the best senior boys high school basketball player in the state — and led his high school team to an undefeated season and DII State Championship in 2022.
Fischer is particularly excited to welcome Karasinski to Williamsburg.
"Jack was our top target at his position from the start," Fischer said. "He is an incredible competitor and can guard multiple positions. We are excited about the toughness and versatility he will bring to our program."
Also back in November, Charlie Williams signed a national letter of intent to join the Tribe. Williams calls Carmel, Ind., home and plays at the forward position. He was named an Indiana All-Star as one of the top 12 players in the Class of 2022.
"Charlie quickly rose to the top of our recruiting board after seeing him this summer," Fischer said. "He possesses incredible skill and mobility for someone his size."
To round out the freshman class, Chase Lowe signed his national letter of intent last month. Lowe, a guard out of Charlotte, N.C., was named the North Carolina Player of the Year by the N.C. Basketball Coaches Association. He ended his high school career with two straight state titles and 49 straight victories.
"He can attack the paint and finish at the rim, create for others, rebound and defend at a high level," Fischer said. "Chase is an outstanding addition and complement to Jack and Charlie, and we are very excited to get them to campus this summer."
Last month, Fischer also announced that Rice junior Chris Mullins will join the team while beginning his graduate studies. As a member of the Rice basketball team, Mullins started in 102 of 116 games over four seasons and scored over 1,000 points.
"Chris impacts the game in a number of ways because of his ability to get in the paint and score or facilitate," Fischer said. "We expect Chris to bring a tremendous amount of leadership to our team next year given his experience at the collegiate level."
Fischer announced the introduction of Providence freshman Matteus Case to the program, too.
"Matteus is a guard who can catch and shoot as well as put the ball on the floor," Fischer said.
After two years at Pittsburgh, sophomore Noah Collier will join the Tribe starting in the fall. 
"Noah presents matchup problems because of his ability to face up and drive the ball, play from the mid-post and score around the rim," Fischer said.
The most recent addition to the team is graduate transfer Anders Nelson. He spent the last four seasons at St. Thomas University in Minnesota and will play his final season with the Tribe. Nelson plays at guard and averaged 15.2 points per game with St. Thomas. 
"He is an extremely tough and skilled guard who is capable of scoring and creating for others," Fischer said. "Anders has been a tremendous leader over the course of his career and we are looking forward to him having that same impact for us."
With seven new players coming in and COVID-19 regulations relaxed, Tribe fans have a lot to be excited for in Kaplan arena next winter.
"My first year here, we had a terrific following from our students," Fischer said. "Obviously, it was impossible to do that the last two seasons with COVID. But, I want to get back to that engagement with our student body because Kaplan Arena is a great place to play and it is hard to play as a visiting team."
Newby is also optimistic for the future. 
"I think the next few years are going to be pretty exciting and hopefully more productive," he said. "This is an opportunity to refresh the program the way we need to."
Newby also spoke to the important ramifications of the basketball program's success.
"When schools do well athletically, that is a boom for the school in general," Newby said. "That means more applications, more students and more funding. So, I would say there is a lot riding on us doing well, and these transfers are a major key in turning things."