Over the past few years, Diana Kim '25 has dedicated her spare time to cultivating a greater understanding of the history of Asian Americans beyond the scope of the public education curriculum. Kim has sought to better comprehend and grow in her identity as an Asian American. 
"It's very hard to be proud of something that you know almost nothing about," Kim said.
Kim has been a student in not only Virginia's public education system, but also in that of North Carolina and Missouri. The Asian American history that she was taught in K-12 typically did not go beyond Japanese incarceration, Chinese railroad workers and the Chinese Exclusion Act. Even these few topics were only covered to a minimal extent. She realized her public education rarely, if ever, included Asian American stories or voices. 
"The lack of representation overall was something that stood out to me, which encouraged me to kind of seek it out on my own," Kim shared.
In her junior year of high school, Kim pursued an independent study into Asian American history. In her research, she learned about Asian American activists and the role Asian Americans played in events such as the Civil Rights Movement of the 1960's. Gaining a fuller understanding of Asian American history led her to continue this pursuit of knowledge as she wondered where Asian Americans were during other major historical events. From her readings, she experienced a sense of pride and fulfillment in, as well as validation of, her personal experiences growing up as an Asian American.
"It was like finding what was missing," Kim reflected. "And I think that's what representation often does for people."
In July 2021, Illinois passed legislation to guarantee the teaching of Asian American history in Illinois public schools. This new law, in tandem with her advocacy work at her high school, inspired her to look into what was occurring in Virginia in terms of Asian American history education, but she could not find much. Thus, she decided to create a petition to include Asian and Pacific Islander American (APIA) history in Virginia's K-12 public education system.
"A group of students and I did anti-racism workshops for our school, so that kind of got me onto the track of thinking about what more I could do for the greater community or for the anti-racism cause in general," Kim said. "And that's where I got my idea for the petition."
Her goal with making a petition was not necessarily for legislation to be passed. Rather, she aimed to have the public realize the depth of APIA history and the importance of teaching it. 
"Just knowing that much can push them to be a little prouder of themselves or understand more of where their identity comes from," Kim said.
Additionally, Kim hoped her petition would serve as a means to put herself out there as a liaison for others to contact if they were interested in learning about APIA history or advocating for it to be taught. 
"And I think even knowing that there is like a group out there that is dedicated to supporting people like them, even if they're not directly involved in it, just knowing that a group is there, I think, is helpful," Kim said.
In the spring of 2022, Kim created the Asian Virginia Alliance. Her goal with AVA was to provide a community and support base for Asian Americans in Virginia. Recently, she decided to focus on empowering other students to feel pride in their identity as Asian Americans. She worked to achieve this aim by advocating for improved education on Asian American history.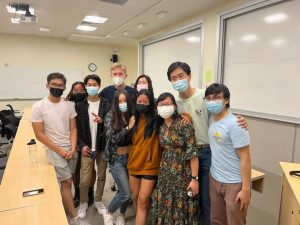 "It's a cause that's very near and dear to my heart," Kim said in reference to the lacking coverage of Asian American history in public school systems. "It's personally affected me and personally affected a lot of people I know."
This past summer, Kim used AVA as a platform to lead a summer program for Asian American high school students in Virginia, discussing Asian American history in a more comprehensive way that public education curricula does not do. Her program involved meeting once a week for five to six weeks and learning about history as well as social issues affecting Asian Americans such as the model minority myth and the perpetual foreigner stereotype. 
"I would give them short readings on what I thought were the major Asian American events and people to know about," Kim said. "And they would either do the reading, watch a video or do some sort of activity I assigned for the week, and we would have our meeting and have a discussion on what we read or what we watched to help them gain a deeper understanding about Asian American history and identity overall."
Creating and running this program allowed Kim to witness the impact of other students finally gaining a better understanding of their identity as Asian Americans, bringing to life her mission as an activist. She found fulfillment in teaching students about the history of their identity in a fuller way than what public school systems have historically provided Asian American students. 
"There is a change in their eyes," Kim said. "It's kind of this look of realization that there was something missing in their public education that they didn't realize." 
"It's very hard to be proud of something that you know almost nothing about," Kim said.
Kim shared how each student learning about their identity's history could impact those around them as well, ultimately acting as a catalyst for pride in one's identity through educating others on Asian American history.
"I was really hoping to kind of push them out of their comfort zones in what they knew about history, especially United States history, so that they could also share the wealth of knowledge with their friends," Kim said. "And also, as they kind of go into the world, that they're able to bring a different perspective for others so that we make a difference, little by little."
In addition to working with high school students this past summer, Kim was part of the College of William and Mary's Asian Pacific Middle Eastern research project. They conducted in-depth research on the first three Asian women to attend the College. Kim also worked closely with the College's School of Education to create lesson plans based on the project's research on the first Asian student at the College. Kim hopes to not only make more lesson plans in the future on what is found about the first three Asian women at the College, but also share them to the public for any educator interested in teaching the subject to use.
"Educators are underfunded, underpaid and underappreciated," Kim said. "So what our project aims to do is to create the lesson plans for the teacher so that they don't have to go through the process of making it themselves, having it be available so that they can use it in the classroom however they wish."
Kim hopes to provide everyone with an opportunity to learn about Asian American history since the history and diversity of the United States is so different from how public schools often teach the subject.
"It isn't just important for Asian students to hear," Kim said. "But it's just as important for everyone else to hear, especially when there's this stigma of people of Asian descent who are American not being seen as 'American' because of the way they look or what their cultural heritage might look like."
Often when students don't have the opportunity to learn about the history of their identity, they feel lost or alone, which is how Kim frequently felt growing up. She struggled to feel valid in both her American identity and her Asian identity. Learning about Asian American history has allowed her to embrace her identity as an Asian American, and she strives to provide this sense of pride to other young Asian Americans.
"It's really just the classic, 'Because I didn't have it, I want others to have it,'" Kim said.