Summer 2022, the College of William and Mary opened its latest expansion to the Sadler Center. The new space centralizes student activities and houses departments that were previously spread throughout campus.
The addition includes three stories and 53,000 square feet overlooking the McLeod Tyler Wellness Center and Montgomery Football Practice Facility. The focal point is a gathering place called The Slice which features chairs and tables surrounded by floor-to-ceiling windows.
Plans for the expansion began in 2018, but construction didn't start until November 2022. The project cost an estimated $38 million.
Offices such as Center for Student Diversity, Dean of Students, Student Accessibility Services, The Haven and Student Services and Care Support have moved to the new expansion. Student media groups are now located in Sadler, where new recording rooms have been set up.
Associate Director of Student Unions and Engagement Taylor Locks explained how the centralization will provide benefits for both students and staff.
"Students will have increased access to resources as offices are more visible," Locks wrote in an email. "Departments also have more space to meet privately with students or conduct workshops within their individual suites. We know this will lead to more events throughout the building. Colleagues across student affairs will also have new opportunities for collaboration."
Kimberly L. Weatherly, assistant dean and director of the CSD is excited about being located near other offices. 
"I think it's a great opportunity for all the student success offices together in one area," Weatherly said. "Now students can kind of come in one area and do one-stop shopping."
The new CSD is located next to The Slice on the main floor of Sadler, with welcoming glass walls. Weatherly sees this as an improvement from their more-isolated former office in Campus Center. 
"If you came to the campus center before, you really were taking care of business or you were going to the marketplace," Weatherly said. "I think people will naturally walk by like, 'Hey, we've heard about this center, let's go in' or, 'Hey, what's that? '— The curiosity — 'Let's go in.' So the foot traffic will then improve."
Weatherly hopes that the centrality and space provided by the new office will encourage students and organizations to engage with their department.
"We're really happy that we are main stage and that the institution thought enough to put, you know, regarding diversity and inclusion, right on the main floor in the middle," she said.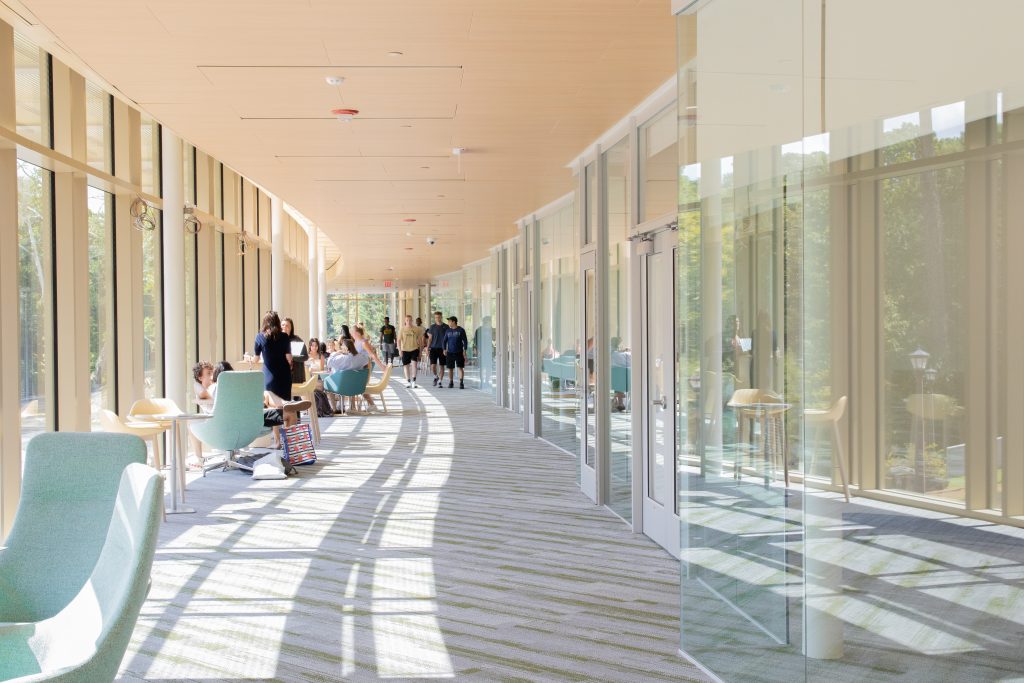 The expansion also includes space for other resources provided by CSD. 
"When the plans were being worked up, we were telling them what we need," Weatherly said. "For instance, the meditation room falls under our umbrella. So, you know, a f ew things that I definitely wanted; I wanted a wudu station for students who have to prepare for prayer by washing off, washing their feet. And those things were implemented."
The mediation room, located on the third floor, contains curtains to separate prayer spaces by gender and religion along with copies of the Torah, the Bible and the Quran.
In addition, the CSD ensured that the new transgender locker would be placed accessibly in their office, rather than the basement of Campus Center where it was before.
Liz Cascone, director of The Haven at the College since February of 2016, also expressed excitement in regards to the Sadler expansion and the accessibility of the space to students on campus. 
"I think one of the things that the new space really provides is some privacy when students come into the Haven, which we didn't have before," Cascone said. "We really just had two offices off of a hallway that was like a public hallway in the Campus Center, and now we have a space where students can come in, sit down and be in a private space while they're waiting for one of us to sort of meet with them." 
The Haven serves as a resource center for students on campus impacted by sexual violence and harassment, stalking, relationship abuse and other discrimination on the basis of gender. Its new office is now located in Suite 146P. 
"I think the other benefits are we have more space so our graduate assistant has their own office, whereas before they were sharing space with our student volunteers," Cascone said. "And our rooms are a little bit larger, so we are able to have our groups here in the Haven, as opposed to looking for other group spaces across Campus." 
In the planning process, the Haven was also consulted on the design and layout of their space. 
"Storage was a challenge in the Campus Center, so one of our major requests was, 'Could we get some storage?'" Cascone said. "And so, we were lucky to have these new built-in storage shelves in the space, which is fantastic… And just I think that the privacy factor of you know, 'How can we create a welcoming space that feels more private and folks don't feel like other people are walking by all the time?"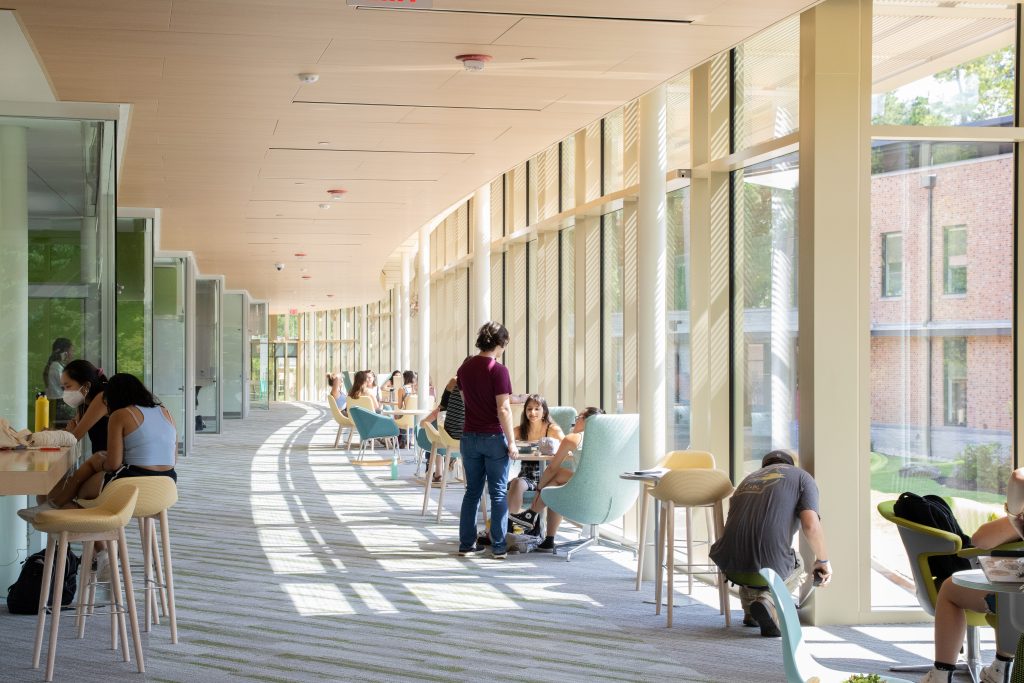 Cascone expressed her desire for the Haven's new location to encourage students to engage with the space on a regular basis. 
"We'd really like the Haven to act as a place for all students, and not just a student who might feel like they have a crisis or something time sensitive," Cascone said. "So, you know, we want folks to be able to come in, look at the space, engage with the space, check out a library book or look at resources and not feel like it's only a space for someone who is having an immediate issue. So, I think that it being in the larger Sadler center and closer to all the other student life activities, hopefully that will mean folks will know where it is and sort of engage with our space more often and feel like it's not out of the way, but also still feels private."
Students can be found throughout the new addition, utilizing the new resources and study spaces that are provided. Abby Romano '23 is excited to utilize the space during her final year of college.  
"I love it, I love it so much," Romano said. "It looks so bright and the windows are so great. I think I'm going to do work here all the time."
Many groups of new members of the Class of 2026 can also be found walking around the expansion during orientation, learning about the new spaces that will be available throughout their entire tenure at the College.  
"It'll be exciting to see what they've added, especially to Sadler," Audrey Vergara '26 said. "So far, it feels like the main student hub, especially with all of the amenities it has."
There are two celebrations planned to commemorate the opening of the Sadler expansion. On Thursday, Sept. 8, from 5-8 p.m., the "Zip, Slice, Explore: A Block Party" will be hosted. 
"This event is open to all students, faculty and staff as a chance to explore the student life neighborhood, including the expanded Sadler Center. There will be giveaways, games, a zip-line, food and more," Locks said.
Additionally, on Sept. 23 at 1:30 p.m., a formal ribbon cutting ceremony will be hosted to celebrate the expansion of Sadler and projects for the Campus Living Center.