Over two weeks into the new academic year, cases of COVID-19 among students at the College of William and Mary are on the rise. However, neither students nor staff know exactly how many active cases there are on campus due to the university's new COVID-19 policies.
"Cases are being tracked by the Virginia Department of Health," Dr. David Dafashy, medical director of the Student Health Center (SHC) and member of the university's Public Health Advisory Team, said in a written statement when asked if the university knows how many active cases of COVID-19 are on campus right now. "Any cases seen through the Student Health Center on campus are required to be reported to VDH." 
However, students are not required to report cases to the Student Health Center. Ahead of the fall semester, the College loosened many of its COVID-19 management strategies in an effort to treat the disease as endemic.
"Today, COVID-19 is one illness among many the university will help students and employees manage on a daily basis," Vice President for Student Affairs Ginger Ambler '88 Ph.D. '06 wrote in an email to the community on July 28.
On Aug. 5, the College suspended all COVID-19 case management and contact tracing measures. Prior to this semester, students who tested positive for COVID-19 were required to report their cases to the university and would be assigned a case manager who coordinated contact tracing and informed students of isolation requirements. 
As of this semester, the webpage ReportCOVID.wm.edu, where students could report positive COVID-19 tests, has been removed from the university's website. The university has also removed the COVID-19 Dashboard, a webpage where members of the community could see regularly updated information about the number of cases on campus. 
"As we enter a more endemic stage with COVID-19, the SHC continues to recommend ongoing vigilant hygiene measures, and also encourages even minimally symptomatic students to self-test if they are concerned that they may have COVID-19," Dafashy said of the new approach to manage COVID-19 spread.
But some students have been expressing concerns over the removal of case measurement resources.
"Getting rid of contact tracing and case management prevents us from being honest with each other," Pendaar Pooyan '24 said. "It creates an environment of secrecy and hiding the truth from other people, and it does not create an environment of trust."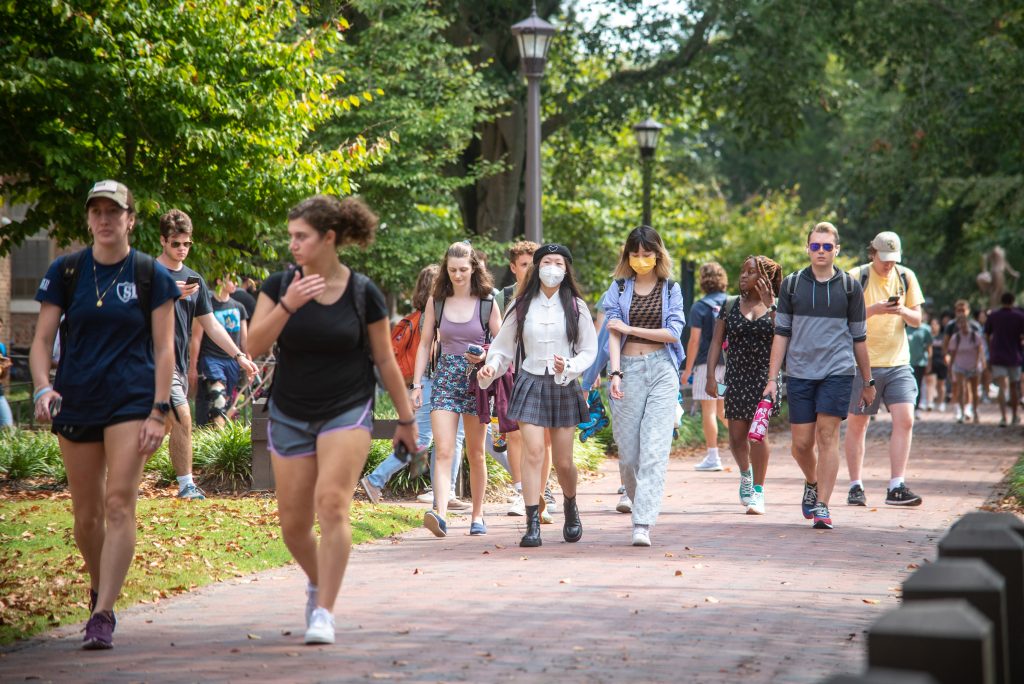 Despite a lack of official communication from the College about the number of active COVID-19 cases on campus, students have noticed a recent uptick in their peers testing positive. Gail Conk '22 said they first realized cases were on the rise when they and their partner received texts from multiple friends who tested positive over the course of a few days.
"That's when it got alarming and we realized that there could potentially be a pretty bad outbreak on the campus," Conk said. 
They added that other university policy changes from the last few months have contributed to their anxiety about the number of cases on campus.
"Getting rid of pre-testing before we returned to campus, that combined with the mask mandate just makes it impossible to feel safe in classrooms and on campus without suspecting or fearing that those around you may be infected and may not even know it themselves," Conk said.
Some students have taken matters into their own hands. On September 7, an Instagram account called William & Mary People's Covid Dashboard posted an anonymous Google form where students can report positive tests.
"We're a team of frustrated students disappointed with W&M admin's lack of response to the Covid-19 pandemic, especially their decision to stop updating the Covid Dashboard," the anonymous account wrote in an introductory post. "Students deserve accurate, up-to-date information on the state of Covid-19 at W&M to better protect ourselves, our peers, and our community." 
The account went on to explain that they are planning to use the data from the Google form to post weekly updates on infection and transmission of COVID-19 among students.
Student groups have responded to the outbreak by exploring ways to make their meetings more accessible. Conk is a member of the organization Lips, which publishes a mixed-multimedia magazine focused on the experiences of marginalized students. They said that the executive board of Lips chose to cancel their first meeting of the semester because of the rising number of COVID-19 cases on campus.
"That's where we got into a greater conversation about what kind of an organization we want to be during a pandemic like this, and especially at such a privileged institution that really works to make it comfortable for the most privileged among us, those who don't necessarily see the worst impacts of this virus," Conk said. "So we decided that we want to start doing more to really make our organization COVID-safe and accessible to everyone, including having a permanent Zoom link for every single one of our weekly meetings."
When asked if the College has given student organizations any guidance on how to safely hold meetings if a significant number of their members test positive for COVID-19, Ambler and her co-chair of the College's Emergency Management Team, Deb Cheesebro, said in a written statement that all students have access to the COVID-19 information for students webpage on the university's website. However, this page does not include any guidance specific to student organizations. Pooyan, who is on the executive board of the immigration advocacy group WMFIRE, said that the organization did receive any COVID-19 information or guidelines from the university.
"Two members of exec tested positive for COVID, and I do not recall there being any guidance from the school about that," Pooyan said.
Professors have reacted to rising COVID-19 cases among students in a variety of ways. Dafashy said that Chief Operating Officer Amy Sebring provided faculty with COVID-19 guidance on July 28, 2022, prior to the suspension of contact tracing and case management. In this guidance, Sebring directed faculty towards resources to record lectures and optimize Blackboard, as well as advising faculty not to make testing recommendations to students in order to protect medical privacy.
"Please accommodate students who need to miss class for a short period of time, as with any other illness," Sebring said in the guidance. "If you have a group of students who are out, you might consider recording lectures and/or using other means to provide instructional content."
Some professors have taken this guidance to heart and are finding creative ways to accommodate students during the outbreak. Megan Fleeharty '24 said that her chemistry professor recently updated their syllabus to remove daily quizzes.
"I am so relieved that students feeling sick won't feel pressured to come into class and potentially spread Covid in order to earn points for their grade, and also that if I become sick, I won't be penalized," Fleeharty said.
However, Sebring's guidance for faculty is not binding. Amber Wyatt '24 said that one of her professors did not make any accommodations for her after she tested positive for COVID-19.
"This professor said that if we were to ever miss classes, we should rely on notes from peers to catch up; however, I didn't know anyone yet seeing as it was the first week of class and I had nobody's phone number to be able to text anyone," Wyatt said. "I noted this in my email and asked for alternatives, but instead of offering help he ignored my statement and reiterated 'be sure to get help from one of your classmates.'"
Without contact tracing or case management, the exact number of active COVID-19 cases on campus will remain unknown. And with no binding guidance from the College, students and faculty will continue to have varying responses to campus outbreaks. Cheesebro and Ambler said that the College is monitoring the situation on campus, but did not say whether they would consider reinstating any of the procedures that were suspended this semester.
"As we have the past two years, the university will continue to make decisions in a phased way," Cheesebro and Ambler said. "Both the Emergency Management and Public Health Advisory Teams continue to monitor COVID-19 in our community. Should there be any concern about the level of a disease on campus, we would send an email to campus with necessary required actions and/or necessary information."