Thursday, Nov. 10, the College of William and Mary's VOX: Planned Parenthood Generation Action hosted their annual Pro-Abortion Talk. The event featured a panel of six speakers consisting of students, administrators and members of the Williamsburg community who shared their perspectives on the state of reproductive rights. 
VOX is a student-led organization advocating for reproductive rights and justice. 
"VOX is very much not just an abortion club," VOX President Becca Gaylin '23 said. "We do a lot of stuff in the realm of reproductive justice. We've done environmental work, we do work with abortion funds, we do stuff with people who already have children hearing their perspectives, we do a lot of fundraisers. It's really just a very welcoming space for people of all different backgrounds who want to come together on this mission." 
The event began with a reading of the William & Mary Land and Slave Acknolwedgements by DEI chair and event moderator Jada Bonds '25. Next, Gaylin addressed VOX's decision to rename the talk. 
In previous years, this event was promoted as a Pro-Choice Talk. However, executive board members shared the reasoning behind the shift toward a Pro-Abortion narrative. 
"Being pro-abortion is, of course, not encouraging every single person out there to get an abortion," Gaylin said. "It is the belief that people should have access to abortion as a health care service and that abortion services are a right everyone should be guaranteed. It's supporting people who get abortions for whatever reason that may be, and trusting that the people making choices for their own bodies, their own lives and for their own families are the best holder of knowledge in that domain, and that it is ultimately their decisions and their lives at stake."  
Gaylin continued by explaining how the notion of choice limits the narrative surrounding reproductive rights. Even in states with progressive abortion laws, marginalized communities –– often people of color, people from lower socioeconomic statuses and individuals who don't fit into the gender binary — lack access to abortion services. 
"We firmly believe that there is no choice where there is no access," Gaylin said. 
The shift in phrasing also serves to destigmatize the word abortion. 
"Abortion is not a dirty word," Gaylin said. "One in four women have an abortion in their lifetime. So a lot of people are having them all the time, as we know."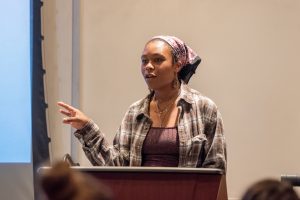 Following Gaylin's remarks, Bonds introduced the evening's first speaker, Kaylin Brown '24. Brown, who is currently pursuing a degree in Elementary Education, emphasized his love for kids, but explained that he holds no desire to have children of his own. Brown continued by expressing his frustration with medical professionals who fail to take his requests for effective, long-term birth control seriously. 
"I can't do what I want to do with my body, and that's really distressing," Brown said. 
The next speaker, Tara Sloane '25, read two excerpts from "Choice Words: Writers on Abortion," a book of poetry that collects contemporary and historical narratives relating to abortion and reproductive rights. 
The selected readings first included a story by Desiree Cooper, which chronicled the journey of women of various ages and backgrounds traveling to get an abortion. The next reading, "Moo and Thrall" by Dana Levin, discussed the absurd spectacle of pro-life protestors on college campuses.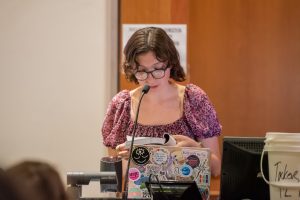 While Sloane's readings highlighted the relationship between the arts and pro-abortion activism, the next speaker, Mary Wesley Foundation's campus minister Max Blalock, took a religious approach. 
Blalock began by reading a statement issued by the Southern Baptist Convention in 1971, which explicitly condoned abortion in certain cases. According to Blalock, the shift towards a pro-life stance occurred in accordance with the rise of the religious right in the late 1970s. Blalock explained how being pro-abortion and placing trust in pregnant people aligns with the teachings of Christianity. 
"The two greatest commandments are to love God and love your neighbor as yourself," Blalock said. "Loving your neighbor as yourself means all of our neighbors. When it comes to people who are able to get pregnant, they should have the same access to health care, the same freedom of decision-making and the same autonomy of their body and doing what is best between them and their physician."
"It's about trusting people who can get pregnant with their physicians and with their community to make the best decisions for themselves. For me, that's what loving your neighbor as yourself means," Blalock continued.
Following the theme of religious freedom, the next speaker, Cameron Morris '25, approached the topic of abortion from a Jewish studies perspective. She discussed the role of Jewish women in pioneering birth control advocacy in the early 20th century. 
"Jewish women were some of the first and most influential activists in the United States for the reproductive freedom movement," Morris said. 
Morris continued by framing the topic of reproductive rights as a religious freedom issue. 
"The Talmud explicitly states that the life of the woman takes precedence over the potential life of the fetus," Morris said. "In Jewish law, it is key that the rights of the fetus are secondary to the rights of the pregnant person all the way up to the moment of birth."
Morris explained that the phrase "right to life" used by anti-abortion activists obscures the principles noted in Jewish law. 
"The right to be born is relative," Morris said. "The right to life for existing persons is absolute. Rabbinic law has determined that human life begins with birth."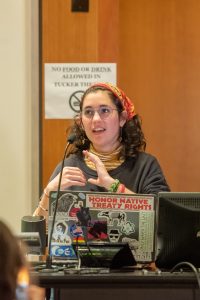 Morris concluded by stating, "This Jewish studies lesson was to point out the fact that the attacks on Roe vs. Wade and the attacks on abortion are a clear and purposeful attack on the religious rights of Jewish people." 
Other speakers from Thursday's talk included Associate Director & Sexual Violence Prevention Specialist at the College Hannah Artiles-Stravers. Artiles-Stravers works with students in the McLeod Tyler Wellness Center about consent and bodily autonomy. 
"I spend 40 hours working with systems, institutions and individuals about consent and bodily autonomy," Stravers said. "And I have this fear about which bodies have autonomy."
Surpassing her fear is Stravers' optimism for the future of the reproductive rights movement.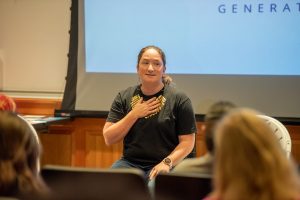 "I am grateful that you are all here," Stravers said. "Young people are what help make change." 
The last speaker, who wishes to remain anonymous, spoke more generally about the internal misogyny conditioned into women from a young age. They addressed the unjust criticism that women who unintentionally become pregnant during consensual sex receive and seeks to reframe the topic of abortion from a moral issue to a health care issue. 
Sam Korff '26, who attended the event, shared her appreciation of the different perspectives presented by the speakers. 
"I really appreciated that the discourse was around abortion as a matter of health care access and self-determination for pregnant people," Korff said. "This is fundamentally about people's ability to choose whether they want to pursue parenthood, and trusting pregnant people to make the decisions that are best for themselves and for their lives."
Bonds also expressed her admiration for Thursday's panel in a written statement to the Flat Hat. 
"VOX as an organization has changed so much since last year, and it was so rewarding to see that change and hard work come to fruition at our event," Bonds wrote. "Our exec board worked around the clock to gather incredible speakers, advertise through student happenings and in Sadler Center, and our treasurer, Eve Palmer '24, worked tirelessly with Student Assembly Finance to make sure that we were able to provide refreshments." 
Reflecting on the evening's event, Gaylin conveyed her enthusiasm for the future of VOX and the work they continue to do in the fight for reproductive justice. 
"We just want to continue on a mission of expressing that VOX is always here as a reproductive justice resource, as champions for that," Gaylin said. "This is a cause that is important, and we wanted to get the campus community involved."