Sailing through the Atlantic Ocean to whale watch, going on backstage tours in aquariums and catching jellyfish in the Crim Dell: members of the College of William and Mary's Marine Science Society have participated in a vast array of aquatic activities.
MSS is an academic club that is not only for students who are minoring in marine science, but for anyone fascinated by the complex ecosystems and mysteries of the medium that take up about 70% of the planet.
"It's a space where you can talk about how much you love the ocean, and you'll just be in a room full of people who understand," MSS social media chair Lindsey Smith '23 said. "They may not agree that, like, eels are the best, but they can see where you are coming from."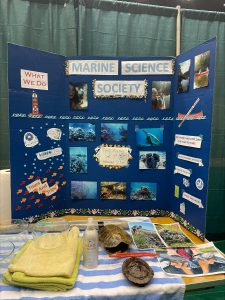 During weekends, activities tend to be smaller and allow for members to get to know each other more personally. The club in general fosters a strong sense of community around marine science — a subject that is relatively niche.
"Everybody's really interested in marine science and that's a very specific niche kind of interest," Anna Detweiler '26, a new club member, said. "It's nice to see other people also interested in the same thing."
Some club activities are aimed at encouraging marine science careers, including working closely with the Virginia Institute of Marine Science. The School of Marine Science at VIMS is the graduate program in marine science for the College, located 30 minutes away from campus in Gloucester Point.
"VIMS has been really encouraging undergraduates to come, explore and gain experience in research," MSS President Grace Weeks '23 said.
MSS hosted tours of the VIMS campus and invited professors and graduate students to discuss their research. One of the club's most coveted experiences was the ability to ride the RV Virginia, a research vessel owned by VIMS.
"We got about 30 students that were able to ride this research vessel, which is an experience that not many researchers can even get, so that was really cool," Weeks said. "We got to do a few research methods activities on the boat."
This activity was championed and secured funding by professor Christopher Hein, one of the club's advisors and an associate professor at VIMS.
"Chris Hein has been really great at trying to expand the marine science minor and making undergraduate research at VIMS more accessible, so we have been promoting that through our club," Weeks said.
The other advisors bring their expertise and diverse backgrounds to the club, allowing members to gain further experience and knowledge into the subject matter.
"Jon Allen runs the Marine Invertebrate Lab on campus, but since he is on sabbatical right now, Randy Chambers is in his place," Weeks said. "He's the environmental science professor that works with terrapins in Matoaka."
Another experience that the club hosted was fishing for jellyfish in the Crim Dell, a fun activity that allowed members to look at these small organisms. Many on campus affectionately refer to them as "the crim jellies."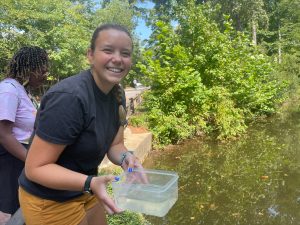 "We went to catch some of the little jellyfish," Smith said. "They were like the size of the tip of my pinky, and we were catching them with Tupperware and then just putting them in buckets."
The club also does trash cleanups around the College's campus. This past semester, MSS teamed up with the Geology Club to do a cleanup of Lake Matoaka. The lake is surrounded by a 600-hectare watershed which is owned primarily by the College. Over the course of several decades, the lake has not only borne the brunt of standard pollution like litter, but also heavy sediment and nutrient pollution.
"This is how we are helping the community and beautifying it," Smith said.
Lake Matoaka cleanups are an activity the club was able to continue during the COVID-19 years, since it was outside. Before the pandemic, the club worked on making bracelets to sell in order to fundraise for the Chesapeake Bay Foundation. CBF is a regional non-profit, whose mission is to find solutions for the pollution that is degrading the Chesapeake Bay and its rivers and streams. Given that the College is in the Chesapeake Watershed, the club found it important to support the cause.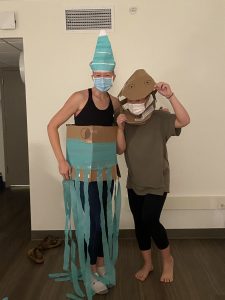 "We spent a good chunk of our meetings making these bracelets that we were planning to sell for a Chesapeake Bay Foundation fundraiser," Weeks said. "COVID hit, and we didn't get to sell them. So for the past year, we've been really working on selling those by tabling and then giving all of that money to the Chesapeake Bay Foundation."
Additionally, MSS has gone on behind the scenes tours at the Virginia Aquarium and Marine Science Center and whale watching at Virginia Beach.
Weeks feels as though MSS and the College have a great relationship because of the faculty.
"There's so many great faculty that work with marine critters, whether they be in biology, chemistry, or any sort of STEM classes," Weeks said. "They may not even work at VIMS, but we have a great connection with them."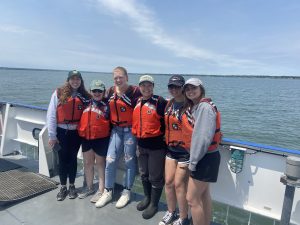 Looking into the future, Weeks wants to change things up and come up with new club activities and projects. Going forward, the club is looking to continue increasing their social media presence, including creating a TikTok to increase student engagement. At the end of the day, the club aims to get more students involved in marine science.
"I always leave Marine Science Society smiling, and I think my goal is just to keep doing that and allow others to have that feeling," Smith said.