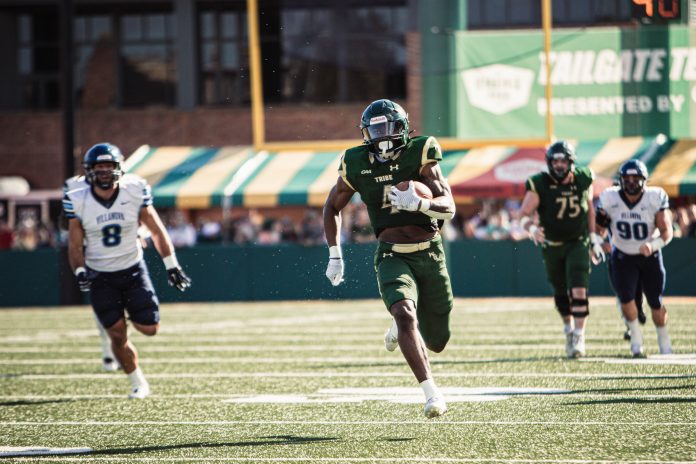 Saturday, Nov. 12, William and Mary (9-1, 6-1 CAA) football bested Villanova (5-5, 3-4 CAA) 45-12 during the Veterans' Memorial Game on Senior Day. The Tribe had one of its best showings this season and highlighted its overall offensive and defensive strengths.
The offense ended up with 582 yards, marking a season-high and program best since 2010. Sophomore quarterback Darius Wilson led the Tribe with 211 passing yards and three touchdowns, marking an unusual reliance on the Tribe passing game.
Wilson also broke away from the defense in a 55-yard run in the second quarter to score the Tribe's third touchdown of the game. On the ensuing Tribe drive, Wilson passed to sophomore wide receiver Tyler Rose who scored the 87-yard touchdown.
The Tribe defense had another strong performance, holding Villanova to just two field goals through the first 55 minutes of the game. Additionally, the defensive line limited Villanova's rush game to 138 yards, compared to the Tribe's own 371 rushing yards. William and Mary averaged 4.9 yards per carry on the ground,
Villanova graduate student kicker Matthew Mercurio scored the two field goals for the Wildcats from 45 and 26 yards, respectively.
This game proved to be historic, as the Tribe's 33 point victory was the largest point differential against Villanova since 1999. William and Mary also took better care of the football on Saturday, as it did not turn the ball over for the third time this season. Turnovers plagued the Tribe in each of their last two games against Rhode Island and Hampton. It also marked a season high in points and team rushing yards.
Senior running back Bronson Yoder celebrated his final regular season home game with 133 rushing yards, making it the third game in a row that he rushed for over 100 yards. Yoder only needs 28 more yards to join the 1,000 yards club this season, which would make him the first player since 2016 to join the club. Additionally, Yoder is tied for 9th in program history for total games with 100+ rushing yards.
The Tribe's next game is at Richmond (8-2, 6-1 CAA) on Saturday, Nov. 19th.
Correction (11/17): William and Mary defeated Villanova 45-12. A previous version of this article's headline said the score was 40-12.