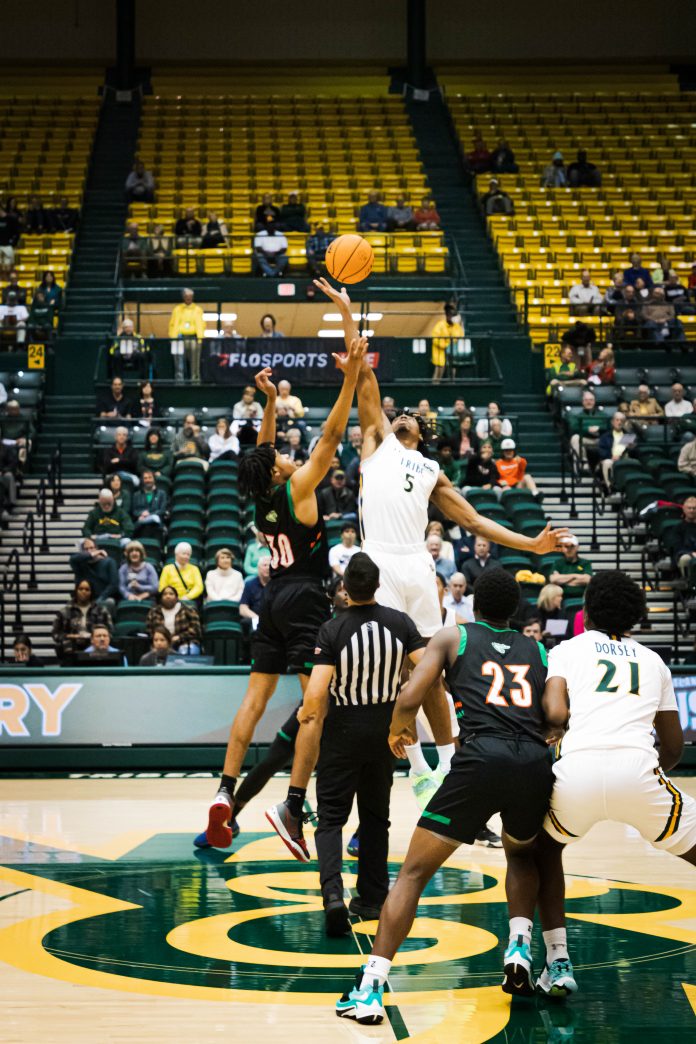 Thursday, Nov. 10, William and Mary (1-2) picked up their first win of the season against Mid-Atlantic Christian (2-1). With a final score of 116 -40, the 76-point differential is the largest the Tribe has recorded since 1943.
Almost every member of the Tribe played (and scored) in their match against the Mustangs. Having a large enough point margin to sub in players who normally would not have seen game time kept all of the Tribe well-rested and potent. After 10 minutes, the Tribe led with a score of 30-12. 82 points throughout the game came from bench players.
Senior guard Miguel Ayesa, despite not starting, recorded the most minutes and points. After entering the contest five minutes into the first, he shot back-to-back three-pointers. His shooting continued to shine, as he went on to bank a total of seven three-pointers. He shot 80% on field goals, as well.
Junior guard Jake Milkereit had the highest minutes-to-points ratio, totaling only 16 minutes but scoring 21 points. Most of his points came from a variety of shooting positions, everywhere in the paint, out of the paint and at the free throw line, where he made five of six attempts.
Both Ayesa and Milkereit notched career highs in point production. Ayesa's seven three-pointers in this game mark the seventh highest total in Tribe history.
The freshmen on the team similarly got a feel for the game flow, all playing over ten minutes. Freshman guard/forward Jack Karasinski went 5-8 in field goals and netted both of his three-pointer attempts, totaling 12 points. Freshman guard Chase Lowe made 4-5 field goals and two free throws.
Overall, the Tribe had matching shooting percentages for field goals and three-pointers, at 61.9% and 61.5% respectively. Their free throw average was 70.9%.
The Tribe' dominance was written all over the stats sheet, from points in the paint, where they led 42 to the Mustang's 16, to second chance points, totaling 29 to zero, to fast break points, leading 11 to four.
For the fans, it was refreshing and reassuring to see this performance early on in the season. After last season's woes, and this season's rocky start on a loss, the Tribe's success in this game, almost tripling the Mustang's score, seemed sweeter.
Unfortunately, they couldn't carry their momentum to Virginia Tech where they lost 94-77 on Sunday, Nov. 13. The Tribe will try to recapture some semblance of a winning record at American (0-2) on Wednesday, Nov. 16.