Thursday, Nov. 10, TEDxWilliam&Mary hosted its annual event in the Brinkley Commons Room at the Raymond A. Mason School of Business.
TEDxWilliam&Mary is an independently-organized event aimed at inspiring and elevating student and alumni voices at the College of William and Mary. The W&M TEDx Committee hosts talks under the license of TED, a nonprofit media organization seeking to discover and share powerful ideas.
This year, Maddie Cross-Kaplan '23, Salaar Khan '24, Farhat Nishat MBA '23 and Taiana James '22, shared personal stories under the theme "Free to Fail," encouraging others to recognize the success which can come from failure. The event was 14 months in the making after last year's presentation was postponed, marking the organization's first event since March 2021. 
TEDxWilliam&Mary Marketing Chair Erin Liebe '23 discussed anticipating surrounding this year's event and theme.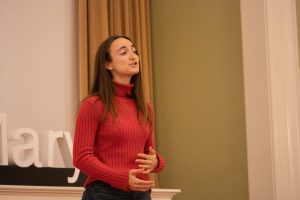 "The most fulfilling part, that I'm most excited about, is that these stories that people will be sharing in their talks are very vulnerable and well thought out," Liebe said. "I'm excited to see people share their stories to an audience that I think needs to hear this overarching theme that it's okay to fail. We could all use to hear that sometimes."
The W&M TEDx Committee co-directors Aravind Sreeram '23 and Chloe Kinderman '24 opened the event, contextualizing the theme before speakers presented.
"In a society that has intuitively idealized success at every step, we want to emphasize the diverse ways in which our unconventional journeys shape who we become," Kinderman said. "This year, our talks will show you how there's no success without failure."
Cross-Kaplan spoke first, challenging the audience to reframe mental health struggles as a common human experience and allow others to offer help in times of need. Cross-Kaplan's talk covered her personal experience receiving treatment for an eating disorder and feeling unable to talk about it. A close friend offered advice on how to confront her mental health struggles.
"No one was asking me to rescue myself," Cross-Kaplan said. "But I needed to participate in my own rescue."
She encouraged others to seek help in times of need instead of suffering in silence. Cross-Kaplan grew to understand that advice in the context of her own grief while mourning the passing of a friend last year.
"I didn't have to try and do this all on my own, but I needed to let others help me," Cross-Kaplan said. "I'm here today because a lovely human decided to let me in on her journey of participating in her own rescue, so that I could do the same."
Khan spoke second, sharing his own experience of being legally blind and disabled in his talk: "The Courage to Continue." Having overcome his challenges with the support of those around him, Khan discussed his dedication to serving others younger than him dealing with the similar struggles.
"Disabilities come in all shapes, sizes and ages," Khan said. "And I think that last part is especially important to remember because too often we forget about the young people with disabilities who sometimes have to carry the heaviest burdens."
Khan encouraged others to persevere in the face of adversity.
"Regardless of what your circumstances are or what a few people tell you, you can be successful. The only real failure is giving up altogether," he said.
Khan connected this narrative to his own experiences and involvement in politics since he was 13. He has advocated for disabled students in public, economic opportunities for immigrant families and engaged young people in politics. He has gone from volunteering on campaigns to working with lawmakers and being the youngest person to ever represent Virginia at the Democratic National Convention.
After the event's conclusion, Khan discussed his motivation for speaking in this role.
"I've been thinking about talking more about my disability and trying to hopefully help others in any way I can with it," Khan said. "If even one person feels better after watching that, I'm glad I did it."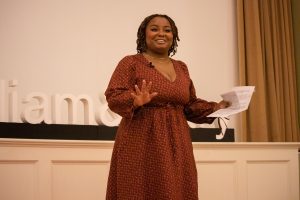 Nishat discussed overcoming the fear of failure in several stages of her life. After growing up in one of the least developed states in India, she earned a medical degree and pivoted to a business management career.
"I took an unconventional path for a female doctor in India," Nishat said.
She survived a life-threatening accident in her late twenties, suffering immense pain throughout her three-year recovery. She persisted and succeeded afterwards.
"I was paralyzed, I was on a wheelchair, but I'm here," Nishat said. "I want to communicate with others, I want to encourage, even if it's a drop of faith, hope, motivation or encouragement, to contribute to those people who need it."
James rounded out the talks, relating her independent research studying the dynamics of bacteriophage infection to larger thoughts on life.
In particular, she focused on connecting life to lysis, a process in which bacteriophages, or viruses, escape their host and find new opportunities to grow.
"To me, lysis correlates to liberation," James said. "Once you feel like a place is not good enough for you… you have to become liberated. You have to give yourself the courage to leave a situation, you have to feel free to fail, free to change."
Sreeram and Kinderman closed out the event, inviting fellow executive W&M TEDx Committee members Liebe, logistics chair Dean Waters '25, and sponsorship chair Jack Hayes '24 on stage, thanking the audience and applauding the team for the work put in to organize this event.
Aja Bauer '26 attended the TEDxWilliam&Mary event and shared her reasons for attending.
"I realized the topic was very pertinent to me, specifically being a freshman," Bauer said. "I feel like I really learned a lot and I'm honestly really glad I came."
Additionally, Bauer highlighted the diversity of stories that were shared by speakers. 
"Even though my story doesn't quite look like what theirs is, I can still relate that to my own and see how success might be coming and that failure is okay," Bauer said
Regarding next steps, Waters expressed excitement about TEDxWilliam&Mary's opportunity for growth.
"One of the things I'm excited for is building the team back together to brainstorm and make this event happen, as well as getting a lot of student and faculty speakers," Waters said. "The mission of TEDx is always to have anyone who has something that they want to say to have this platform to get their stories out to the world."