Friday, Nov. 4, the Alpha chapter of College of William and Mary's music sorority Nu Kappa Epsilon held their philanthropy event NKoachElla, a rendition of the classic music festival experience with local flair. Under the lights of the Crim Dell Meadow, music lovers of all sorts enjoyed the College's music scene, the beautiful fall weather and plenty of fall foods, all while raising money for charity.
The event featured performances from a variety of student artists such as Dietz and the Dilemmas, Phrases, Skyler Foley and Get Back Soon. Student groups, such as acapella group Passing Notes and dance troupe Syndicate, also performed. Audience members watched with rapt attention and provided lively applause as performers riffed, harmonized and danced.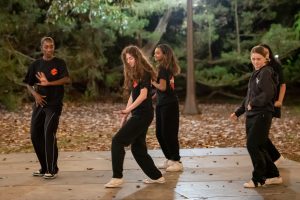 Each group was eager to perform their talents, bringing spirit and enthusiasm to their performances all night long. This energy, matched with an animated crowd, made for an unforgettable night.
In line with the event's philanthropic purpose, all proceeds made from ticket sales were donated to Musicians On Call, a nonprofit that provides music performances for hospital patients who are bedridden or undergoing treatment. Members of NKE found the charity fulfilling, connecting with their music-focused approach to volunteer work as musicians themselves.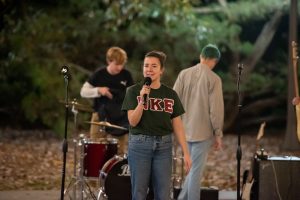 "Over the past three years, I just have really realized the importance of little things, you know, just like something as simple as music can make such a big difference. It's very powerful to know that we could play a part in their greater mission," NKE Philanthropy Coordinator Rachel Batra '23 said in reference to the goals of Musicians on Call.
NKE typically holds NKoachElla each semester as a way to support music-related charities. However, because of the COVID-19 pandemic, NKE has been unable to put on this event for the past three years. As philanthropy coordinator, Batra's main project of the semester was to bring back this NKE tradition for the first time since 2019.
"I honestly came in not really knowing what the outcome would be, just because I had never seen an NKE philanthropy event before, nobody in the organization had seen it before," Batra said. "So I just kind of came in and was like, 'All right, I'm going to give it my best shot and we'll see what happens.'"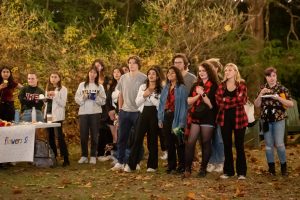 NKE fosters a strong sense of community through their common appreciation for music. Their events not only function as philanthropy opportunities, but are also a way that NKE endeavors to share their love for music with fellow music lovers. Carolyn Koerner '24, secretary of NKE, commented on the most special part about putting on NKoachElla for her.
"I love the community that is formed," Koerner said. "Of course NKE itself is a little community. But I love that we're now bringing in our friends and people we know from the outside William and Mary community to enjoy our little magic of NKE and music."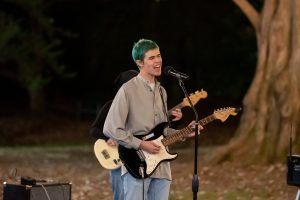 The positive cheers and shouts from the crowd only got louder as the night went on, adding to the infectious energy throughout the event. Performers were greatly appreciative of the encouragement they felt from the audience.
"I love the support that the William and Mary community has to offer," President of Passing Notes McKenna Grantier '23 said. "You can ask people to show up that you don't really even know at all, and they will, and that's amazing."
Overall NKE's return to philanthropy events was a great success. The time and care that NKE members took in order to put on NKoachElla and support Musicians On Call was evident in all aspects of the event. What's more, the performers seemed to derive as much joy out of performing as NKE did holding the event.