At the start of fall break, most of us get loaded into cars or board trains and planes to spend a couple of days off-campus. However, some students elected to do something a little closer to campus. Branch Out's Alternative Breaks allow students to participate in service-based learning during the fall, winter and spring breaks. Each break is centered around a specific issue and collaborates with a community partner that does work relevant to that issue. 
Alternative break examples from past years have been creating LGBTQ+ friendly spaces with Campus Pride in Charlotte, North Carolina, addressing the College's history of racism with the Lemon Project and learning about the importance of affordable and accessible care with the Northern Neck Middlesex Free Health Clinic in Kilmarnock, Virginia. Each break is completely free to students and consists of orientation, service and re-orientation. 
After being a site leader on the recent fall break trip to the Northern Neck Middlesex Free Health Clinic, Yousef Barekzay '23 shared his admiration for how the program is modeled. The students stayed on the site of the previous clinic from Thursday to Sunday and did a variety of tasks. 
"We did a lot of stuff like making new charts, organizing them, pulling charts from like 2021 because they were still there," Barekzay said. 
Participants also shadowed dental students from Virginia Commonwealth University doing two-week dental rotations. 
"Being on the other side of the chair and seeing somebody get their cavities filled was really interesting, as well as just talking to the dental students." Lea Solomon '23, another participant in the Northern Neck trip, said. 
The Middlesex Free Health Clinic was founded in 1993, and as of 2018 has provided more than $112 million dollars to those living in or around Kilmarnock. Currently, the clinic is trying to build back its volunteer base from the losses suffered during the COVID-19 pandemic. 
"Everyone was wearing a million hats," Barekzay said. "If you were a dentist, you were not just a dentist, you were helping out everywhere all day. The schedule was just like back-to-back-to-back with patients."
Besides the opportunity to provide service, Branch Out breaks give students the ability to explore a new dimension of what they've learned on-campus. For example, the Northern Neck trip allowed public health majors a view into the real-world application of their classes.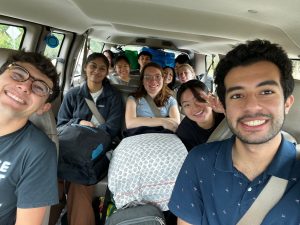 "Having the opportunity to see these things in action is so different than being in the classroom, and I think having this experience has made me want to have more experiences like this and be involved in making healthcare more accessible and affordable," Solomon said. 
"The focus of the break was like becoming educated and then educating other students at William and Mary," Talia Snyder Romero '25 said about her experience doing a Branch Out virtual break addressing domestic violence with the Avalon Center last winter.
Branch Out's work serves to fortify communities through service, but the model's emphasis on reflection is also aimed at developing a sense of community within the trips. 
"You make a ton of friends," Snyder Romero said. "You go on a trip with them, you bond with them, you learn about things, and then you come back and you're still working together." 
Solomon seconded this statement, having known  none of the other participants prior to the trip.
"I think we really fostered a sense of community, both by taking part in the service together and cooking our meals together, doing reflection together, that really built community," Solomon said. 
Besides education and reflection, another important aspect of Branch Out is to have fun, according to Snyder Romero. Members of the Northern Neck trip went to the beach to catch the sunrise and explored the downtown area near the clinic.
"It's not just like, service, service, service," Barekzay said. "You bond with the group you're going to be working with, become friends, and you get to know a lot about them."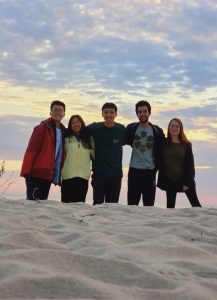 The work doesn't stop when students return to campus. The Branch Out model includes a reorientation period intended for students to share what they learned with the College's community. 
"We're thinking of doing a panel with that and putting that out for as many people as we can," Barekzay said. "But then we were like, 'Okay a panel is great, but what are real actionable ways for people to get involved with this issue?' So we're thinking of emailing local high schools in the area and there's a community college nearby to see if they have volunteers who are interested, just to like build that volunteer base back up because the health clinic does not have a volunteer coordinator right now."
 To anyone considering a Branch Out program, Barekzay recommends they do some research to figure out what they would be doing on the possible different trips, and then go into it with an open mind. 
"The model is great, good vibes only," Barekzay said.