Saturday, Oct. 29, the Alpha Sigma Phi fraternity held their first ever Halloween Philanthropy Concert to support Active Minds, a nonprofit organization that aids in mental health awareness and education. 
Students decked out in Halloween attire gathered to listen to live music at the Martha Wren Briggs Amphitheater. With performances from Saturnine, Dietz & The Dilemmas and Hamid's Journey, Alpha Sigma Phi was able to host an entertaining event and raise $750.00 for Active Minds.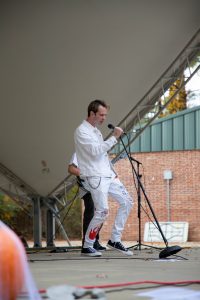 As it is Alpha Sigma Phi's fourth semester on campus, the Halloween concert was their first ever philanthropy event due to the COVID-19 pandemic. Tickets were $5.00, but extra donations were also accepted. The choice to designate Active Minds as their philanthropic partner for the event was inspired by Alpha Sigma Phi members' increased involvement with the College of William and Mary Active Mind's chapter.
"We have five philanthropic partners, and Active Minds is one of them," Alpha Sigma Phi President Yousuf Barekzay '23 said. "There is an Active Minds chapter at William and Mary, so we decided to learn more about what they do through them. We love their mission statement and how much they're helping young adults."
The event began with an Active Minds representative thanking the audience for their support in aiding their mission. With the goal to reduce stigma around mental health and encourage individuals to seek help when necessary, Active Minds ultimately desires to create lasting change in how mental health is viewed in America.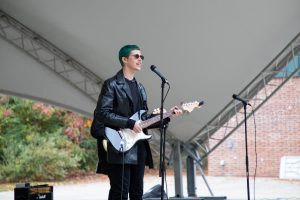 "We've held several events to destigmatize mental health," President of Active Minds Rebecca Walsh '23 said. "While our national impact as advocates may seem minute, Active Minds at William and Mary hopes to serve as the first step towards individual wellness and a mentally healthy university."  
Dietz & The Dilemmas opened the concert. Composed of four student performers from the College all dressed in Halloween costumes, the band members began the gig with an original song titled "Tough Times at the Sadler Express." As band members rhythmically paced around the stage, audience members tapped their feet and nodded their heads in rhythm to the music.
"I made this one for a school project, actually," lead singer John Dietz '24 said. "I made it very quickly, and I was like 'what are the first things that are coming to my mind?'"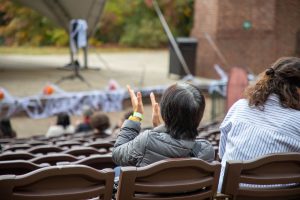 At the end of Dietz & The Dilemmas's set, another student band, Saturnine, was brought up to the stage. Composed of four members, and playing a set list of four songs, Saturnine took up a strong majority of the concert. The band members performed with foot stomps and rhythmic body movements that captured the audience's attention. Several cheers erupted from the audience, and rhythmic foot tapping became even more prominent. 
The performance of Saturnine was notably encouraged by their Alpha Sigma Phi member, Jahan Misra '23. Switching from lead singer to guitar for different songs, Misra was crucial in not only representing Alpha Sigma Phi throughout the concert, but likewise in the organization of the event.
"He played an integral role in executing all of this," Barekzay said. "He helped with speakers and the setup of the amphitheater, and he currently holds two positions on board as well."
Saturnine's set list consisted of "Little Monster" by Royal Blood, "Hysteria" by Muse, "Harder to Breathe" by Maroon 5 and "Master of Puppets" by Metallica. Despite technical difficulties in between songs, band members kept an uplifted spirit and relieved tension with audience questions. By the end of their set, the audience members were satiated with alternative rock/indie songs, and a Saturnine member closed with gratitude while introducing the next performer.  
"Thank you guys again for coming out," Sumi Gray '23 said. "I want to thank Alpha Sig for hosting this and for the Briggs Amphitheater for allowing us to play here."
The final performance was by Aamir Mohammed '23. With the stage name "Hamid's Journey," Mohammed's set list consisted of soul beats he wrote. Throughout the songs, Mohammed roamed across the stage with confidence. While moving with the strong beat and rhythm of his music, Mohammed made choppy hand movements and displayed endlessly changing facial expressions. 
In between songs, Mohammed would shout out individuals that positively impacted his songwriting and performances, such as his DJ Andrew Kiss '25 or his freshman hallmate who nailed the chorus of "The Next Street."
"This last song is very, very personal to me," Mohammed said about his single "Candleburns." "I wrote this song after a close family member of mine was shot in Chicago. It's a very special thing that I've written, and I'm excited to share it."
"Candleburns" strongly emphasized the overarching theme of mental health. Beginning with a calming soundtrack, the song remarkably merges soothing music with harshly spoken and rhythmic lyrics. Lyrics to the song include: "I pray for protection, can't bear another stain on my soul/Needed silica abrasives couldn't brace the things I felt/I took a year off for myself can barely tell how it does my health/Feel like Magneto I'm controlling mental blocks, it keep me polarized." 
In total, Mohammed's discography currently consists of five singles and an EP, all of which can be found on Spotify. With "Candleburns" being the last song Mohammed performed, the concert ended with a strong reminder of the overarching mental health theme. 
With a final conclusion by Hamid's Journey, Alpha Sigma Phi's Philanthropy Concert came to a close. Alpha Sigma Phi hopes this will be the first of many philanthropic events it holds.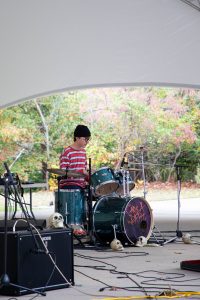 "We've been here for a little over a year, and this was our first philanthropy event, but we're hoping it'll be an annual event," Barekzay said.
The concert raised $750.00 and a recent Active Minds bake sale made $120.00, showcasing how individual financial contributions can greatly support these impactful organizations.