Saturday, Nov. 12, the College of William and Mary's Syndicate Hip Hop Dance Team held its fall showcase, "Syndi Scammers," in Sadler Center's Commonwealth Auditorium. Founded in 2004, Syndicate stands for "Student Network of Dance and Choreography Technique" and is entirely student-run and student-choreographed. Currently, the team is made up of 43 dancers with various degrees of prior dance and performance experience. 
Before the showcase began, Syndicate President Jess Atkinson '23 and Vice President Shiloh Manns '24 greeted the audience, explaining Syndicate's goals and motivations behind the upcoming show. 
"At the end of the day, we just want to provide a safe space for people who love dancing to dance," Manns said. "We're so excited to get to share the joy that we get from dancing, and we hope that you get to feel some of that joy as well." 
The first piece in the showcase, "Suburban Sociopath," was exclusively performed by Syndicate's new members in what is known as the "newbies" dance. Choreographed by Cameron Nguyen '25 and Dianne Hwang '24, the dance took on a more uprock style of hip hop.
Ben Sanders '23, who joined Syndicate in his freshman year, highlighted the newbies dance as an audience favorite.
"My favorite part is usually you can't hear the music coming in because the crowd is shouting so loudly," Sanders said. 
Hwang also choreographed "stop and frisk," a mesmerizing piece that was enhanced by dark red lighting and the dancers' outfits, which consisted of heels and gloves.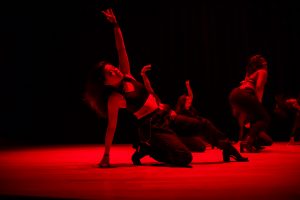 Although Syndicate is promoted as a hip hop dance team, the showcase included a wide range of dance styles that ranged from 90s old-school style hip hop featured in dances like "Bustin'" and "Slide," to more contemporary and fluid choreography seen in "Dangerous" and "Naptime."
"Dangerous," choreographed by Alex Pomroy '23, was a Michael Jackson inspired piece with versatile movements, such as fouette turns, that would not typically be expected in hip hop.
Alisha Reaves '25, a Syndicate member who performed in 12 of the 21 dances in the showcase, further described the diversity of movement that Syndicate incorporates into their dances. 
"Sometimes we crunk, sometimes we have to be wavy and look like we have no bones, it's a whole plethora of things that I had to get used to, but it's so fun, and it's so supportive here that made it so easy," Reaves said.
Reaves also noted how each Syndicate dancer takes their own personal interpretation of what hip hop is.
"Hip hop is an attitude, to be honest, so even if you're doing ballet, it can be hip hop as well," Reaves said.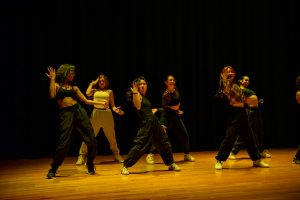 As previously mentioned, "Naptime" was another standout piece from the showcase. Choreographed by Salimata Sanfo '22, who was also the emcee of the night, the dance featured three dancers, including Sanfo, performed on three chairs that were on stage and used pillows and blankets as props. 
The finale was choreographed by Lily Boone '25, Fiona Hodges '25, Aashni Manroa '24 and Melody Vu '24. For this number, the entire Syndicate dance team was brought on stage to close out the show. All of the Syndicate members danced together to "Poker Face" by Lady Gaga before taking their final bow. 
The finale's incorporation of all Syndicate members exemplified the camaraderie and close-knit bonds shared between the team. 
"When I say Syndicate is a family, I mean Syndicate is a family," Reaves said. "I don't even know how to explain it. It's just warm and welcoming no matter what. Syndicate is first to comfort you, first to support you. In your classes, they'll be the people to sit next to you. It's just like a familiar face everywhere."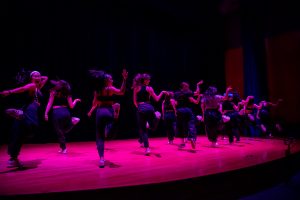 Like Reaves, Syndicate member Adrianne Kinsey '24 also noted the familial closeness shared by Syndicate.
"The team as a whole is very encouraging and supportive of one another, and it's cool to be a part of a team that is majority women and are supportive of you," Kinsey said.
The kinship shared between Syndicate members is further strengthened by the fact that all Syndicate dances are student-choreographed, either solo or in collaboration with one another. 
The student-choreographed aspect of Syndicate not only provides members with the opportunity to express their individual styles and translate these creative ideas into performances on stage, but also ensures Syndicate members spend ample time with one another practicing dances and designing choreography together. 
"My favorite thing is to watch all of my compatriots make this cool stuff, it's so incredible," Sanders said. "In one of the years past, I got to choreograph a dance, which was so much fun. You learn a lot about time management and what is involved in a performance."
And for Kinsey, who had her first experience choreographing this semester with her piece "u thought this was f.r.e.e?," this year's fall showcase represented a full circle moment for her as she decided to audition for Syndicate after attending the last fall showcase. 
"I went to the fall showcase — fall of 2021 — and I fell in love," Kinsey said. "My friend told me about it because she heard about the group and then she took me, and it was just so beautiful. I was like, 'I have to try out.'"
However, it was not just dancers who expressed the fulfillment they derived from performing and seeing their friends perform. Audience member Nina Hoang '25 described how she felt both impressed and inspired by the performances she saw. She even mentioned how seeing the show motivated her to try out for the team next semester, which mirrors how Kinsey initially became involved in Syndicate.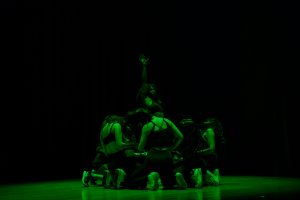 "I think all the dancers are so clean," Hoang said. "I love how energetic they all are, the different formations they have, the outfits and the fact that they change their outfits for every single different performance too, and all the lighting. I love the attention to detail," Hoang said. "I think they pulled off such a good show. I'm just so blown away by their energy, their passion for it, like I can tell they're really good people too, and they're actually a family. It pushes me to try out next semester. It's just by far one of the best things I've seen on this campus."