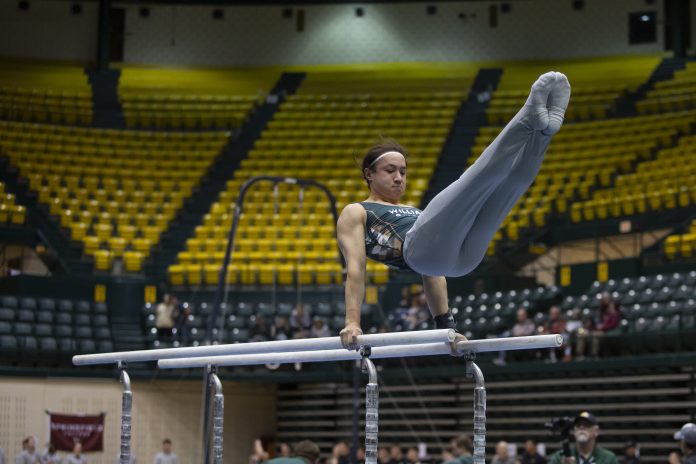 Saturday, Jan. 21, William and Mary men's gymnastics finished fourth at the 2023 Navy Open in Annapolis, Maryland with a score of 370.35.
Ohio State won the team title with a 405.35. Penn State finished as the runner-up (395.45) and Navy rounded out the podium (386.05). Springfield and Simpson also competed in the meet.
Sophomore Samuel Smith led the Tribe with a score of 12.55 on the floor exercise. All five Tribe gymnasts scoffed at least a 12.05 on their way to a team score of 61.45.
The pommel horse marked the Tribe's weakest event. Graduate student Christian Marsh excelled on pommel horse with a 13.2, besting all his teammates by at least 1.35. His performance was eighth best in the meet.
Marsh again led the way for the Tribe on rings, scoring a 12.45. Sophomore Zachary Patrick finished the event with a 12.25.
The Tribe's strongest event of the day was vault, with all Tribe gymnasts scoring at least 13.05. Freshman Ricky Pizem scored a team-best 14.1, enough for a T-10 finish in the event in just his second collegiate meet.
On parallel bars, Marsh registered a career high 13.85. His finish was good enough for fourth in the competition. Senior Aidan Cuy scored a 13.6 to finish tied for fifth.
Finally, on the horizontal bar, four of the five Tribe gymnasts scored in the 12s. Freshman Evan Sikra had the best score on the team with a 12.6.
Cuy was the only Tribe gymnast to compete in all six events. He finished the day with an all-around score of 74.35, placing fourth in the competition. Marsh and Cuy led the team with a pair of top-10 finishes.
The Tribe will travel back to Annapolis, Maryland on Saturday, Jan. 28 to face Navy.