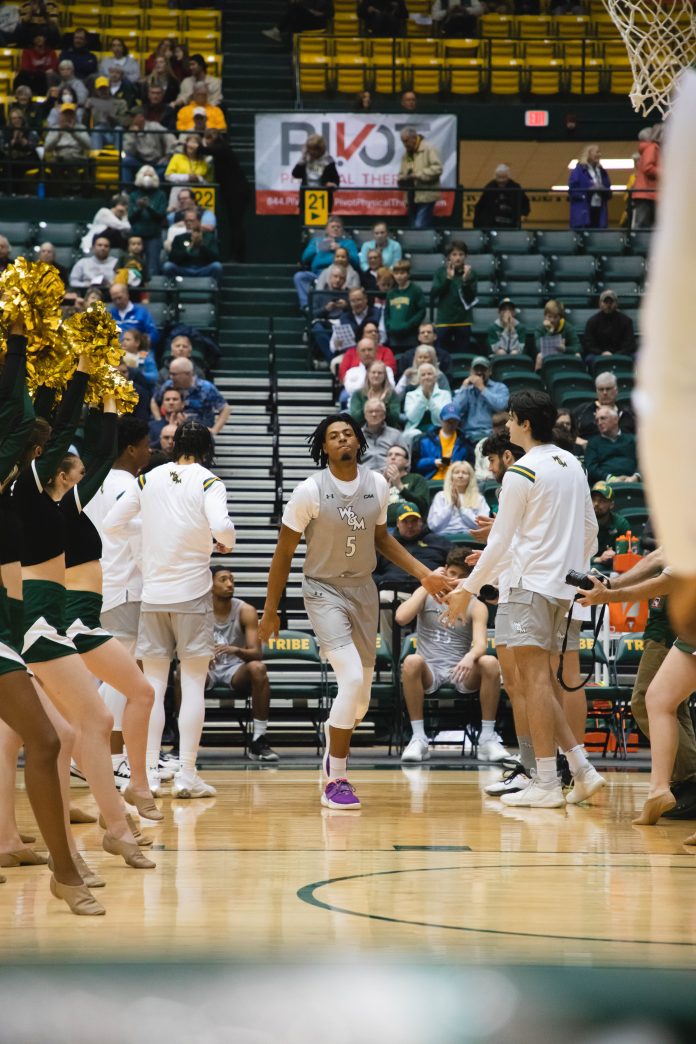 Saturday, Jan. 21, William and Mary men's basketball (8-13, 3-5 CAA) lost to North Carolina Agricultural and Technical (10-12, 5-4 CAA) 90-86 at Kaplan Arena.
"Credit to A&T, I thought they played really well today," head coach Dane Fischer said. "They played the game like they wanted to play it."
NC A&T started off hot, scoring 15 points in the first six minutes of the game to jump ahead of the Tribe by seven.
After a media timeout, the Tribe scored eight unanswered points. Junior forward Ben Wight began the run with a layup. Sophomore guard Gabe Dorsey and graduate student guard Anders Nelson drained three-pointers on back-to-back possessions to pull within one point ten minutes into the first half.
NC A&T soon after stretched their lead to eight points. However, when the Tribe scored 10 unanswered points, it took their first lead of the game at 28-26. The two teams battled back and forth for the remainder of the first half, entering the locker room tied at 36 apiece.
With 11 minutes remaining in the game, senior guard Miguel Ayesa drained a three-pointer to put the Tribe up six points. At the six minute mark, NC A&T began to climb back into the game and began a 15-0 run. NC A&T extended their lead to double digits with a three-pointer from redshirt junior forward Marcus Watson. With just one minute and 43 seconds remaining in the game, the Tribe found itself in a 15 point hole.
"Every time we made a run, we gave up some easy ones the other way," Fischer said. "Really proud of the way our guys hung together and almost gave ourselves a chance down the stretch.
However, junior forward Noah Collier led the home team in a valiant comeback effort. Collier made a layup and dunk to pull the Tribe within 10 points. After a successful free throw from NC A&T, Dorsey drained a three-pointer to decrease the deficit to eight points. Off a steal by junior guard Jake Milkereit, Collier converted another layup with 38 seconds left. On NC A&T's next possession, Collier stole the ball from Watson and Dorsey converted the fast break layup to pull the Tribe within four points and 38 seconds remaining.
After missing two free throws, sophomore guard Matteus Case converted a layup to pull the Tribe within three points, but only three seconds remained in the game. However, the Tribe ran out of time and surrendered a foul in the final second of the game. NC A&T sophomore guard Kyle Duke drained a free throw to seal the deal.
"We almost gave ourselves a chance because the guys stuck together," Fischer said. "I was really proud of that and it's something we've got to use as momentum for us."
Collier played a team high of 34 minutes. He recorded a double-double and led the Tribe with 22 points and 16 rebounds, both career highs. Dorsey scored a career high 21 points and recorded five rebounds. Wight finished the game with 13 points and five rebounds. Graduate student guard Chris Mullins accounted for nine of the team's 14 assists.
The Tribe out-rebounded NC A&T 46-36 and bested their opponents in second chance points (15-6). However, NC A&T recorded 25 fast break points, compared to the Tribe's 11 points off fast breaks.
The Tribe shot an impressive 45.2% from the field, but struggled at the free throw line (11-20).
The Tribe will host Stony Brook (7-13, 3-4 CAA) on Thursday, Jan. 26 in Kaplan Arena at 7 p.m.