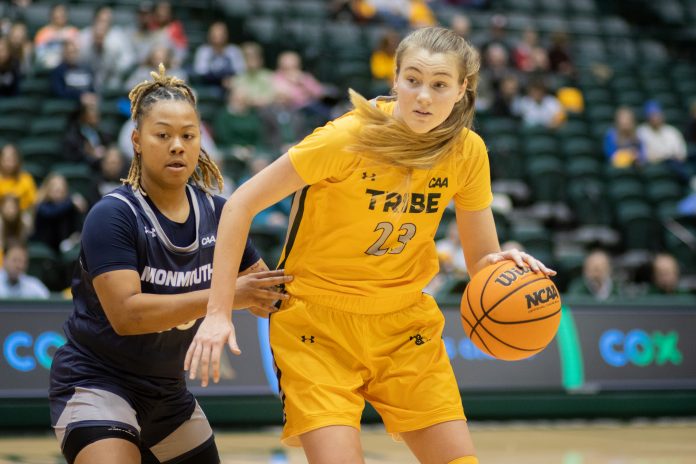 Friday, Feb. 10, William and Mary (12-10, 7-4 CAA) defeated Elon (7-16, 3-9 CAA) 84-74 at The Schar Center in Elon, North Carolina. This win marks the Tribe's seventh win in its last eight games.
In their previous matchup against Elon, William and Mary fell short by four points. Despite the Tribe's flashes of offensive brilliance in the previous matchup, its defense surrendered too many baskets.
Prior to Friday's game, head coach Erin Dickerson Davis, emphasized the difference between her team and the Elon roster. The Tribe boasts a veteran-loaded roster with a newer coaching staff, in comparison to Elon's roster of younger players and veteran coaching unit. Dickerson Davis also discussed how her team's confidence has grown throughout the season, and how the roster has prepared to overcome whatever challenges they face.
With graduate student guard Sydney Wagner and senior forward Bre Bellamy out due to illness, freshman guard Alexa Mikeska and freshman forward Kayla Rolph had to step up.
The first quarter featured back-and-forth scoring between the two teams, with the Tribe only trailing by three points after the tightly-contested period. William and Mary's offense started firing on all cylinders in the second quarter, outscoring Elon by 12 points, propelling the Tribe to a nine point lead heading into halftime.
The third quarter featured more of the same back-and-forth scoring, with momentum shifting into Elon's favor, reducing the Tribe lead from nine to four points entering the fourth period. Both teams continued to battle, with Elon gradually diminishing the Tribe's lead further.
Throughout the final quarter, Elon continued to chip at the Tribe's lead and tied the game at the end of regulation, sending the game into overtime. The Tribe trailed 74-72 with three minutes, 21 seconds left in the overtime period, but finished the game with a 12-0 run to secure the win. Graduate student guard Riley Casey shined in the overtime period, accounting for eight of the Tribe's 15 points.
Rolph scored a career-high 13 points, including a dagger three to put the Tribe up six points with 28 seconds left. The conference named her CAA Women's Basketball Co-Rookie of the Week.
Other notable performances include junior forward Caitlyn Wingertzahn's 11 rebounds and junior forward Rebekah Frisby-Smith's 18 points.
The Tribe's next game is against Towson (14-9, 8-4 conference) at 7 p.m. at Kaplan Arena in Williamsburg.